Sleep like a king with Jax Sheets...
50% OFF : The Comfort, Hygiene and Summer versions will not be restocked once sold out, only the hygiene + comfort version will remain. All sales of these three discontinued versions will be final, so no returns or exchanges. Use code JXSDisThree to get 50% off those three versions. 
Imagine how great you feel after waking up from a great night's sleep. Setting yourself up for an easier day, fully rested. How much happier and healthier you would feel if you could get a great night's sleep every night?
Jax Sheets is designed to help you experience a truly rejuvenating and refreshing sleep quality every night. We spent years researching the qualities men need to get the best night's sleep. We created a group of almost a thousand men from different backgrounds to understand their sleep challenges. We blended the data we've gained from our research into men's biology, feedback from our group of a thousand men, and our years of cutting-edge textile research to create Jax Sheets, the first bed sheet for men.
Jax Sheets is the best sheet a man can buy that delivers the best sleep a man can get. In our two years of selling Jax Sheets, it has received incredibly positive feedback. 94% of people give Jax Sheets a five-star review, and only 1.5% of people return their sheets (the industry standard is 16.6%). Aside from the 1.5% of people who have naturally oily skins, which can temporarily stain Jax Sheets, almost everyone loves their set of sheets. Needless to say, Jax Sheets are fucking awesome.
Since its release, Jax Sheets have become so popular that we stopped advertising. Most of our new sleepers come from previous sleepers telling their friends about how great they sleep and how much they recommend Jax Sheets. These sleepers' recommendations, mixed with previous sleepers coming to buy more Jax Sheets, have caused us to limit sales to only two sets per customer because we keep selling out of sheets and they take around 120 days (1/3 of a year) to produce. 
If you want to invest in getting the best night's sleep and waking up feeling happier, healthier, and more rested, give Jax Sheets a risk-free try, and if you're one of the unlucky 1.5% of people who don't love it, you're welcome to return it with almost no questions asked. 
Sets include: Fitted Sheets, Flat Sheets, and 1-2 Pillowcases (additional pillowcases and duvet covers can be purchased)
Made for the cleanest men

+

Designed for men who care about hygiene, Jax is the cleanest sheets for men who want to make sure they're sleeping in the most hygienic environment. Along with this, the plus version of Jax Sheets, comes with active clean technology, which helps destroy 99% of the bacteria that's living on your bedsheets.
Keeps you cool, all season

+

Most sheets are only comfortable in the winter or the summer, but Jax Sheets are incredibly thermoregulating, which means they will keep you comfortable in the cold and hot months. This benefit means you don't have to keep switching between sheets based on the season.
Fights to keep your skin blemish free

+

Who said men can't be beautiful? Well, with Jax Sheets on your side, your skin will have the help it needs to fight acne, backne, and chestne, so every night will be a beauty sleep night.
So damn comfortable

+

Imagine the softest, smoothest, and most comfortable sheets you've ever slid into, well Jax Sheets are even better. Read the reviews, everyone who gets into Jax Sheets finds it almost impossible to enjoy any other sheets in comparison.
Requires less laundry

+

Life gets busy and we don't think your sleep and skin should suffer because of it. Doctors recommend you change your pillowcase every 2 days and your sheets every week. Well, Jax Sheets are self-cleaning, so they stay fresher for much, MUCH longer.
Comfort vs. Hygiene

+

Jax Sheets are made in two versions, the comfort and the hygiene. For people who want the softest, smoothest, and most breathable experience, the comfort version is best. For people who are willing to sacrifice a little bit of softness, smoothness, and breathability for sheets that stay cleaner for longer, the hygiene is the best option.
Product Downsides

+

1) Oils causes stains: Due to the material being so soft and delicate, if you stain it with oil based foods, sweat, or fabric softeners, it stains. Thankfully, this stain can be removed by pre-washing your sheets.

2) They're not for women: Seriously, unless you want a full beard, a weird addiction to watching football with the boys, and for Xbox to become your new best friend, then Jax Sheets aren't safe for you. (We're probably kidding, many women have reported enjoying Jax Sheets)

3) They have a low wet strength: Just like other high quality sheets, Jax Sheets should not be washed with your jeans or other rough clothing. This rule is because when it's dry, it's very strong, but when it gets wet, it's more likely to get a small tear. This problem is easily avoidable if you just make sure to wash Jax alone and have the zipper zipped up.

4) They're more wrinkle prone: If you compare Jax Sheets to polyester, microfiber, or any other petroleum based sheets they will be more wrinkle prone. You're able to reduce the wrinkles by taking them out of the dryer and putting them on your bed right away, but yeah, they're very high quality sheets, so they do wrinkle.

5) They can't be treated like regular/cheap sheets: Would you buy a Ferrari and treat it like a Toyota? Probably not since it won't last too long. Jax Sheets are like a luxury car, they're amazing, but to have sheets this nice you have to treat them nicely otherwise they won't last more than a year or two. This reality means that if you're not the type of person who can follow laundry instructions, no judgement from us but we recommend sticking with the hygiene version of Jax Sheets. The hygiene version is the most forgiving version that can handle laundry negligence. The comfort and comfort plus hygiene are the higher end soft/luxury sheets and won't do well being washed like normal (cotton/polyester/cheap) sheets.
Any questions for us?
We are happy to answer any questions you may have about our product.
Customer Reviews
Write a Review
Ask a Question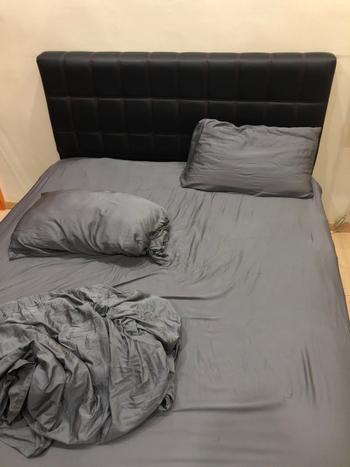 04/18/2021
Worth every penny
I live in Singapore and the weather is very hot but I am so happy that I bought these sheets the softest and best sheets I ever own so good that I bought another one. A must have highly recomdanded.
Joshua O.

Singapore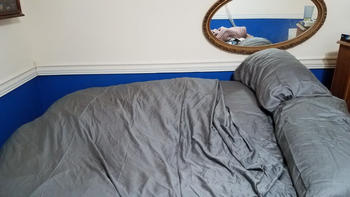 03/25/2021
A Man's Heaven
So after watching Shark Tank which they all sure missed out on this investment I chose to buy these. Many colors were sold out but I got what I could. Yes they really do help keep that stink out but the one thing you will notice for sure is when you touch the sheets. You can just feel the quality and know that these weren't made with some cheap materials. And lastly any woman will love them and I GUARANTEE they will NEVER wanna leave your bed!!!! Thanks again
Mikie L.

United States
12/05/2023
Extremely comfortable sheets
The sheets are some of the best I've ever had. This is my third order. Very soft very comfortable.
Michael M.

United States
12/02/2023
Amazing!!!
The sheets are even nicer than I expected, super soft, kind of silk like, spilled milk on them after 3 days of them being on my bed and it washed right out!
Benjmain M.

United States
11/14/2023
Wen finally got me
Have gotten these sheets when they were on kickstarter. Then have bought them three times for travel, gifts as well. All still are in use as don't stink, tough enough rip of beds every week in another hotel and hold on the road in laundromats. Buy once cry once, but they'll last
paul s.

United States