Feel going commando while wearing underwear
Imagine having underwear designed to be so clean that you can live life more confidently because you never have to worry about smelling bad... well, you're imagining the Kribi. Designed to be the world's cleanest underwear, the Kribi Lounge and the Kribi constantly kills smell, infection, and fungus causing bacteria to keep your southern region smelling and feeling clean. Now, you can go on a month-long trip to Antarctica with only a few pairs of underwear. You can go on an active date without worrying about post-date smells. You can even live a more minimalist/eco-friendly lifestyle without having to sacrifice having clean underwear.
Keeps you smelling better for longer

+

Smelling good is everything, and we designed the Kribi to actively clean itself, so you can actively live your life without worries of embarrassing smells.
So comfortable it's almost forgettable

+

Honestly, who likes the feeling of having underwear on? We sure don't, and so we designed the Kribi to be so comfortable that you might forget you're wearing underwear in the first place.
Fights skin infection

+

When it comes to uncomfortable feelings, tinea cruris (aka jock itch) is one of the worst. Thankfully, the Kribi's unique blend of materials is designed to fight off bacteria and fungus, so you don't have to worry about a surprise itch.
Almost as soft as cashmere

+

Have you ever slipped into underwear that just feels so amazing, you think this level of luxury should be reserved for gods? Well, if you haven't experienced that just yet, then you will the moment you first put on the Kribi. Made with similar material as our shirts, the Kribi will be one of the softest underwear you've ever worn, guaranteed.
Designed for global comfort

+

We have customers in over 100 countries, so we made sure the Kribi would be as comfortable if worn in the city of Tokyo, the humidity of New Orleans, or the cold weather of Reykjavik. Some underwear are comfortable in cold places while others are best for warn climates; the Kribi is designed to be comfortable in almost any weather.
Product Downsides

+

1) Designed to prevent THE STANK, but not THE FUNK: There are different types of smell, but when it comes to clothing design, we mostly focus on two groups of smells that we've named, the stank and the funk. The stank is smell caused by bacteria growth; this is the most common bad smell when it comes to clothing. The funk is caused by your body's natural odor and your hygiene habits. This means that some people (typically heavy meat eaters) who naturally have an unpleasant body odor will notice that the Kribi doesn't help to fix that problem. This also means that people who don't own a bidet or don't do a great job wiping, will also not feel like the Kribi is doing much to help their smell problem.

2) Fabric softeners can cause a stain: The biggest mistake you can make with our underwear is washing it with fabric softeners, because that just ends up leaving a stain. This stain can be forced out with the help of dish detergent, but we highly recommend that you never use fabric softeners when washing the Kribi.
Any questions for us?
We are happy to answer any questions you may have about our product.
Customer Reviews
Write a Review
Ask a Question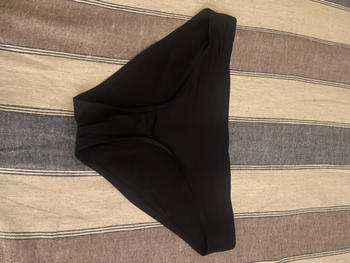 09/08/2021
Comfortable and cleaningless all together !
I loved this kribi sport!!! Super comfortable and The feeling is great!
Andressa H.

United States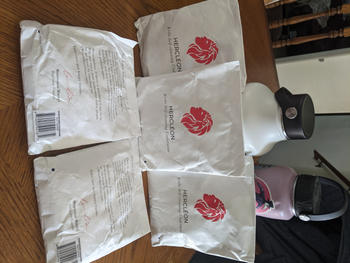 07/23/2021
Snug but Comfortable!
The underwear fits a little snug, but they are very comfortable none the less! I've used 2 pairs so far and both lasted 5 days before noticing a odor. So I'd say if they are self cleaning they are up to 5 days and then need washed. I haven't washed them yet as they look to need to be washed a certain way and I haven't had time. All in all they look nice, feel comfortable, and don't need to be cleaned as soon as normal underwear so thats nice!
Preston H.

United States
09/21/2023
Excellent Underwear
I wore this underwear backpacking for 5 days straight in humid Kentucky and had no issues with smells! I only tested it for 5 days in a row, but I expect it could have done more!
Kiernan C.

United States
09/21/2023
Much nicer than I expected
The fabric is great! I bought 1 sport and 1 regular Kribi. For the sport, I asked for an extra size, per the suggestion on the site, and it went perfectly. It also dries faster so goes right as sport. The fabric on the regular one is amazingly soft, and the navy color is great too, but unfortunately I washed it with Vanish, and then some reddish stains appeared (probably I will use soft soak next time). Both of them feel great while wearing them, the sport is good too... The design is not the sexiest one, but for bikini is ok. The online support is great. Please don't hesitate to contact them if you have questions with your order. Hopefully I can get a thong soon. Thank you, HercLeon team!
Karla d.

United States
09/21/2023
Kribi underwears
I love the kribi and kinda wear them every days, and the same one for several days. However the "belt" is quickly losing its shape even if it is not tight on me, and it kinda folds in half. Also, the copper part is gone for all of them in the back area... I received replacement ones, thanks to lovely Rachel, but they might end up the same way, sadly...
Laurent L.

Finland
Hey Laurent, Just to clarify, you mean your 2 year old pairs are losing elastic strength? Daily use without much washing for two years will do that since most underwear are worn once and washed after a single use, so these pairs are probably getting 2-3 years of use in a single year. Also, if you lost weight since buying them two years earlier, that could impact how it fits you. As for the folding issue, we will look into ways to improve it. Also, the copper most likely didn't go out. After extended use in humid areas, it might change color, but it that doesn't mean it's gone, it means it might actually be more effective than before (haha). Either way, I'm glad Rachel was able to get you two free replacement :)