And then Covid said, "Let there be maskne"
Almost a year after our popular Aplu face mask became the first anti-acne mask, we took all the feedback from customers and created the 5.0 version which is the first beauty face mask. Bringing together silk, collagen, and our HercFiber together for the first time, the Aplu 5.0 is the smoothest and best mask for anyone who wants to take the best care of their skin.
Since its release, the Aplu 5.0 has become top of the line when it comes to maintaining a healthy face while wearing a face mask and, for people who wear make up, the Aplu is so smooth it doesn't mess it up too much. Needless to say, if you want to experience luxury, upgrade to the Aplu 5.0 mask and feel what it's like to be royalty. 

Once sold out, most of these sizes and colors will not be restocked.
Anti-aging (beauty + collagen only)

+

As we age, our skin produces less collagen and that's why our collagen version of the beauty mask is made with our groundbreaking and innovative collagen and copper infused material that's designed to help slow down the aging process by reducing skin wrinkles and dryness.
Anti-acne

+

Most masks cause acne; well, the Aplu 5.0 was designed to prevent and even help clear some of the existing acne.
Incredibly smooth

+

This mask is designed to have as close to 0 friction as possible that way, people with sensitive skin will have no issues.
Keeps face moisture

+

Thanks to silky material, the mask doesn't absorb much moisture so if you have dry skin or just want to keep your skin's moisture, it's perfect for you.
Perfect face fit

+

We designed our masks to fit your face perfectly while giving your mouth space to breathe and talk. One size does not fit all, so all our masks come with adjustable straps that you can shorten or lengthen to make your mask more comfortable for you.
Replaceable filter

+

We want you to be able to wash your mask without worrying about the built-in filter getting destroyed, so we made the filter replaceable, so you can take it out to clean your mask as needed.
Product Downsides

+

1) It's horrible for working out: Silk has a tighter weave than cotton, and so this mask is fine for casual wear, but horrible for working out since its not as breathable as our older versions of the Aplu mask.
2) Hard to use with a filter: Due to the same tight weave issue, the mask is not as comfortable to use with a filter when compared to our cotton based version.
3) One time release: One of our constant struggles is that we never have enough of our materials to produce more products; well, with this mask, we only have enough copper silk blend to make 400 masks. We're unlikely to make more in the future because of the high costs.
4) No neck strap option: Due to the limited production amount and the tight weave, we're not able to produce neck strap options.
Any questions for us?
We are happy to answer any questions you may have about our product.
Customer Reviews
Write a Review
Ask a Question
good quality
I like the quality of the mask but it's a little to heavy material for my liking. The last mask I ordered was thinner and more comfortable.
08/08/2022
Mark

United States
Breathable
I started working for an employer that requires masks. I work in a manufacturing plant; I need something that is good in hot and cold conditions while wearing different PPE. That's why I decided to try the flight mask. It works well for my needs. Without the filter, it's a lot more breathable than other marks. I go from refrigerated areas to areas with hot ovens and back; I found that the filter made the mask sweatier in my unique circumstances. I'm in no way worried about catching anything where I work, so it works for me. For those that use would a filter, it's easy to get in and out and it looks like you could use just about any and it would be compatible.
07/18/2022
Suzie M.

United States
Aplu Flight Face Mask
I was happy to find a mask that doesn't hook the ears as I need to wear it all the time. I bought one and misplaced it and rushed to get another. So I bought two. I don't want to be without it.
07/10/2022
Tonya M.

United States
Aplu mask with built in filter
I've been using these masks for the past 3 years. I love them. The fit is perfect. The mask is comfortable, easy to breathe in, and easy to care for.
04/05/2022
Sonrisa G.

United States
Perfect mask
I love love love these masks. I keep coming back to the company because its so efficient and i always recieve my masks on time (which is important because im forgetful and need something reliable)
03/23/2022
Donna B.

United States
Great mask and great service
I'm very happy with the mask and appreciate your excellent customer service Thank you
03/04/2022
Gregory W.

United States
Aplu Anti-Acne Flight Face Mask
I have been using these masks since the pandemic started and they were released. I work 8-10 hr retail shifts and this mask is the most comfortable to wear all day. I especially like the elastic band that goes around the head as it keeps the mask secure.
02/28/2022
Julie U.

United States
Great mask
This a perfect mask when you want to be safe and not be in pain from I'll fitting masks. The quality is the best!
02/25/2022
Rishabh R.

United States
Comfortable, Aesthetic, and No Acne!
This is my go-to daily mask that I happily wear without worrying about breaking out or not having suitable filtration. Plus it looks really good!
02/10/2022
Sarah K.

United States
Best customer service out there
I now own 5 different pairs of Hercleon masks, and have convinced so many people to buy them as well. They are comfortable and stay on my face perfectly. ONLY mask I've ever worn (and I work in retail so it's been a lot) that doesn't give me acne. Best part about these masks is the company behind them. I've experienced exceptional customer service from them. Some of the best ever. Great company, great product!
02/08/2022
Jim N.

United States
I forget I'm wearing it.
Couldn't stand the standard masks one more day. These ones feel like a luxury by comparison. It still gets stuffy like all masks do, but not as fast, and not as bad. It also doesn't make my face break out. I recommend you buy 2 in case your SO wants one.
02/01/2022
S P.

United States
01/26/2022
Debbie R.

United States
Love these masks
These masks fit snugly around my face with no gaps on the perimeter. Surgical masks do not fit this well, nor do KN95 masks. SARS-COV2 may still get me—but it has a decreased chance with these masks. (I'm a home health RN. I do not claim these are medical-grade or that healthcare entities would accept them in a clinical setting. But for me, out in the community, the masks are awesome).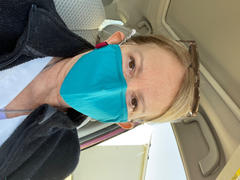 01/10/2022
JUDITH W.

United States
Almost....
Mask is reasonably comfortable. It slides off my nose/mouth a bit more than I would like. (I bought mediums.) Other than that, I like them. :)
01/07/2022
Karen S.

United States
Oh what a mask!
I have ordered these masks multiple times! My kids introduced me to Wen and the Aplu mask many months ago. I love having a mask that I can wear forever and rarely have to clean. I use eucalan from Canada for that. Very comfortable and I own several colors. I have behind the ear and behind the head. The behind the head works way better with my hearing aids!
01/07/2022
Lindsay D.

United States
Awesome product!
I have enjoyed this mask, and I've definitely seen benefits in my complexion from using it. I work in an allied healthcare field, so I wear a mask all day every day. This product is comfortable and functional. Thanks for creating it!