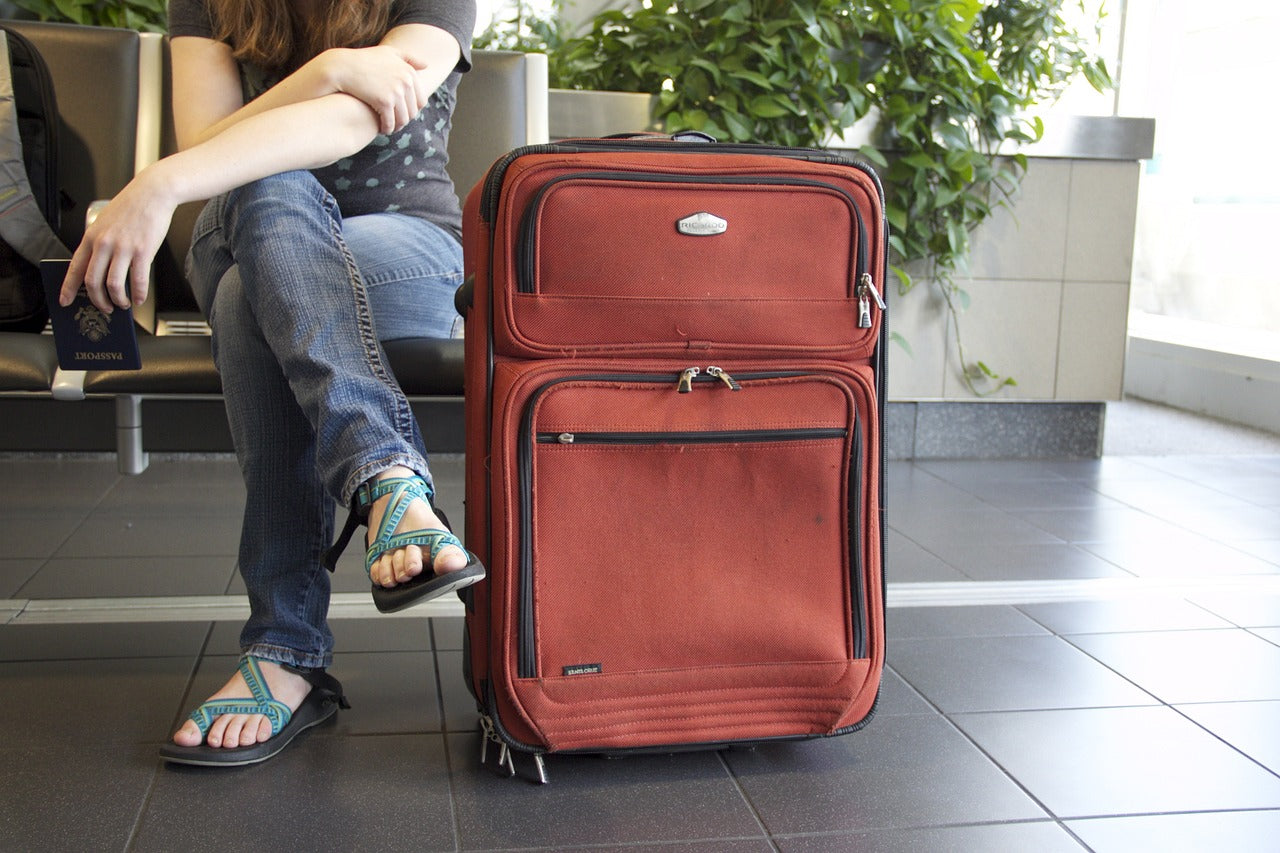 Posted on
---
I am a chronic overpacker. Even an overnight trip will have me lugging a bulky suitcase with me. While packing lots of clothes and travel stuff can give you peace of mind that you are ready for any situation, it's tedious and inconvenient, not to mention expensive if you have to check your luggage. 
The good news is that it's possible to pack everything you need without overpacking. Here are the top 6 tips for packing light when traveling. 
1. Pack a Carry-on
If you are planning to pack a large suitcase, then you are going to fill it up even if you don't really need half the stuff you put in there. 
So one of the best ways to tackle an overpacking problem is to constrain yourself to a smaller carry-on. This forces you to be more ruthless with what you choose to pack. You also get to save money if you are taking a flight where they charge extra for checked baggage. 
Check the carry-on requirements (bag size and weight) for the particular airline you plan to use to make sure you get the right carry-on bag. 
You'll be surprised at how efficient you can be when you only have limited space. 
Of course, don't force yourself to pack a carry-on if you really need to pack more stuff for a multi-day trip. But don't get a bag that's too big either. 
2. Pack Clothes You Can Wear More than Once 
Clothes take up the bulk of your luggage. So cutting back on the amount of clothes you carry is one of the best hacks for traveling light.
One way to do this is packing clothes you can wear several times before they have to be washed. You need clothes that don't get smelly and icky after just one wear. 
Your best bet is breathable antibacterial clothes like our Apollo shirt, Apollo socks and Kribi underwear. 
The reason regular clothes stink at the end of a long day is because of bacteria. As we sweat, the damp material becomes a breeding ground for odor-causing bacteria. 
If you have breathable antibacterial clothes, they stay dry and bacteria-free. You can wear them for days and they stay fresh. That saves you the trouble of packing different clothes for each day. 
3. Pack Multipurpose Clothes & Toiletries
Another way to reduce how many clothes you carry is to pack multipurpose wear. For instance, pack jeans that you can wear around town during the day and dress up for a semi-formal dinner. 
Another example is a wrap dress that you can wear to a meeting and it still looks good during the evening party. Or a formal shirt that you can roll up for a more casual look, shorts that you can hike and swim in and shoes you can wear in different situations. 
The same applies to toiletries, which can also take up a lot of space in your luggage. Carry 2-in-1 shampoo and conditioner, a moisturizer you can apply on both your face and body or lotion that doubles up as sunscreen. 
Also, don't pack full size bottles of toiletries even if you plan to put them in checked baggage (meaning you can go above the 3.4oz limit of liquids in carry-on bags). Either buy sample-size toiletries or transfer your toiletries to smaller containers. 
Alternatively, carry only the most essential toiletries like contact solution or sunscreen and buy the rest when you get to your destination or use whatever will be provided.   
4. Pack Quick Drying Clothes and Do Laundry
If you are feeling iffy about wearing the same clothes several times, the other option is to do laundry during your trip. This lets you pack fewer clothes even when going on a long trip. 
Laundry is easy if you'll be traveling to a place where a laundromat is easily accessible. Otherwise, you'll have to find other ways to wash clothes such as a bathtub, a sink or even a stream if you'll be outdoors (carry biodegradable soap).  
Because you likely won't have access to a drier, it's important to pack quick drying clothes. Polyester fabric dries the fastest and natural materials like cotton, wool and linen dry fairly quickly as well. 
Avoid nylon clothes as they take too long to dry. 
5. Pack Ahead of Time (and Use a List) 
Packing at the last minute is a recipe for disaster. You'll probably pack things you don't need and forget others that you need. Because you don't have time to carefully choose what to carry, you are likely to overpack just to be safe. 
Give yourself plenty of time to pack for your trip. The first step is to write down a list of everything you think you'll need, even the small stuff. But don't pack yet. 
Take a second and third look at that list and try to cut it down as much as possible. Consider what you can do without, what can serve multiple purposes and what you can buy or get at your destination. 
Once you are sure your list only has the absolutely necessary stuff, now start packing while checking off items in the list.  
6. Leave Most Of Your Gadgets at Home 
Overpacking doesn't just apply to clothes. I have friends who are fine traveling with one shirt, but will carry just about every gadget they own while going on a trip. 
This can end up making your luggage too heavy and messy since you also need to carry chargers, cables and other accessories. 
Unless you need your gadgets for a work trip, leave most of them at home. You probably won't be able to work on your trip, so leave that laptop behind. You don't really need your tablet if you have your phone. 
Only pack the absolute essentials like your phone, earbuds, and a camera. 
Final Thoughts
If you've been an overpacker most of your life, it'll probably take a few trips before you get used to packing light. But you'll get used to it, and even get better at it with every trip you take. 
Quick links
Contact
6063 Hudson Road #160
Woodbury, MN 55125
Yo@hercLeon.com