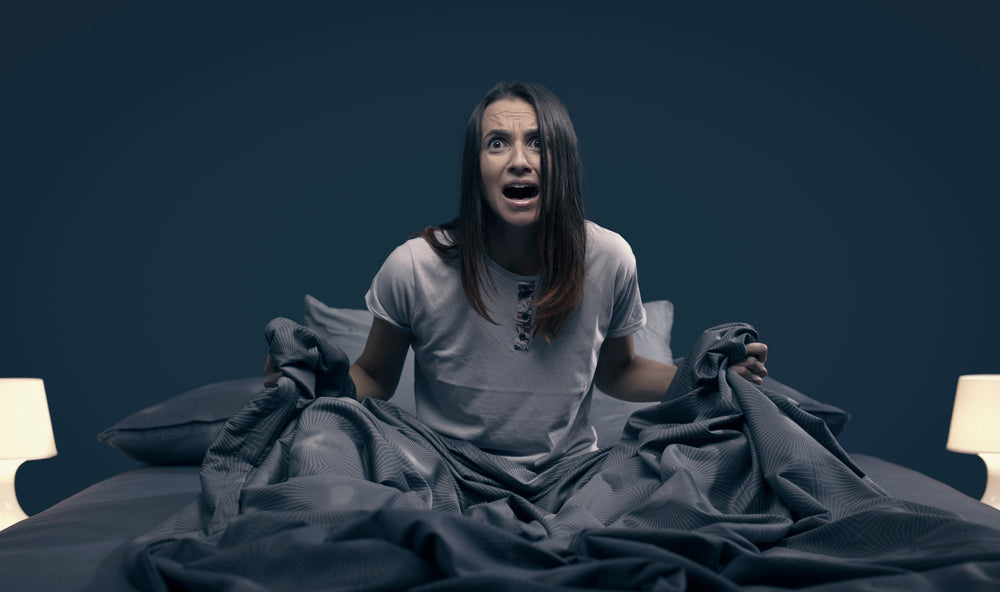 Posted on
---
Many people use the terms night terrors and nightmares interchangeably. But they are in fact two very different things. They are both unpleasant and they can affect your sleep quality, but they are different. 
If you don't have time to go through the article, here's the difference between nightmares and night terrors in a nutshell: nightmares are bad dreams while night terrors are violent movements during sleep. 
Interestingly, they can both be caused by the same issues such as stress and anxiety. 
What Are Nightmares?
Nightmares are bad dreams usually filled with scary, terrifying or disturbing imagery. Most nightmares consist of common themes like falling, being chased or dying.  
You can get a nightmare after watching a scary movie or listening to a particularly chilling true crime podcast. Nightmares are also more likely after a night of little sleep or if you are fatigued. 
Nightmares that occur frequently are often caused by a mental health problem like stress, anxiety or depression. Traumatic experiences can lead to a nightmare disorder, which consists of frequent and severe nightmares that affect sleep quality. 
One of the biggest differences between nightmares and normal dreams is that you are more likely to remember a nightmare because of how vivid it is. Nightmares can also leave you more stressed and anxious, not to mention that they also make it harder to sleep well.  
What Are Night Terrors?
Night terrors are technically not dreams. A night terror is a half-awake half-asleep state consisting of violent movement and actions like screaming, shouting, kicking and hitting. Someone going through a night terror may seem like they are having a really bad nightmare where they are being chased or attacked. 
But there's no dreaming behind a night terror. That's why you don't remember a night terror. You will only realize you get night terrors when your partner tells you.
Night terrors are much more common in children, but a few adults still get them. Similar to nightmares, night terrors can be caused by mental health issues like anxiety, stress and trauma. 
Fatigue, sleep deprivation and jet lag also increase the likelihood of night terrors. 
Night terrors are generally not considered dangerous or harmful. But they can reduce sleep quality and affect your relationship (no one wants to sleep next to someone who wakes up screaming and kicking). 
Nightmares vs. Night Terrors: What's The Difference?  
Here are the main differences between nightmares and night terrors. 
Night terrors occur mainly in children while nightmares can occur in both adults and children. 

Night terrors don't involve dreaming; only violent movements and actions. Nightmares, on the other hand, are dreams involving intense feelings of fear and terror. 

You can remember your nightmares, but you don't realize you had night terrors when you wake up. 

Night terrors typically occur in the early period of the night, usually 2-3 hours after falling asleep. Nightmares often occur late into the night. 
The Best Way to Deal With Nightmares and Night Terrors
While they are different in many ways, there's one similarity nightmares and night terrors share: they tend to be linked to mental health.
Mental disorders like stress, anxiety, depression and bipolar disorder increase the likelihood of experiencing either nightmares or night terrors, or both. 
So the best way to deal with nightmares and night terrors is improving your mental health. Depending on what mental health issues you are facing and their severity, you may need to consult a doctor or therapist. 
Antidepressants can help you feel calmer and sleep better. Also talk to your doctor about using sleep aids like melatonin to help you sleep better and deeper. 
For less severe mental health problems, lifestyle changes can help you sleep better. Spend more time outdoors, improve your social life, work out more and eat a healthier diet. 
Getting better quality sleep can also help you get regular boring dreams instead of nightmares. Go to bed early to make sure you get 7-9 hours of sleep. Sleep deprivation and fatigue can contribute to nightmares and night terrors. 
Other causes of nightmares and night terrors you should look into include alcohol intake (especially in the evening), substance abuse and certain medication. Some health problems and disorders such as chronic pain, sleep apnea, PTSD and restless leg syndrome can also increase your risk of nightmares and night terrors. 
Quick links
Contact
6063 Hudson Road #160
Woodbury, MN 55125
Yo@hercLeon.com