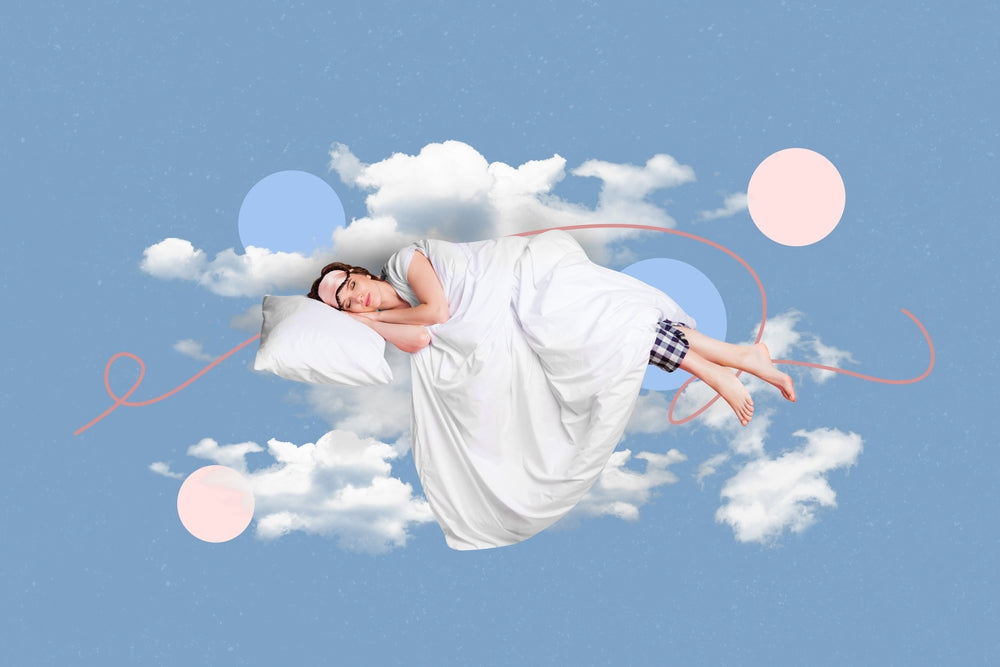 Posted on
---
Dreams can tell you a lot about how stressed you are, your desires and your fears. Some dreams are meaningless, formed from the random firing of neurons while we are asleep. 
Dreams can also be a good indicator of how well you are sleeping. When your sleep quality deteriorates, for whatever reason, your dreams are one of the first things to change. You may have different kinds of dreams, more or fewer dreams, or even have no dreams at all. 
Here's what your dreams say about your sleep quality. If you want to learn more about dreams, their role and what they mean, we have a post on the science of dreams.
Does Sleep Quality Affect Dreams?
Dreams do not affect your sleep quality. Only when dreams turn into nightmares will your sleep start suffering as you get more anxious and wake up more at night. 
But regular dreams generally have no impact on sleep quality. But what about the other way round. Does sleep quality affect the nature, type and frequency of our dreams? Can it even lead to nightmares?
The answer is a resounding yes. Your dreams are a window into the quality of your sleep. 
Dreams and Sleep Phases
The main mechanism through which sleep quality affects dreams is sleep phases or stages. Any disruption in your sleep quality also affects your sleep phases. 
This is important because our most vivid and memorable dreams happen during the REM stage of sleep. That's the rapid eye movement stage when there is a huge uptick in brain activity. 
So if you are not going through your sleep stages the normal way (maybe because you are sleeping late), then your dreams will also be affected. 
Dream Intensity and Sleep Quality 
The first sleep quality indicator to look out for is the intensity of your dreams. If you are getting adequate high quality sleep, you'll likely have regular dreams with a few occasional wild ones. In fact, your dreams may be so boring that you don't remember them at all. 
If you suddenly start having very intense and vivid dreams, it might be a sign that you are not getting enough sleep. 
What happens is that sleep deprivation caused by late nights, a sleep disorder or alcohol causes you to lose out on some REM sleep. When you go to bed, the brain tries to make up for the lost REM sleep by spending more time in the REM sleep stage. This is called REM rebound. 
Remember that our most vivid dreaming occurs in REM sleep. And since you are spending more time in this stage, you get a higher frequency of vivid and intense dreams. You may also find yourself having more dreams than before. 
Making sure you are getting 7-9 hours of sleep each night should get your dreams back to normal. 
Dreams and Sleep Disorders
Getting vivid dreams may also be an indication of a sleep disorder. Disorders like narcolepsy, sleep apnea and restless leg syndrome can cause sleep deprivation, which in turn triggers REM rebound and makes your dreams more intense. 
If your vivid dreams are usually accompanied by daytime fatigue and sleepiness and yet you are sleeping for 7-9 hours, you probably have a sleep disorder. Talk to a doctor for advice and diagnosis.
Nightmares and Sleep Quality 
Poor sleep can do more than just cause vivid dreams; it can increase the risk of nightmares. This is caused by the same REM rebound phenomena that triggers vivid dreams. 
In some people, these dreams can turn into nightmares that further worsen your sleep quality. If you have a history of nightmares, you are at a higher risk of getting them again if you don't sleep well. 
You are also at an increased risk if you are already stressed or anxious. Poor sleep worsens stress and anxiety, which in turn can cause nightmares. 
So if you are having nightmares, it's a sign that you may not be sleeping very well. 
Final Thoughts
While your dreams can tell you something about your sleep, keep in mind that sleep quality is not the only factor behind dreams and nightmares. 
So many other things including daytime events, stress levels, past trauma, illness and even medication can affect what kind of dreams you get and how vivid they are. 
An occasional crazy dream is probably nothing to worry about. But if you are having intense dreams night after night to the point that they interfere with your sleep, it's a good idea to talk to a specialist.
Quick links
Contact
6063 Hudson Road #160
Woodbury, MN 55125
Yo@hercLeon.com