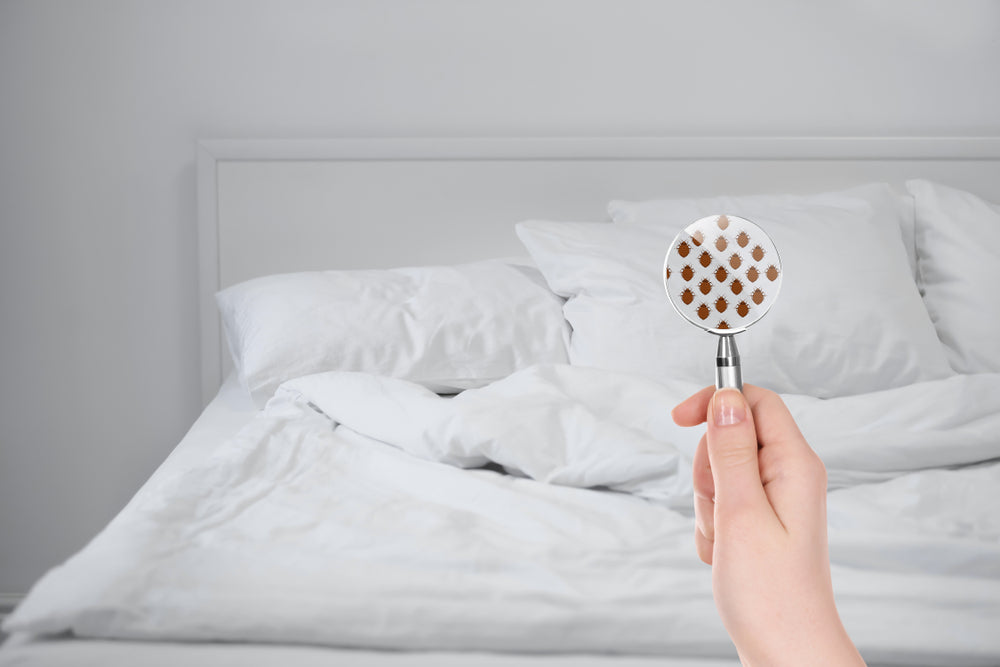 Posted on
---
With all the dead skin cells and oils that we give off from our bodies, your bed is probably a lot dirtier than you think. The mattress, sheets and pillow are home to lots of gunk, not to mention all the bacteria and germs that have made your bed home. 
In many cases, a little bit of dead skin cells and bacteria on the bed don't cause any harm. But if you don't maintain good bed hygiene, it could get to a point that all the build-up affects your skin and health. You are especially vulnerable if you have sensitive skin that is prone to breakouts. 
Here are 10 tips for good bed hygiene. They'll keep your bed clean, healthy and odor-free. As a bonus, they will also make your bed more sleep-friendly, helping you sleep faster and deeper. 
1. Wash Bedding Regularly 
It may not be obvious just by looking, but your bed collects a lot of icky stuff. From dead skin cells to sweat and oils from your skin, your bed can get nasty if you don't wash bedding regularly. 
And it's not just stuff from your body. Dust mites, dust, pet hair and even bugs like fleas could be residing in your bed. 
You cannot completely prevent all these things from getting onto your bedding, but you can keep them from building up to the point that it affects your health and comfort. Washing the sheets, pillowcase and duvet cover regularly will keep them clean most of the time. 
We recommend laundering your bedding at least once a week. Do it more often if you sweat a lot at night or if your pet sleeps on your bed. 
2. Vacuum, Air & Deodorize the Mattress Regularly 
Because you cannot wash the mattress, it's often home to more unseen dirt than any other bedding. It can get bad enough that the mattress begins to smell as bacteria thrive in the foam. 
There are three ways to keep your mattress clean: 
Every morning after you wake up, leave it to air for around an hour. If the weather allows it, open the windows to bring in fresh air. This will dry any sweat and moisture on the mattress, which prevents odors. You can even leave the mattress uncovered the entire day and make the bed in the evening. 

Every now and then, spread baking soda on the mattress to absorb odors. Leave the baking soda on the mattress for half an hour then vacuum it. 

Use a mattress cover or protector to keep the mattress from getting dirty. More on that next.  
3. Use a Waterproof Mattress Protector
The absolute best way to keep your mattress clean and hygienic is using a waterproof mattress protector. It prevents sweat, fluids, dust mites, stains, dead skin cells and other icky substances from getting through to the mattress. 
Mattress protectors are machine washable, so it is easy to keep it clean. 
4. Get Antimicrobial Bedding
If, like me, you sometimes feel a bit lazy about laundering your sheets, I recommend getting antimicrobial bedding such as our very own Jax Sheets. 
Antimicrobial bedding actively destroys bacteria that's on it. This does three things. One, it keeps your bedding clean and hygienic. If you have sensitive skin, it prevents breakouts. 
Two, it keeps your bed smelling fresh since odor-causing bacteria cannot thrive on the antimicrobial bedding. 
Three, it reduces how often you need to wash your sheets. You can go for weeks without cleaning them and they'll stay clean and fresh. 
In addition to the Jax Sheets, we have the Jax Comforter and the Zuri Pillowcase. All have the antimicrobial treatment. The pillowcase is especially handy for those with acne-prone skin. 
5. Don't Eat in Bed 
Unless you are confined to your bed because of health or age, do not eat or snack in bed. No matter how careful you are, it is inevitable that some particles and crumbs will find their way onto the bedding and mattress. 
You risk getting your bed infested with cockroaches, rodents and other pests. Food crumbs can also allow harmful bacteria to thrive on the bed. 
If that's not enough reason to stop eating in bed, late night snacking has been associated with a higher risk of obesity and increased difficulty when it comes to losing weight.  
6. Take a Shower/Bath Before Getting in Bed
If you don't have a rule about not getting into bed with outside clothes, it's time to adopt it. It prevents the transfer of dirt from your clothes to the bed. 
In addition, always take a shower or bath before getting into bed in the evening. Even if you feel clean, there's lots of build up of oils and dead skin cells on your skin. If you've been outside, you are also likely carrying dust, pollution and other stuff that you can't see. 
Taking a shower before going to sleep will greatly help keep your bed hygienic. 
7. Don't Allow Pets on The Bed 
This may be a tough one for pet parents, but it's for your good. Pets bring a lot of foreign materials to the bed including pet hair, dust mites, pollen, dirt and bacteria. They can also introduce fleas to the bed. 
It's best to have a separate pet bed either next to yours in the bedroom or, even better, outside the bedroom. 
If you have to sleep with your pet in the same bed, take the following precautions: 
Wash your bedding more often - two to three times a week. 

Get a waterproof mattress pad or cover for your pet and place it on your bed. Let them sleep on that instead of directly on the bed. 

Clean and groom your pet often. 
8. Keep Your Bedroom Clean
A lot of the dirt on your bed comes from your bedroom. Dust, pet hair and bugs in other areas of the bedroom like the floor, window sills and under the bed will eventually find their way onto your bed. 
So as you keep your bed clean, do the same for your bedroom too. Vacuum it daily, open the windows to air it out, get rid of clutter and so on.  
9. Use Breathable Bedding
Non-breathable sheets and pillowcases can make it almost impossible to keep your bed hygienic. The bedding absorbs sweat and other fluids, but holds onto it. 
This encourages bacteria to grow on the bedding, causing odors and affecting your skin health. 
If possible, get bedding that's made from natural fibers like cotton, silk, linen and bamboo. These materials are usually highly breathable. 
10. Get a HEPA Air Purifier
Do you get sniffles, a clogged nose or endless sneezes whenever you get in bed? 
It's probably because you are sensitive to certain airborne allergens like pet hair, pollen or dust mites. These usually come from the outside and from other areas of your bedroom. 
Cleaning the bedroom clean and washing your bedding often can help. But if you live in an area that's dusty or has lots of pollen, it may not be enough. 
The best solution is a HEPA air purifier. These air purifiers usually have three filters (pre-filter, active carbon filter and HEPA filter) that capture lots of airborne stuff including dust, pollen, pet hair and even bacteria. They are also great for eliminating bad odors. 
Having a HEPA air purifier keeps your indoor air clean and prevents foreign materials from settling on your bedding and causing allergic reactions. Make sure you get one that's sized perfectly for the size of your bedroom. Most air purifiers come with room size recommendations. 
Tip: A HEPA air purifier can also help if you really want to keep your pet in the bedroom. It will pick up hair, dust and dust mites from your pet. It can also prevent your bedroom from developing an unpleasant cat or dog smell.
Quick links
Contact
6063 Hudson Road #160
Woodbury, MN 55125
Yo@hercLeon.com