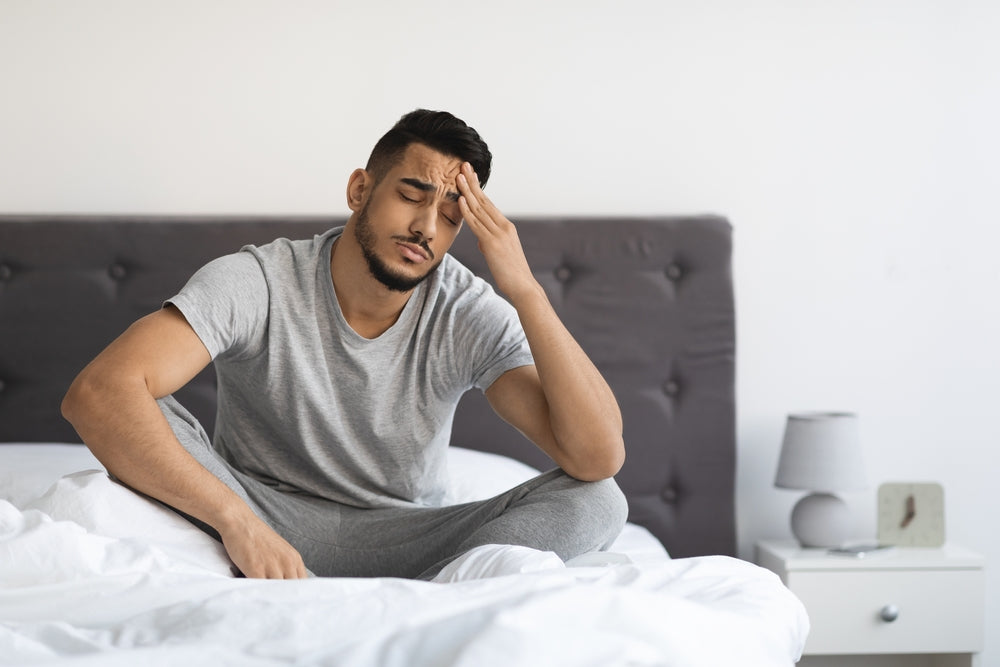 Posted on
---
Most of the times we wake up tired in the morning is because we've not slept enough. But sometimes, you might wake up groggy and fatigued even after a solid 7-8 hours of sleep. What's up with that? 
Here are 7 reasons why you wake up tired with tips on how to fix it. 
1. Not Enough Sleep
Let's get the most common reason out of the way. Sleep is the main way your body restores itself and repairs damaged tissue. 
So if you don't get enough sleep, your body doesn't have time to recover and so you wake up feeling tired. This fatigue will stick around for the rest of the day. 
There are lots of reasons why you may not get enough sleep. You probably have a poor sleep routine that involves staying up late, you may have insomnia or maybe you wake up too many times during the night. 
You should target to get 7-9 hours of sleep each night. Go to sleep early so that you have plenty of time to get enough sleep. If you struggle with insomnia, address whatever may be causing it whether it is late night watching, too much stress or caffeine. 
2. Lack of Adequate Deep Sleep
Some people sleep for 7-9 hours and yet they wake up feeling tired. If you often experience this, one of the possible reasons is that you are not getting enough deep sleep. 
Sleep is not one continuous stretch of snooze. We go through different types of cycles or sleep stages. These stages are primarily divided into NREM and REM sleep. 
NREM or non-REM sleep is when we sleep most deeply, especially stage 3 NREM which is called slow wave sleep. This is when restoration and recovery happens. If you don't spend enough time in deep sleep, you'll wake up tired even if you sleep for eight hours. 
There are several reasons why you may not get enough deep sleep:
Disturbances like noise and light can keep you from sleeping deeply. 

Sleep apnea, restless leg syndrome and other sleep disorders. 

Alcohol and caffeine. 

Health conditions like fibromyalgia, Alzheimers and Schizophrenia. 

An uncomfortable sleep environment (e.g. too cold/hot, hard mattress etc.)
Some of these like caffeine and alcohol, you can do something about. You can reduce disturbances by wearing a sleep mask and earplugs. Getting breathable bedding and investing in a good quality mattress will also help you sleep deeper. 
But if your lack of deep sleep is caused by a health problem or a sleep disorder, you'll need to see your doctor for advice and treatment.   
3. Sleep Disorders Like Sleep Apnea
Some sleep disorders like insomnia make you tired by keeping you awake longer than you should be. You might struggle to go to bed in the evening (sleep onset insomnia) or find it difficult to go back to sleep after waking up in the middle of the night (maintenance insomnia). 
Other sleep disorders affect you by preventing you from enjoying deep restful sleep. These include sleep apnea, restless leg syndrome and nightmares. 
Yeah, sure, you will sleep through the night but you won't sleep deeply so you wake up still feeling tired. 
We recommend consulting a sleep specialist for help dealing with these sleep disorders. They may want to conduct a sleep study to diagnose your sleep disorder. 
4. Parasomnia Such as Sleep Walking 
Parasomnia is a type of sleep disorder that disrupts your sleep. It typically involves abnormal movements, behavior and emotions. Similar to problems like sleep apnea, parasomnia can keep you from sleeping deeply, resulting in fatigue the next day. 
Two examples of parasomnia are night terrors and sleepwalking. You may not even realize you woke up in the middle of the night, but you'll feel tired and unrested in the morning. 
Many types of parasomnia are linked to mental health issues like stress, anxiety and depression. A sleep specialist may be able to help you figure out exactly what's disrupting your sleep and how to deal with it.  
5. Underlying Health Condition 
Waking up tired can also be a sign that there's an underlying health condition. If you've not changed anything about your sleep routine, it's a good idea to go in for a checkup. 
Some of the health problems associated with fatigue include anemia, cancer, chronic fatigue syndrome, diabetes type 2 and anxiety. 
Tips for Deep and Restorative Sleep 
Good sleep is about two things: quantity and quality. You need to hit both marks to enjoy deep and restful sleep. 
When it comes to quantity, experts recommend 7-9 hours of sleep each night. Adopt a regular sleep routine that lets you get this amount of sleep each night. 
As for quality, start by improving your sleep environment. Make your bedroom cool, quiet and dark. This will let your body spend enough time in the deep sleep stages. 
Also make sure your bed is comfortable: a supportive mattress, cool and soft bedding, a comfortable pillow and so on. 
Other things you can do to improve sleep quality include being active during the day (helps you fall asleep faster and sleep deeper), lowering stress levels, and avoiding things like caffeine and alcohol in the evening. 
If you do all this and still feel you are not getting deep sleep, it's time to consult a sleep expert or doctor as there may be an underlying sleep disorder or health condition. 
Quick links
Contact
6063 Hudson Road #160
Woodbury, MN 55125
Yo@hercLeon.com