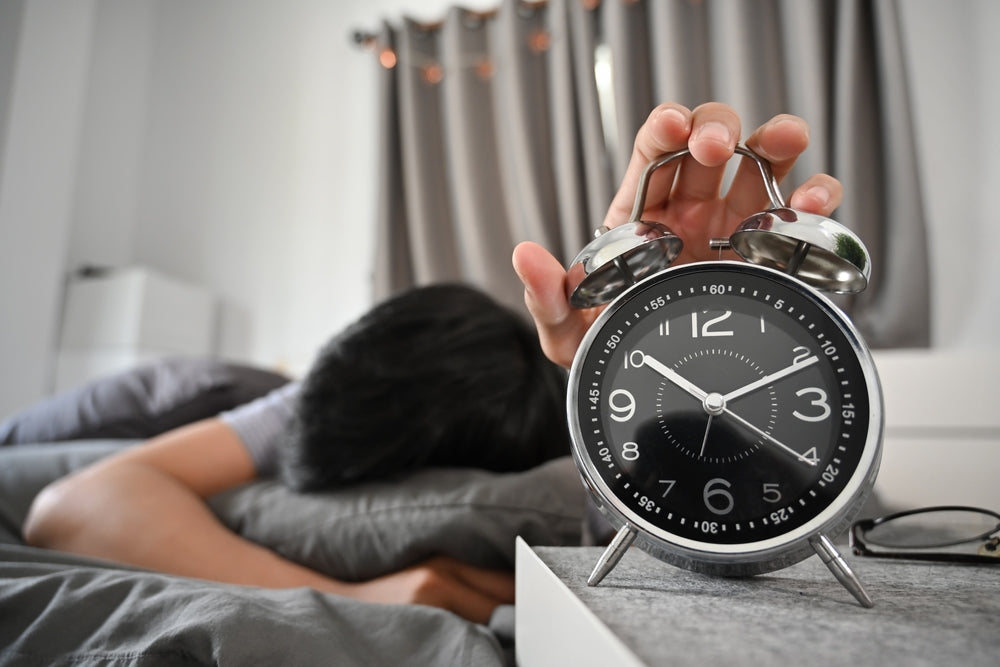 Posted on
---
The biggest sleep problem most people are facing is that they aren't getting enough sleep. Here on our Herctalk blog, we have talked endlessly about sleep deprivation and the dangers of not getting adequate sleep. But what about the opposite? Can you sleep too much? Surely, you can't have too much sleep. 
Well, it turns out you can. Oversleeping is linked to poorer health. In some cases, oversleeping contributes to these health conditions. In other cases, oversleeping is a symptom of an underlying health problem. 
But either way, spending too much time sleeping doesn't do your health any favors. Here are five health risks associated with too much snoozing. But before we get into that, a couple of things to keep in mind.   
Oversleeping or

hypersomnia

is when you sleep for more than 8-9 hours over a 24-hour period.

It doesn't have to be a continuous 9 hours. If you sleep the usual 8 hours at night then also take naps during the day, that's still oversleeping. 
5 Health Risks of Oversleeping 
1. Poor Cardiovascular Health
Both too much and too little sleep are bad for your heart health. They are associated with an increased risk of heart disease, stroke and other cardiovascular diseases. 
We have some idea how too little sleep harms your heart. A combination of factors including higher heart rate, increased blood pressure, higher inflammation and salt retention make a heart attack, stroke or heart failure more likely. 
But researchers are not sure how too much sleep increases the risk of heart problems; we just know that it does. It could be that too much sleep causes inflammation and other problems that affect your heart, or it could be that oversleeping is a symptom of failing heart health. 
2. Type 2 Diabetes
Many diabetics report sleeping less than 6 hours because they have to wake up frequently to urinate or drink water, they are more stressed about their health or they are experiencing uncomfortable symptoms of high ro low blood sugar such as sweating or dizziness. 
Type 2 diabetes can also make you sleep longer than usual as your blood sugar fluctuates. Oversleeping tends to worsen your mental health and leads to more erratic sleep, both of which can make your health worse. 
Also keep in mind that oversleepers are less likely to be active, which makes controlling blood sugar more difficult.  
3. Depression and Other Mental Health Disorders
Poor mental health and poor sleep can create a vicious cycle that is difficult to break out of. For example, too much stress can cause insomnia, which in turn leaves you even more stressed, which then worsens your sleep quality and on and on it goes. 
The same is true for mental health and oversleeping. One of the classic symptoms of depression is oversleeping. But spending too much time in bed also worsens depression. So you get into this never-ending cascade of worsening mental health and sleep quality.
So while oversleeping may not cause depression, it can worsen it. The same goes for other issues like stress and anxiety.   
4. Obesity
People who sleep for 9 or 10 hours at night are more likely to get obese over the next six years. It's probably not because oversleeping directly makes you gain weight, but that it's a symptom of metabolic disorders that lead to obesity. 
That said, spending too much time in bed certainly makes you gain weight faster and makes it harder to lose weight. Oversleeping likely affects your metabolism, leaves you too fatigued to exercise and worsens your mental health (which can cause more weight gain). 
5. Early Mortality 
Perhaps the most worrying link between oversleeping and health is that it increases the risk of premature death. 
People who sleep for more than nine hours have a higher death rate compared to people who sleep 7-8 hours. 
It's most likely that oversleeping is just one of the symptoms of various diseases. So people who frequently oversleep are more likely to be in poor health and thus tend to have a higher mortality rate. 
Oversleeping as a Symptom of Poor Sleep habits
One of the possible reasons oversleeping is associated with worse health is that it is a reflection of overall poor sleep quality. 
Many people who oversleep are also likely to have other sleep problems such as insomnia, waking up frequently at night, daytime sleepiness. Oversleeping can sometimes be a symptom of sleep deprivation. 
So some of the health risks associated with oversleeping may just be as a result of poor quality sleep, including sleep deprivation. 
How to Avoid Oversleeping 
The best way to prevent oversleeping (or undersleeping) is having a regular sleep routine. Plan your evenings so that you go to bed at around the same time everyday. To make this easier, eat your dinner earlier, don't take caffeine or alcohol in the evening, and turn off screens an hour or two to bedtime. 
In the morning, always wake up at the same time even if you are tempted to stay in bed. 
It's also important to address any factors behind your poor sleep quality. For instance, if you are suffering from chronic insomnia or some other disorder like sleep apnea, talk to a sleep specialist for treatment. 
If your mental health is not in a good place, address that even as you try and improve your sleep quality. 
If you are not sure what's making you oversleep, consider getting a medical checkup to rule out an underlying health issue. In some cases, your doctor may recommend getting a sleep study to better diagnose your sleep problems. 
Quick links
Contact
6063 Hudson Road #160
Woodbury, MN 55125
Yo@hercLeon.com