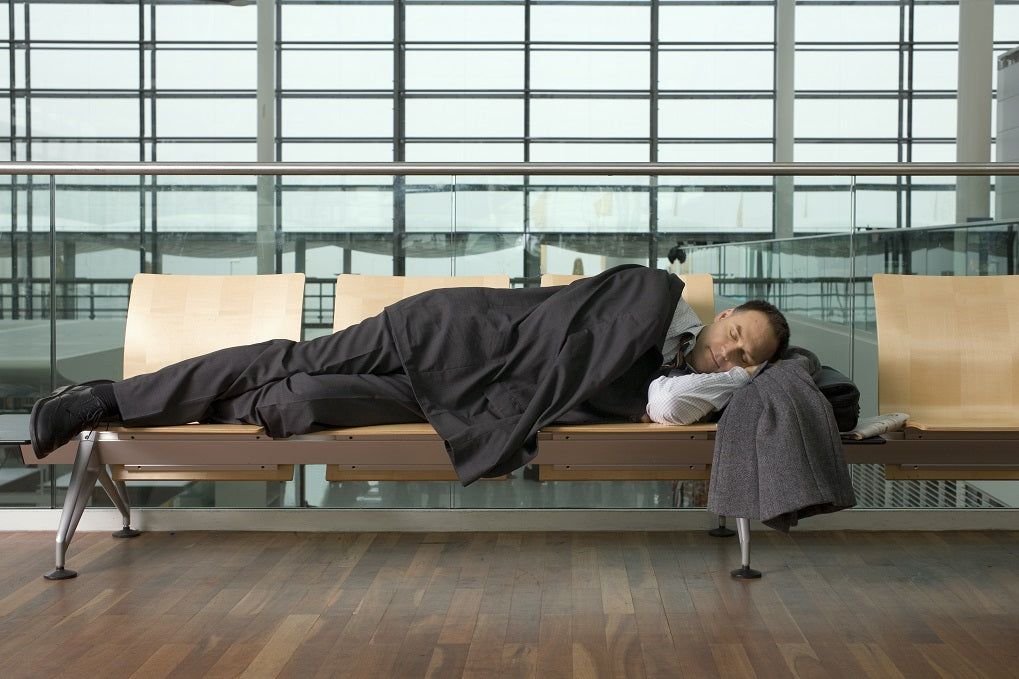 Posted on
---
People often describe jet lag as feeling very tired but you cannot sleep. Your body is telling you one thing (you need to sleep and rest) but your new environment dictates that you must stay awake. 
Jet lag has no cure but there are things you can do to help your body adjust faster to a new time zone. There are also ways to reduce the impact of jet lag before and during your flight. 
What Causes Jet Lag?
Your body runs on a 24-hour clock that responds to daylight and darkness. This clock, often called the circadian rhythm, directs various processes in the body. 
For example, your body releases melatonin at night to help you sleep. Sunlight triggers the increase of serotonin, a hormone that boosts your moods and makes you more alert during the day. 
When you fly across different time zones, you disrupt your natural circadian clock. For example, you may arrive at a new city in the morning but it's nighttime back at home. You are tired and your body is ready for sleep, only to find that you have to wait several more hours for darkness. 
You badly need rest but your body, seeing that it's daylight where you are, refuses to sleep. In some cases, you might really feel sleepy but work or other activities force you to stay awake. 
Basically, your body is hella confused. Jet lag causes sleepiness, fatigue, irritability, moodiness and stomach upsets. 
It can take a few hours or days to overcome jet lag and adjust to the new time zone depending on how far you flew. The more time zones you cross, the worse the jet lag. Also, flying east causes worse jet lag because you are moving against the circadian clock.  
How to Adjust To A New Time Zone
To overcome jet lag, you need to reset your body clock. The best way to do this is through light exposure. Sunlight, to be specific. 
Once you arrive at your destination, spend some time in the sun to alert your body that you should be awake. You'll still feel a bit tired, but the jet lag will not be as bad.  
Do this every morning when you wake up to get your body used to the new time zone. 
If you are struggling to sleep when it's dark because your body thinks you should be awake, try taking melatonin or get over the counter sleeping pills. If you often experience severe jet lag, you can ask your doctor to prescribe stronger sleep medication. 
If you'd prefer not to take anything, try various relaxation techniques to try and get yourself to sleep. Ideas include taking a warm bath, stretching, meditation and avoiding screen time close to bedtime and reading.
Try as much as possible to stick to a sleep routine that aligns with the new time zone. Wake up when it's morning, even if you are still sleepy, and go to bed in the evening even if you still feel alert.   
Can You Prevent Jet Lag?
No, you cannot completely prevent jet lag. But you can minimize the symptoms of jet lag with good preparation. Here are some tips. 
Give yourself enough time to adjust to the new time zone. If you have an important meeting or event, get to your destination a few days ahead of time. 

A few days before your trip, start adjusting your bedtime to match the new time zone that you'll be in. Change your bedtime in small increments of about 30 minutes each day. If you'll be traveling eastward, sleep earlier and wake up earlier. If you are flying west, sleep later and wake up later.

If you'll be arriving during the day where you are going, try to sleep on the plane. It will reduce sleepiness when you get to your destination. A travel pillow, sleep mask and earbuds (or noise canceling headphones) can help you snooze while flying.    

If you will be arriving in the evening or at night, avoid sleeping for too long before and during the flight. This will build up sleep debt and make it easier to sleep at the right time where you are going. 

Drink plenty of water during and after the flight. Staying hydrated will reduce the severity of jet lag. Avoid alcohol, coffee, tea and other beverages that can interfere with your sleep. 

Avoid eating too heavily on and before the flight. Stick to light and healthy foods or snacks to prevent stomach upsets. 
Final Thoughts
I highly recommend trying out a jet lag app like TimeShifter and Jet Lag Rooster. These apps help you create a pre and post flight plan that reduces the effects of jet lag. They make it easier to adjust your sleep routines to the new time zone. 
Quick links
Contact
6063 Hudson Road #160
Woodbury, MN 55125
Yo@hercLeon.com