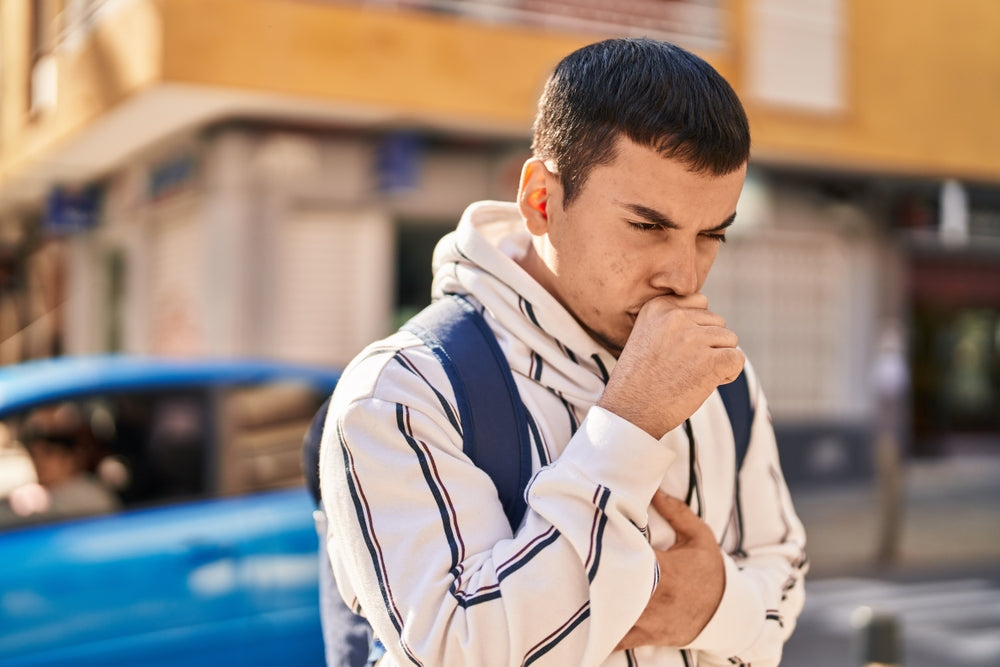 Posted on
---
College kids get sick a lot. They are usually not serious ailments. The most common ones include the flu, mono, stomach flu, and acne. Nevertheless, these health issues can seriously affect their studies and overall college life. 
Below, we explain why college kids get sick so often, why even simple illnesses can be detrimental to their social and academic life, and what college parents (and the college kids themselves) can do about it.  
Most Common Illnesses Among College Students
Because of the dense social environment, the most common illnesses in college are those that easily spread from person to person. The flu tops the list of common college ailments followed by upper respiratory tract infections that cause coughing, sneezing, runny nose and other symptoms. 
Mononucleosis (mono) is also very common. It spreads mostly through saliva. Don't worry, your kid is probably not going around kissing everyone. Mono spreads mostly through sharing things like drinks, water bottles and foods. 
Crowded environments like the cafeteria are also hot spots for the spread of stomach flu, while communal showers and swimming pools are perfect places for getting athlete's foot.  
Going to college can also trigger or worsen acne and other skin problems. The worst thing about these is that they are highly visible, and thus tend to be more detrimental to a student's mental health. 
5 Reasons Why College Kids Get Sick So Often 
They are living in a denser environment -

spending a lot of time in close proximity to other college students, whether it is at the dormitory, cafeteria or lecture halls, makes it easier for ailments to spread around. 
College kids often don't sleep well

- lack of quality sleep lowers immunity, making it easier to get sick. It also affects the body's ability to heal quickly. Simple ailments like a cold or a stomach bug can get more serious and take longer to go away. 
Good hygiene can be difficult in college -

this is mostly because of living in close quarters with other people. This increases the spread of disease-causing germs. 
College kids experience higher levels of stress

- this is especially true for first year college students who find themselves in an utterly new environment and facing new challenges. Like poor sleep, too much stress lowers immunity and makes one sicker for longer. 
Poor diet -

you probably don't want to know the stuff your kid eats in college. College students often have too little of healthy foods like fruits and vegetables and too much of junk food, starches, sugary drinks and alcohol. Inevitably, this affects their health. 
Why Acne (and Other Illnesses) Are Bad For Your Child's Grades and Social Life
Most of the illnesses college kids get are not serious. A few days of rest and some over the counter medication is usually enough for a full recovery. 
That said, these illnesses can negatively affect your child's life in college. Frequently falling sick, even from something as simple as a cold, can keep a student out of class for days. It can also make it harder for them to study, which often leads to poor grades. 
It's not just their grades you need to be worried about. Illnesses like acne can seriously affect a student's mental health. 
Most college kids are highly self-conscious about their looks. So anything that affects their skin can be a major stressor. Students feel less attractive, they lose confidence  and are less likely to hang out with other people. 
According to the American Academy of Dermatology, even mild acne can lead to depression and anxiety. Acne can also lead to or worsen loneliness, low self esteem and stress.  
Inevitably, this will lead to academic problems and likely poor grades. It is worrying how a seemingly simple skin condition has the potential to change the trajectory of your kid's life. 
This is why it is so important to think about your college child's health. It matters for their wellbeing, their mental health, their studies and their future career. 
And the best way to protect their health is prevention. Reducing their risk of catching various ailments ensures they attend most of their classes, focus on their studies, feel comfortable in crowds, make friends and enjoy life in college. 
There are plenty of preventative actions college kids can take to protect themselves from illnesses. Two of the most important ones are quality sleep and good personal hygiene.  
The Importance of Quality Sleep for College Students
College students generally have terrible sleep quality, with most getting less than 7 hours of sleep each night against the recommended 7-9 hours for young adults. 
One reason for this is that most students don't feel like sleep is important. They'd rather stay up late studying or having fun. A poor sleep environment (uncomfortable bed, noise, light, temperature etc.) is also a common cause for poor sleep quality among college students.
Sleep deprivation has serious consequences on mental, emotional and physical health. Lack of sleep makes students get sick more frequently because it impairs immunity. And when they get sick, lack of adequate rest slows down recovery time.  
Poor sleep quality also increases the risk of anxiety, depression and stress. It can also affect a student's social life by making them moody, irritable and short tempered. 
How to Improve Sleep Quality for College Students
The first thing is to make sure they understand the importance of sleep. Let them know it's not a waste of time, but an essential part of being happy, healthy and successful. 
Then, make sure their sleep environment is sleep-friendly. Start by getting them a comfortable mattress. Most online mattresses these days have a long trial period, so they can try a few until they find the one they like most. 
The type and quality of sheets are important too. Look for sheets that are soft, breathable, moisture-wicking, hypoallergenic (protects against skin flare ups) and hygienic.  
Our very own Jax sheets have these qualities and more. The Hygiene + Comfort Jax Sheets are not only comfortable, they are also designed to offer a hygienic sleep environment. They actively destroy 99% of bacteria on the sheets, which protects the skin from acne and other kinds of embarrassing breakouts. 
The antimicrobial sheets also reduce the risk of contracting other diseases that spread easily in dorm rooms. 
The soft feel, sweat-wicking and breathable nature of Jax Sheets make it easier for your college kid to fall asleep quickly and enjoy deeper sleep. They are especially beneficial for students who sleep hot or have night sweats.  
Personal Hygiene Tips for College Students To Stay Healthy
Improving your hygiene is one of the best ways to protect yourself from things like acne, the flu and mono. You don't have to turn into a germaphobe; just the regular stuff like washing hands to keep germs and bacteria at bay.   
Keeping Germs At Bay 
Because it is impossible to completely avoid germs, the best way to stay safe is to actively protect yourself. Wash or sanitize your hands often, take a shower daily, avoid sharing personal items with others and take extra precautions in shared facilities like bathrooms and the swimming pool. 
Also be careful about the items that come into contact with your skin. Items like bed sheets can harbor a shocking amount of germs. Let's not even talk about towels. Unmentionable stuff thrives on damp towels and they easily transfer onto your skin, leaving you smelling iffy and increasing the risk of acne and breakouts. 
Getting Jax sheets, which are antimicrobial, can protect against acne and other ailments. We also have an antimicrobial towel, the Tegan Towel, that kills 99.9% of germs on the towel, which protects your skin from breakouts and other problems. 
This antimicrobial effect also reduces unpleasant BO, so you can feel more confident in the crowd. 
There are also antimicrobial clothes that actively protect you as you go about your day. Our own self-cleaning Apollo shirt keeps bacteria at bay, including odor-causing bacteria. So it protects your skin from breakouts and keeps you smelling great. 
By the way, all these antimicrobial items - Jax sheets, the Tegan towel and the Apollo shirt - stay clean and fresh much longer. They can go for days or weeks without being laundered and they stay fresh. We know this is a big plus for college students who have better things to do than laundry. 
Less laundry is also great for the environment.  
Final Thoughts
College is a great opportunity for kids to discover themselves and the world, to make friends and face new challenges. 
But health problems can get in the way of all that. Fortunately, many of these are preventable with good hygiene, good quality sleep and other simple habits. 
Our antimicrobial Jax sheets, Tegan towel and Apollo shirt are a great place to start. 
Quick links
Contact
6063 Hudson Road #160
Woodbury, MN 55125
Yo@hercLeon.com