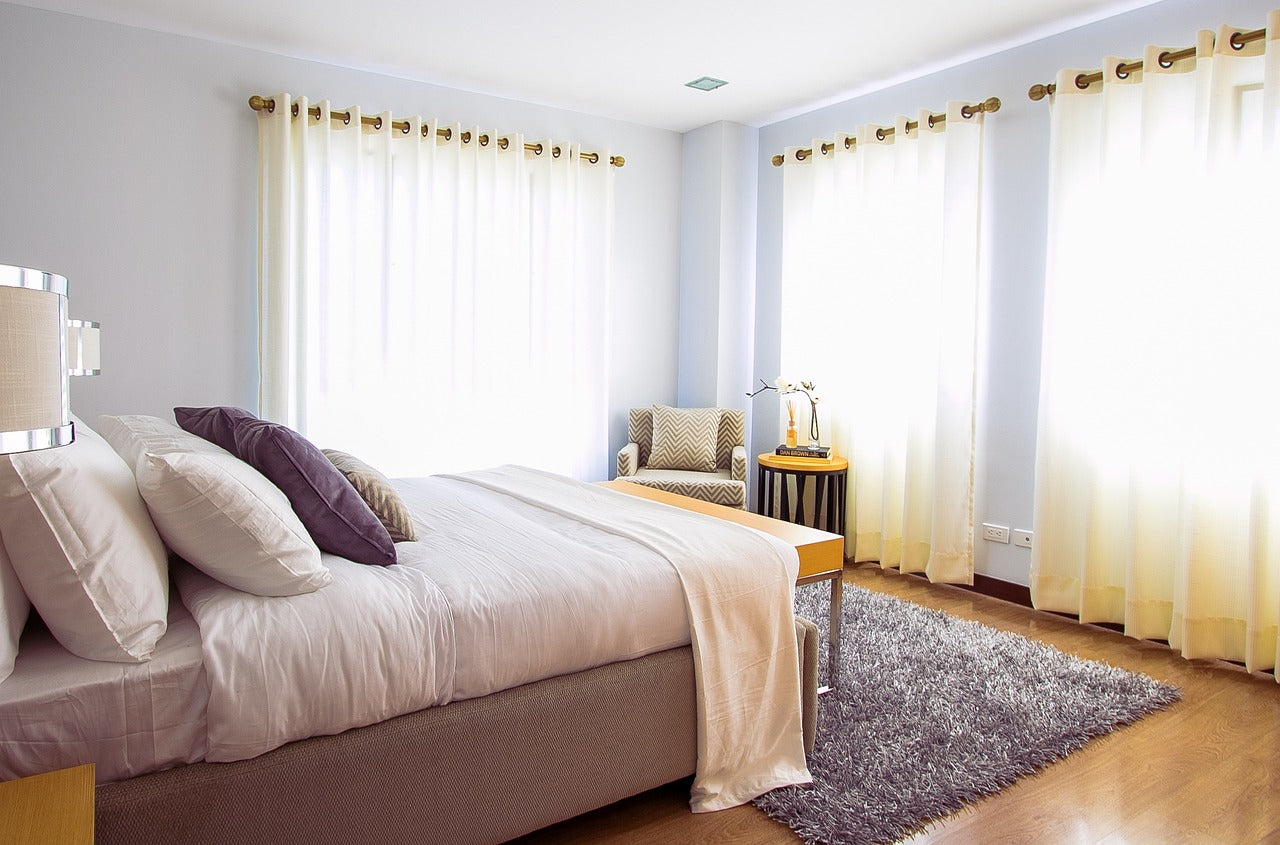 Posted on
---
We all prefer different kinds of bedrooms. I am personally a fan of modern bedroom decor. You probably love a more eclectic or vintage look. But what matters in the end is how friendly your bedroom is for sleep. 
There are several characteristics that any good bedroom should have. I like to refer to them as the sleepy rule of four (terrible name, I know). They are quiet, dark, cool and comfortable. If you achieve all four of those, you'll enjoy longer and deeper sleep.   
How To Make Your Bedroom Quieter 
You could get used to sleeping near a noisy road, but it will still affect your sleep quality. Studies have shown that noise pollution is related to various health problems including heart disease, high blood pressure, increased stress and more. 
Nocturnal noise is especially bad because it interferes with sleep. Even if you get used to the noise and have no problem falling asleep, your body doesn't get enough deep sleep.  Specifically, noise reduces the amount of time you spend in REM and slow wave sleep. In other words, your sleep gets shallower. 
Without this deep sleep, your body is not able to recover, heal, regenerate and carry out other processes that are crucial to your health. 
Unfortunately, short of moving to a different neighborhood, often there's nothing you can do about reducing the noise. The best option is to block it out. Here are some tips. 
The cheapest way to make your bedroom quieter is by getting earplugs. Foam earplugs are excellent at noise reduction, including low frequency noise from trucks and rumbling motorbikes. But they are not reusable. If you want reusable earplugs, get silicone ones. 

If the noise is not too much (maybe some faraway traffic or construction noise), thick and heavy curtains might be enough to make your bedroom quiet. Look for those that also block out light. 

If you have the budget, replace your current windows with acoustic windows. They are also great for insulation. 

Add soft surfaces like thick carpeting to the bedroom to absorb noise. 

Try covering over the unwanted noise with soothing sleep sounds. A white noise machine works for many people. You can also try rain, wind, ocean or thunder. You can play the noise on an external speaker or wear comfortable sleep headphones or earbuds.  

Look for any spaces noise may be coming through and seal them. Examples include adding caulk around the window, installing a soundproof door seal or soundproofing the air vent.
How To Block Light In Your Bedroom 
Next up is light. This one is usually a lot easier to deal with compared to noise. But first let's look at how light can affect your sleep. 
When you sleep and how long you sleep is governed by your circadian rhythm, an internal clock that runs for 24 hours. 
Your circadian rhythm reacts to several environmental cues. These cues have a cool German name — zeitgebers. One of the most important cues is light. 
When it gets darker in the evening, your body takes it as a sign that it's time to rest. Your melatonin levels steadily rise, making you sleepy. Exposure to artificial light interferes with melatonin production, making it harder for you to sleep. 
A too-bright bedroom can also interrupt your sleep cycles, keeping you from getting deep restorative sleep. 
If you don't sleep long enough or don't get deep sleep, it can result in fatigue, daytime drowsiness and long term health risks like diabetes, obesity and heart disease. 
Fortunately, making your bedroom pitch dark is fairly easy. Here are some tips. 
If the light is coming from outside, then it's a simple matter of getting blackout curtains. If there's still light leaking from the top and sides of the curtains, get wrap-around curtain rods and attach them higher above the window. 

A cheaper alternative is to wear a sleep mask. I particularly love those 3D sleep masks that have hollowed out spaces for your eyes. They are much more comfortable than regular masks that press on your eyes. 

Get rid of any light source from inside the bedroom. Get rid of any unnecessary gadgets and electronics from the bedroom. Don't watch TV or browse your phone in bed as the light can make it harder to sleep. If there's a light source you cannot get rid off (e.g. indicator lights on a CPAP or portable AC), put tape over it. 
How to Keep Your Bedroom Cool 
In addition to light, the other major zeitgeber for your circadian clock is temperature. The combination of less light and falling temperatures is a big reason we get tired and sleepy in the evening.  
The right ambient temperature helps the body lower its core temperature, which in turn activates the sleep cycle.
If it is too hot, your body struggles to cool down and you'll find it harder to fall asleep or get deep sleep. If it gets too cold, your body shifts its efforts to keeping you warm, which can interfere with sleep.  
The ideal temperature range for sleep is 60F to 68F. But it can be difficult and expensive to keep your entire bedroom in this temperature range especially in the summer. It's better to try and regulate the temperature in your bed only. It's more efficient and much easier. 
If you don't mind the energy costs, go ahead and set your thermostat at 60-68 degrees. You can also use a portable AC, window unit or space heater to cool or warm the bedroom to the perfect temperature.  
The ideal temperature depends on the weather outside, what kind of bedding you use and whether you are a hot or cold sleeper. Experiment with different temperature settings to find out what temperature puts you to sleep the fastest. 
But if you want to save money, here are cheaper alternatives. 
Get the right bedding. If you get cold at night, look for a heavier comforter and warm sheets made from cotton flannel, polyester or silk. If your problem is sleeping hot, get breathable bedding that doesn't trap heat. These include a lightweight comforter and cool sheets made from bamboo, percale cotton or linen.  

If you want precise temperature control, get a bed heating and cooling system. The best ones are BedJet, Ooler and Eight Sleep. These water or air climate control systems let you dial in a specific bed temperature.  

Get a bed fan that blows air under the sheets. It will keep you cool and sweat-free. 

Use a regular floor or table fan. Moving air can be enough to make the bedroom comfortably cool. For extra power, place a bowl of ice-cold water in front of the fan. As the air blows across the water, it cools down and makes the room cooler.  
How To Make Your Bed More Comfortable 
Your bedroom is quiet, it's dark and you feel comfortably cool. The last piece of the puzzle is the bed itself, especially the mattress. How comfortable is it?
Your mattress is one of those things you shouldn't be shy about spending a lot of money on. It is absolutely worth it for your sleep quality. It's not an exaggeration to say that a comfortable mattress can make you healthier and more productive. 
I could spend the entire day explaining how to choose the right mattress. But basically, you want something that supports you so you don't sink too much, but also cushions your pressure points so your hips and shoulders are not digging into the mattress.
For most people, a medium-firm mattress is the best choice. It can be memory foam, spring/coil, hybrid (foam + springs) or latex. For heavier sleepers, I recommend a hybrid or latex mattress as it offers better support and pressure relief. 
If you naturally sleep hot, have hot flashes or get night sweats, hybrid or latex is the best choice. They sleep cooler and allow sweat to evaporate. 
Here are some other tips to make your bed comfortable. 
The pillow is also important. Get one that cradles your head and neck at the right alignment to the rest of the body. Stomach sleepers need a low pillow, back sleepers need a medium to high pillow while side sleepers generally need a high pillow. 

Invest in high quality sheets that are breathable and moisture-wicking. 

Make sure the bed platform or foundation is strong and stable. Avoid traditional box springs as they tend to sag in the middle, which can cause back pain and damage the mattress. 
Other Tips to Create a Sleep-friendly Bedroom Environment 
The above - quiet, darkness, comfort and a cool temperature - are the main aspects of a sleep-friendly bedroom. But they are not the only ways that can make your bedroom environment more conducive to sleep. 
For example, a neat bedroom is better for sleep. It calms your mind, making it easier to drowse off. Declutter your bedroom and see how it feels. 
A nice smelling bedroom also helps. Add an essential oil diffuser to your bedtime routine to help you sleep faster (lavender is especially great for sleep). 
Also try to keep your bed smelling clean and fresh. Get a waterproof mattress protector, don't eat in bed and keep pets off your bed. Antibacterial sheets can also help eliminate bad odors caused by sweat. 
Some people sleep better when they add plants to their bedroom. It helps calm them down. 
Quick links
Contact
6063 Hudson Road #160
Woodbury, MN 55125
Yo@hercLeon.com