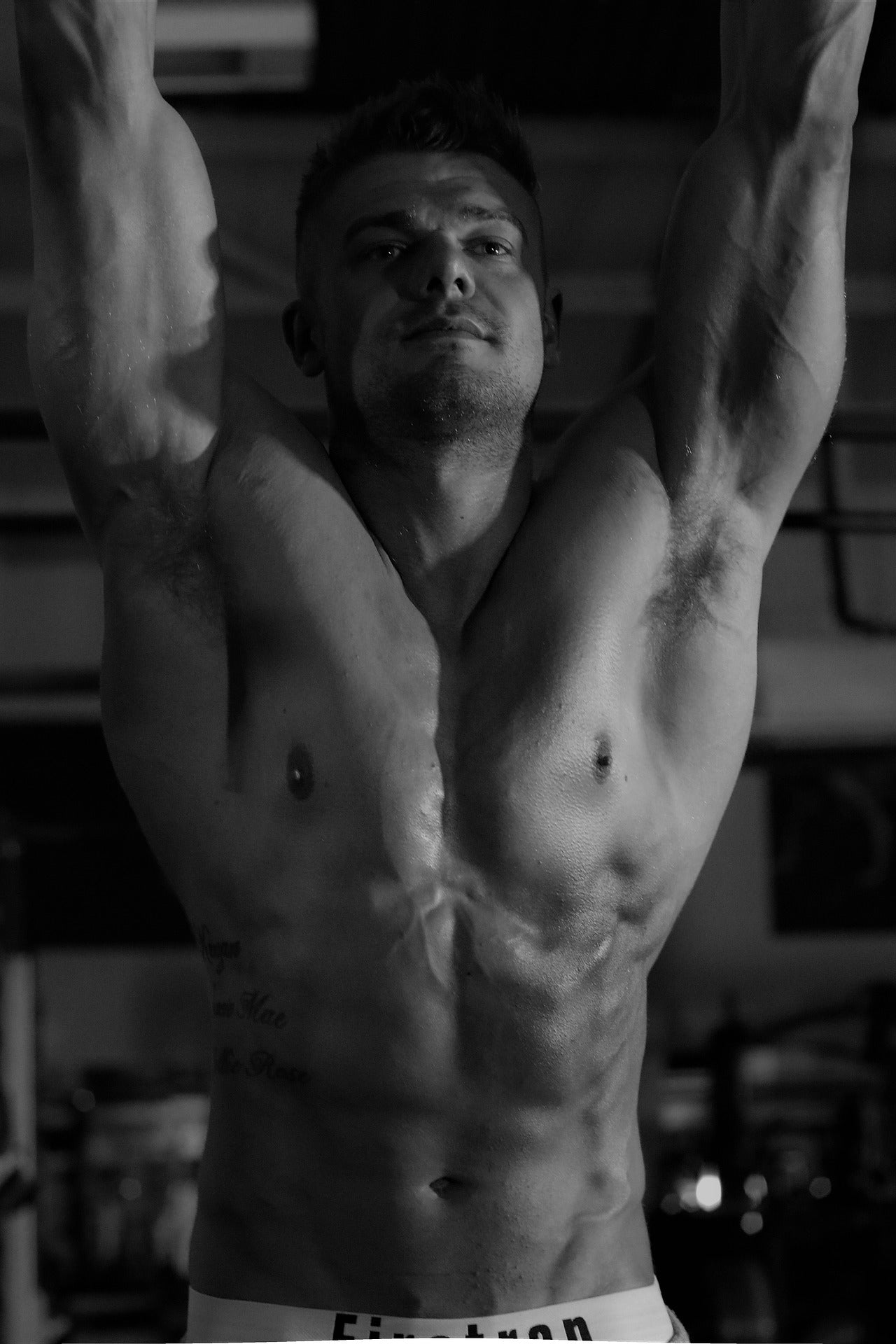 Posted on
---
Gym membership? Check. Workout routine and diet plan? Check. Protein shake? Check. 
Now you are ready to hit the gym and start seeing those gains, right? Well, not quite. There's one more thing you need for successful muscle growth — sleep and lots of it. 
It may seem counterintuitive that you need to snooze to build muscle. But you'll see very little gains if you do not get adequate sleep. We explain why in this article. 
How Muscles Grow - and Why Sleep Is Crucial 
When you pump iron at the gym, you are actually damaging your muscle fibers. Don't worry, this is good. It's also why you might feel sore after workout, particularly if you are just starting out. 
After the workout, your body gets to work repairing those traumatized muscle fibers. Special cells called satellite cells migrate to the damaged muscles and begin repair and regeneration. This increases the size of muscle fibers, which we perceive as muscle growth. 
Those satellite cells only work in specific conditions. One, you need enough protein for new muscle fibers to be formed and damaged ones to be repaired. That's why a protein-rich diet is necessary for muscle growth. 
Two, your body needs to produce adequate growth factors. These are hormones that are crucial for muscle regeneration and repair. 
The production of growth factors in your body peaks when you sleep. Getting the recommended 7-9 hours of quality sleep ensures your body is churning out these important hormones and that they have time to work their magic. 
What Happens If You Don't Get Enough Sleep?
Sleeping for less than 6 hours a night results in slow or no muscle growth, even if you are still going to the gym. That's because your body doesn't have time to fully repair the damaged muscle fibers. 
Every time you go to the gym, you just pile on more damage, making it harder and harder for the body to recover. It'll probably get to a point where you don't even have the energy to work out. 
By the way, inadequate sleep doesn't just affect growth hormones. It also affects another crucial hormone - testosterone. 
We normally associate testosterone with libido, but it's also important for muscle growth. Not getting enough quality sleep can cause testosterone levels in your body to drop, resulting in slower muscle growth. 
How Much Sleep Do You Need for Muscles to Grow?
The standard recommendation is to get 7-9 hours of sleep every night. This is not just important for muscle recovery and growth, but also overall health. 
Lots of studies have shown that people who sleep for less than 6 hours a night tend to be at a higher risk of various health problems. You'll also struggle to see any results from your workout routine. That is if you even have the energy to hit the gym. 
Something to keep in mind is that the quality of sleep matters just as much as the quantity. There are people who get a solid 8 hours of sleep but still wake up feeling fatigued. 
If you often wake up tired, it's probably because you are experiencing sleep disruptions at night. This is often due to sleep disorders such as sleep apnea. Snoring, stress, noise levels, excessive alcohol consumption can also affect sleep quality. 
Your muscles and tissue recover during deep sleep, or what's called Non-REM Sleep. If you don't get enough deep sleep because of disruptions, you may not get the gains you are working so hard for. 
So the secret to sleeping your way to a ripped body is 7-9 hours of high quality sleep. 
6 Ways To Get Better Sleep For Muscle Growth 
1. Stick to A Routine
I know we are not babies anymore who need to stick to a strict sleep schedule. But you'd be surprised at how much a sleep routine improves your sleep quality. Maybe we should learn a thing or two from babies. 
Shifting around your bedtime messes with your circadian rhythm, and can cause a lot of problems like insomnia, fatigue and poor mental health. 
Another advantage of a sleep routine is that it makes it easier to get the right amount of sleep. If you go to sleep at 9pm or 10pm every night, it's easier to get the 7-9 hours of sleep you need. If, on the other hand, you are constantly awake past midnight, you likely never sleep for more than 6 hours. 
Come up with an evening routine that works well with your lifestyle. Have dinner at the same time and try to go to bed around the same time every night. Since you are exercising and wearing out your body, it should be easy to fall asleep quickly even if you go to bed early. 
You can give yourself some leeway on weekends, but don't stray too much (I recommend sleeping no more than an hour later than your usual bedtime). It will make it harder to get back to your schedule when the week starts. 
2. Get Better Bedding 
It can feel difficult to justify spending hundreds or even thousands of dollars on a comfortable mattress, but it is worth it. 
A horrible uncomfortable mattress ruins more than just your sleep. It undermines all the effort you are putting in at the gym, it affects your health and it'll probably give you a bad back. 
Look for a mattress that is suitable for your sleeping position. It should support you (no bottoming out) while also cushioning your pressure points like your hips, back and shoulders. It should also sleep cool. A heat-trapping mattress can make it impossible to get quality sleep.
Don't forget about the sheets as well. Get breathable sheets that keep you cool. They should also be moisture-wicking especially if you get night sweats. 
The most comfortable sheets are made with bamboo, 100% natural cotton, linen, eucalyptus and performance polyester.  
3. Create a Better Sleep Environment 
I envy people who can fall asleep just about anywhere. For us who need everything to be just right, even a dripping tap in the bathroom can be enough to ruin sleep. 
Noise is one of the most common sleep disruptors especially in urban areas. It can cause insomnia or keep you from getting into the deep restorative sleep that you need to build muscles. 
If there's nothing you can do about the noise, find ways to block it such as wearing ear plugs, drowning it out with soothing white noise or getting heavier curtains. 
Heavy blackout curtains can also help make your bedroom dark, which is great for sleep. 
The other issue is temperature. We sleep best in a moderately cool environment (about 65F). If it's too hot or too cold, you'll struggle to sleep. 
You can adjust the thermostat, get a portable or window AC, or use a space heater to get your bedroom to a comfortable sleep temperature. But it's usually easier and cheaper to control the temperature within your bed. 
That could mean getting a heavier or lighter comforter, buying a more breathable mattress or sheets or getting a bed climate control system like BedJet or Ooler. 
4. Watch What You Eat/Drink 
There are the obvious things like caffeine that are a no-no before bed. Also avoid taking too much alcohol. It can reduce both sleep quality and quantity. 
Other foods that can affect sleep include very spicy foods (especially if you have acid reflux), fatty foods, and ultra-processed foods. Either take moderate amounts of these foods or eat them earlier in the day. 
5. Get Off The Internet 
Oh, the beauty of the internet. It allows us to connect with people across the world and get irrationally angry at strangers on the other side of the globe. 
For the sake of your sleep, put down your phone at least an hour before bed. Social media can be especially energizing to our brains, making it harder to shut down and sleep. If you like browsing in bed before you sleep, you are inviting insomnia. 
If possible, don't even have your phone in the bedroom. Read a book, listen to music, journal or find another way to calm down before sleep. You'll find it much easier to fall asleep. 
6. See A Sleep Specialist 
Finally, consider whether you need professional help to get better sleep. There are some problems like night sweats, hot flashes, and sleep apnea that linen sheets or an expensive organic latex mattress won't solve. 
If you think your sleep problem is caused by a health issue, see a sleep specialist for diagnosis and treatment. 
Final Thoughts
Quality sleep should not be an afterthought when you are planning your workout routine. Put it the front and center of your plan next to diet and the actual workout. 
So get off your ass and go to bed if you want to see those abs. 
Quick links
Contact
6063 Hudson Road #160
Woodbury, MN 55125
Yo@hercLeon.com