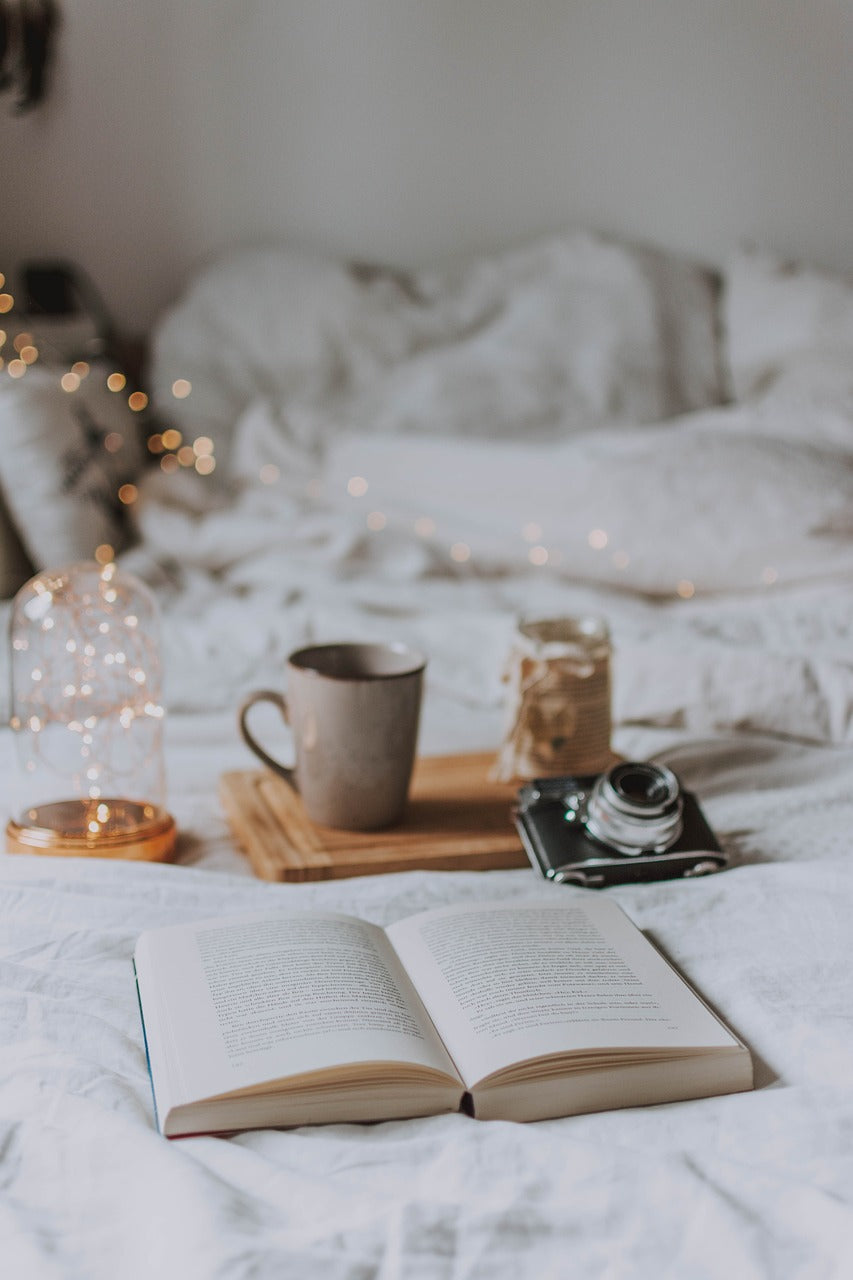 Posted on
---
A healthy bedtime routine is one of the best things you can do for your sleep quality. Most of us do have a bedtime routine, but it would be a stretch to call it healthy. Late night Netflix binging and doom scrolling on our phones is probably not the best way to get ready for sleep. 
A good bedtime routine starts during the day to ensure your body is in an optimal state for deep restful sleep. It may be hard to stick to a routine at first, but give it time and you'll find you actually enjoy it. 
Why A Bedtime Routine is Important
I wish there was an off switch for sleep. Click and you are out. 
Unfortunately, falling asleep for many of us can feel like work. So we often end up dealing with chronic insomnia and suffering the effects of sleep deprivation. 
A bedtime routine is how you trick your body into going to sleep. A consistent routine helps you relax, it clears your mind and makes it much easier to drowse off when you get in bed. It also eliminates unhealthy habits that prevent good sleep. 
How to Establish a Healthy Sleep Routine 
A healthy sleep routine is all about adopting sleep-friendly habits, and not just in the evening but during the day as well. 
Here's a quick guide on how to establish a bedtime routine. Keep in mind that there isn't a specific routine that works for everyone. So feel free to tweak the specifics to suit your schedule and preferences. 
For instance, some people sleep better after a long hot bath while others would rather take a quick shower and sit down with a book. Do what works for you. 
Pick Your Ideal Bedtime 
The first step is to pick what time you prefer going to bed. This varies depending on your particular situation. But generally, it's a good idea to go to bed early, ideally before midnight. 
Going to bed early ensures you get enough sleep before daylight and daytime noises naturally cut short your sleep. 
Once you pick your specific bedtime, you can then plan your routine around it. You don't have to be super-specific about what time you sleep. That can create more anxiety and make it harder to fall asleep. Instead, plan to sleep at a certain hour such as between 9 and 10 or 10 and 11. 
Start During the Day 
Your bedtime routine should start around 1-2 hours before you get into bed. But you need to have certain daytime habits that promote better sleep. 
Exercise is one of them. There is strong evidence that exercise makes it easier to fall asleep and helps you sleep better. 
Also check your caffeine intake. Drink your last cup of coffee 8 hours before your bedtime. That gives it enough time to wear off. 
Leave Enough Time Between Dinner and Bedtime 
Don't eat a large meal then immediately hit the sack. Digestion interferes with sleep and can make it harder to fall asleep. Going to bed full can also cause or worsen reflux and stomach upsets.
Leave at least 2-3 hours between your dinner and the time you go to bed. If you like taking a late night snack before bed, it should be light and not something that interferes with sleep like alcohol or coffee. Good options include a glass of milk, non-caffeinated tea, a handful of nuts or a fruit. 
Keep in mind that what you eat for dinner matters too. Fatty, very spicy and highly processed foods can cause poor sleep quality. 
Put Away Electronics
You know this was coming. Your precious phone is bad for your sleep. Not only does social media whip up emotions that keep us awake, light from these devices makes it harder to fall asleep. 
Put away or turn off other electronics as well including your laptop, TV, or tablet. Give yourself around one hour of electronics-free time before bedtime. 
Do Something That Relaxes You
Relaxing is a crucial part of getting ready for bed. It reduces anxiety and stress, lowers your blood pressure and gets you ready for sleep. 
Find whatever relaxes you the most and add it to your sleep routine. Here are some ideas. 
Yoga or any kind of stretching exercise. Combine it with deep breathing exercises. 

Meditation

Reading 

Listening to music 

Journaling etc.  

Taking a warm bath/shower. In addition to helping you relax, it triggers the release of melatonin as your body temperature drops. 
Get Your Bedroom Ready for Sleep
Finally, prepare your bedroom for sleep. This can include turning down the thermostat, removing clutter from the bedroom, turning on an aromatherapy diffuser and dimming the lights. 
Once you've found a routine that works for you, try to be as consistent as possible even during the weekends. 
Quick links
Contact
6063 Hudson Road #160
Woodbury, MN 55125
Yo@hercLeon.com