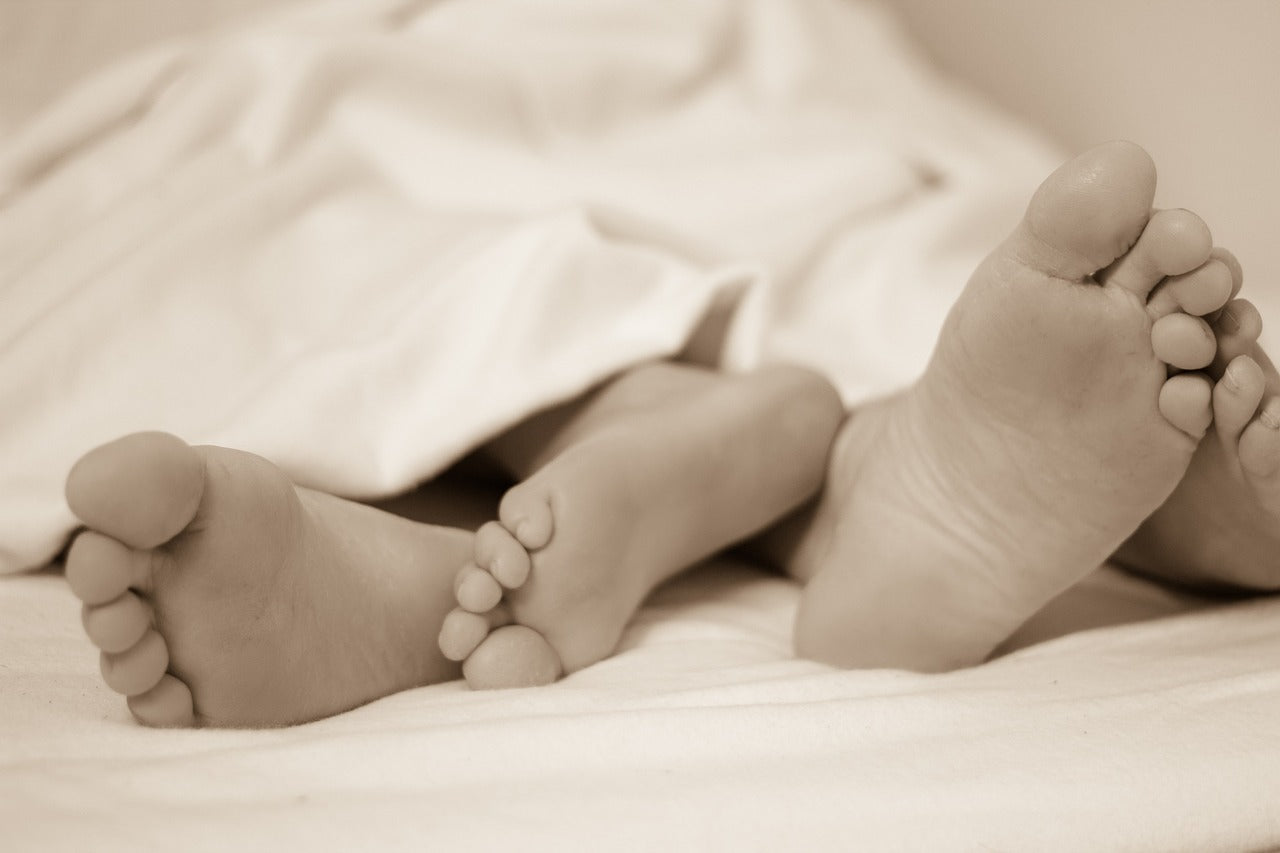 Posted on
---
A comfortable bed can make a huge difference in the quality of your sex life. You want a bed frame or foundation that's sturdy and squeak-free plus a mattress that's supportive, responsive and cool. 
The bed sheets matter a great deal too when it comes to sex. Soft, breathable, and moisture-wicking sheets make for the best sexy nights. 
In this quick guide, we discuss the best kinds of bed sheets for sex and what to look for when shopping for them. 
Why Bed Sheets Matter When It Comes to Sex
Unless you want to end up all tangled up in clammy and stuffy sheets, it's important to pick the right sheets for your fun nights. 
The right sheets make sex, and your sleep afterwards, much more comfortable. You don't have to worry about laying on damp sweaty sheets or smelling musty sheets long after you've had a romp. 
Getting the right sheets is also a matter of hygiene. Sheets that hold onto moisture too long create a perfect environment for bacteria. They'll also get smelly. 
If you have an active sex life, it is worth it to spend more on high quality sheets. They not only improve your sex life, you'll also enjoy better sleep quality. 
What To Look For When Picking The Best Bed Sheets For Sex
Moisture Wicking 
Sex is fun but messy and sweaty. The last thing you want is to be lying on sheets that do not absorb moisture. It leaves your body sweaty, damp and clammy. You may not notice this in the heat of the moment, but it will bother you as you are trying to cool down afterwards. 
Moisture-wicking bed sheets quickly absorb sweat from your body, which helps you stay dry and cool both during and after sex. 
When it comes to absorbing the gallons of sweat you'll undoubtedly shed, there are plenty of good options including cotton, bamboo, linen and silk sheets.  
Fast Drying
It's not enough for the bed sheets to absorb sweat and moisture; it's also important that they be quick-drying. Otherwise, you'll find yourself sleeping on sticky and clammy sheets. 
This is where cotton falls short compared to other fabrics. Cotton is great at absorbing sweat, but it holds on to it. So if you sweat a lot during sex, the sheets can get uncomfortably damp. 
Microfiber, silk, linen and bamboo sheets are some of the fastest drying kinds of sheets. 
By the way, fast drying sheets are more hygienic. Bacteria love warm and moist environments. There'll also be fewer odor-causing bacteria, ensuring the sheets stay fresh even after a sweaty romp.   
Breathable & Cool 
With all the heat that sex generates, having cool and breathable sheets is crucial especially during the summer months. 
Sheets made from natural fibers offer the best cooling performance. These include cotton (especially percale cotton), silk, bamboo, eucalyptus and linen  
Soft 
You don't want rough sheets rubbing on your skin during sex. Paying extra for high thread count cotton sheets (300-500) is worth their luxury feel. 
Silk and bamboo sheets are also soft. Linen sheets can feel a bit rough at first but they soften with every wash. And if you are on a budget, microfiber sheets are the softest synthetic sheets.  
The 6 Best Types of Bed Sheets for Sex
Now that you know what to look for in sex-friendly bed sheets, here are the six best bed sheets that will upgrade your sex life. 
Linen Sheets

— Linen sheets are great if you are looking for all-natural luxury sheets. They are cool, moisture-wicking and durable. They start out a bit stiff but get luxuriously soft over time. 

Silk Sheets

— Silk sheets are some of the most expensive, but also the most luxurious. They are all-natural, ultra-cool, luxuriously soft and excellent at moisture-wicking. Note that real silk sheets are not slippery (a common myth), so you should have no trouble with movement during sex. 

Bamboo or Eucalyptus Sheets

— If you want eco-friendly sheets that are cheaper, try bamboo or eucalyptus sheets. They are really soft, they sleep cool, absorb sweat and they dry faster than cotton. 

Cotton Sheets

— Cotton sheets offer the best value. They are affordable while being comfortable for most people. We recommend cotton percale sheets as they offer the best breathability. Avoid cotton flannel sheets as they can get too hot. If you sweat buckets during sex (or sleep), consider avoiding cotton altogether and getting faster-drying sheets like bamboo, linen or microfiber. 

Polyester Blend & microfiber Sheets

— If you are on a budget, get microfiber sheets or poly blend sheets. Microfiber sheets can get a bit hot but they stay dry, feel soft and they last a long time. Poly blend sheets combine polyester and other better materials like cotton, bamboo or eucalyptus. You get the durability of polyester and the breathability, softness and moisture-wicking performance of the better fabrics. 

Antimicrobial Sheets

— If you want to be extra sure about the hygiene of your bed, get antimicrobial sheets like our very own Jax sheets. These sheets stay bacteria-free, ensuring they are safe for your health. The antimicrobial technology also keeps them smelling fresh without requiring frequent washing.  
The Worst Types of Bed Sheets for Sex 
Most kinds of sheets are not too bad. As we've seen, there are some excellent once like silk and some decent ones like microfiber. 
But there are two kinds of sheets we really don't recommend for sex. 
One, 100% polyester sheets. These will make you hot and they feel rough. Polyester blend or microfiber sheets are better without being too expensive.  
Two, synthetic satin sheets. These are the glossy sheets often sold as a cheaper alternative to silk sheets. But they are slippery, hot and don't absorb sweat. Avoid them. 
Quick links
Contact
6063 Hudson Road #160
Woodbury, MN 55125
Yo@hercLeon.com