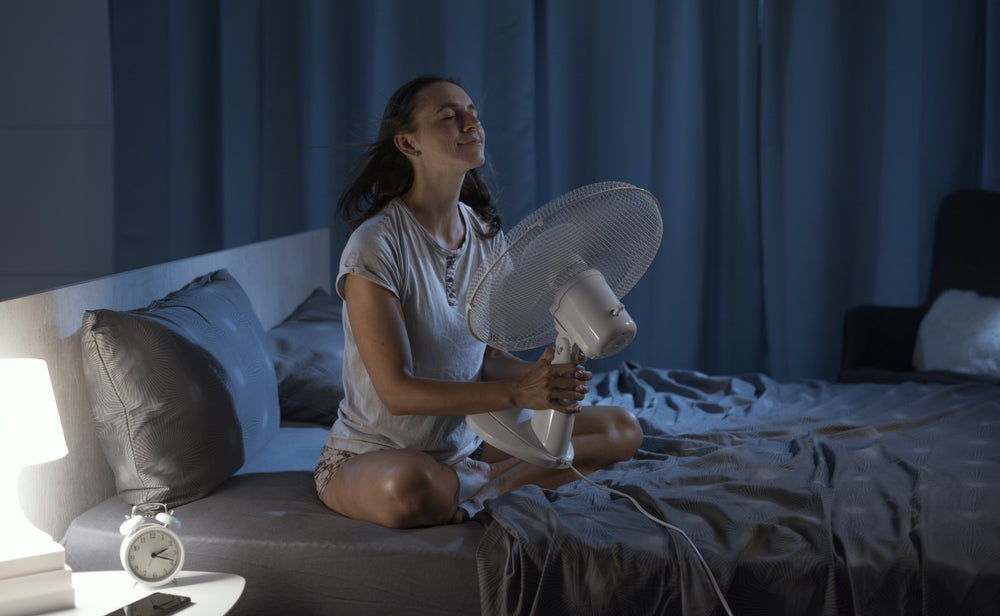 Posted on
---
If you are not sleeping well, it could be that your bedroom is too hot. Adjusting your bedroom temperature downwards is one of the most effective ways to improve your sleep quality. We sleep best at temperatures between 60F and 67F. 
Of course, you can turn down your thermostat to a comfortable temperature. But if you want to save energy, there are other ways to efficiently cool just the bedroom. 
1. Single Zone Mini Split, Window AC or Portable AC
It's more efficient to cool just the bedroom instead of the entire house. So instead of using your central AC to keep your bedroom cool, consider buying a smaller air conditioner for your bedroom. You have three options. 
A single zone mini split system that consists of an outdoor compressor and an indoor air handler. A mini split can easily cool a large bedroom while using less energy compared to window and portable units. On the downside, a mini split is more expensive. 

A window unit is the next best choice. It sits on your window with one side (the one cooling the room) blowing cool air and the other side facing the outside expelling warm air outdoors. A window unit is a lot more efficient (and quieter) compared to a portable unit. Mounting them can be a hassle, though. 

A portable AC is the least efficient option, but the most portable. It sits in your room and then you attach an exhaust hose on the window. Portable ACs are easy to move from room to room, making them a great choice if you want to cool different rooms throughout the day. E.g. the living room or home office during the day and the bedroom at night. 
2. Swamp Cooler 
There's an even cheaper way of cooling your bedroom compared to an AC. Unfortunately, it won't work for everyone. 
Swamp coolers, also called evaporative coolers, work by blowing air over water-soaked pads. As the air absorbs the water, it cools. The cool air is then blown into the room. Swamp coolers use very little energy to run. 
The reason an evaporative cooler won't work for everyone is that it requires specific conditions. Specifically, you have to live in a hot and dry climate. Only warm and low-humidity air will be able to absorb the water and cool the room.
If you live in a humid place, a swamp cooler can actually make your bedroom feel worse. It'll have the same hot and muggy feel that you would experience in Florida during summer.  
3. Fan 
If your bedroom is not too hot, a fan might be enough to cool it down. A fan doesn't bring down the temperature; rather it helps move air around which creates a cool feel especially as sweat on your skin evaporates. 
Get a fan large enough for your bedroom. For more targeted cooling, you can get a bed fan that attaches to the bedframe and blows air under the sheets. A bed fan is really great if you get night sweats or hot flashes. 
4. Water/Air Cooled Mattress Pad
Imagine an air conditioner, but just for your bed. That's what a water or air cooled mattress pad is. There are two major brands in the market today: BedJet and Sleepme. 
BedJet makes an air cooled pad that blows cooled or heated air over you. You can select your preferred temperature. What we love most about BedJet is that it cools you almost instantly, making it great for those with hot flashes. It's also excellent at dealing with night sweats. 
Sleepme makes several mattress pads that use water to cool or warm you. As with BedJet, you can select your preferred temperature. 
The water-cooled pad takes a bit longer to cool you down, but it can get colder, making Sleepme's products best for extra-hot sleepers.  
5. Window Screen
If you don't want to spend any money on cooling your bedroom, a simple solution is opening your window at night. 
To keep bugs from getting into your bedroom, get a window screen and attach it to the window. This lets you enjoy a cooler bedroom without worrying about bugs. 
6. Cool Bedding
I don't mean a spider man duvet, though that would be pretty cool. Rather, get bedding that's breathable to help you feel cooler at night. This can be especially helpful if you are not able to make your entire bedroom cooler. Cool bedding can make a warm bedroom tolerable. 
Start with the mattress. If even a little bit of overheating bothers you in sleep, stay away from memory foam mattresses. They have gotten better at cooling, but they still trap quite a bit of heat. 
Latex and hybrid mattresses have the best cooling performance. If you have to get a memory foam mattress, at least find one with cooling gel, an open-cell design and a breathable cover made from materials like cotton or bamboo. 
If you are already stuck with a 'hot' mattress, a cooling mattress topper/pad made from latex or wool can help. 
Next, pick cool sheets such as our Jax sheets for men. Sheets made from silk, bamboo, eucalyptus (Tencel) and percale cotton are the best picks if you want cooler sleep. Generally, go for sheets made with natural fibers. 
The same is true for the comforter. Look for one with a cover made from one of the above fabrics. Ditto for your pillow cover and pillowcase.   
Talking of the pillow, natural latex and down pillows offer the coolest sleeping experience. They are especially great for those who get localized hot flashes on their face. A microfiber or shredded memory foam pillow also sleeps reasonably cool as long as it has a breathable cover and pillowcase.  
What If My Bedroom is Too Cold?
A cold bedroom can be just as bad for sleep as a hot bedroom. Fortunately, it's usually easier to deal with a bit of a chill in your bedroom. A thick winter comforter, an extra blanket or warmer sleepwear usually does the trick. 
You can also get one of the cooling mattress pads we mentioned before - BedJet or Sleepme. They can both cool your bed as well as warm it. Another option is an electric heating mattress pad or blanket. 
You can also use a space heater or crank up the thermostat, but that will use more energy and spike your bills. 
Final Thoughts
If you try the above tips and still get hot at night, you should probably see a doctor as there could be an underlying medical issue that's making you feel hot. 
Your doctor can also prescribe medication to help reduce hot flashes. 
Quick links
Contact
6063 Hudson Road #160
Woodbury, MN 55125
Yo@hercLeon.com