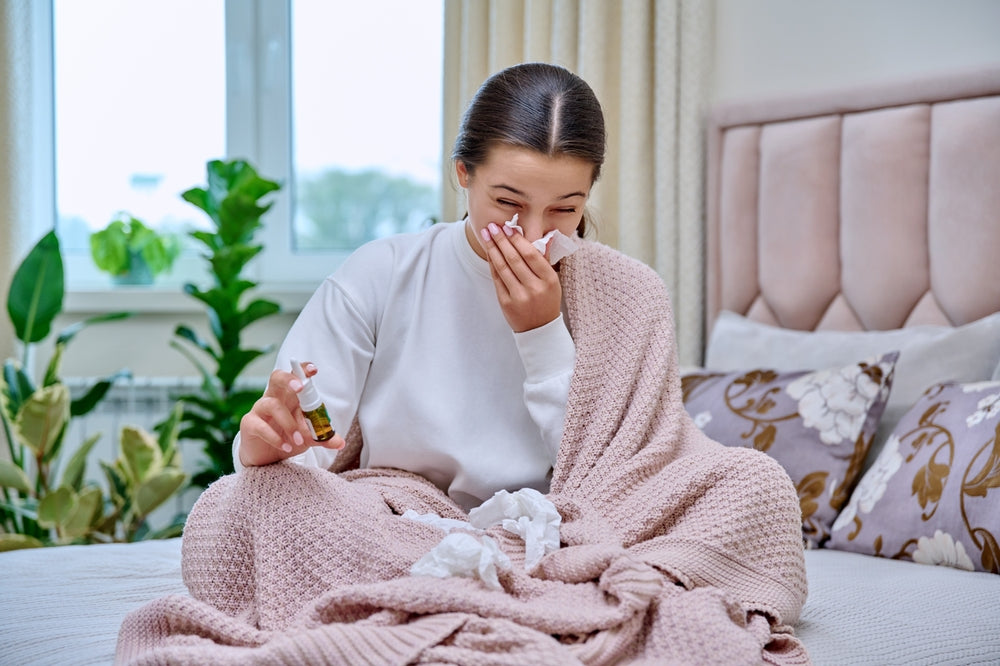 Posted on
---
Have you ever noticed that allergies tend to get worse during specific months of the year? Specifically, the months of spring and fall seem to bring with them a lot more sniffles, coughing, runny nose, itchy eyes and other symptoms. 
If your allergies only occur or get worse during specific seasons, you probably have seasonal allergies. These are allergies that occur in response to environmental changes, such as warmer weather, increased pollination and higher moisture. 
Dealing with symptoms of seasonal allergies is not only uncomfortable, it can wreak havoc on your sleep. In this post, we explore why some seasons are worse for allergies and what you can do to protect yourself and sleep better. 
What Causes Seasonal Allergies? 
Seasonal allergies are triggered by seasonal changes in the environment such as flowering of trees and growth of mold. That's why these allergies get worse during spring and summer. These are the seasons when the most triggering changes take place.
Tree and Grass Pollen 
Pollen is the main cause of seasonal allergies. 
Spring is when most plant flowers bloom, releasing their pollen into the air. That's why seasonal allergies begin to peak around February or March. Symptoms worsen when you go outside, but you can also be affected inside your house since pollen can easily get inside your home. 
What makes spring particularly bad for allergies is that it's when most people start going outdoors where you interact more easily with tree pollen. 
In most places in the US, grasses start to release pollen later in the spring or early in the summer, usually around the month of June. So spring allergy symptoms can persist even after spring has ended. 
But as summer rolls on, some people may experience fewer allergy symptoms. Things get bad again at the beginning of fall season. This is peak ragweed pollen season, so symptoms may flare up again. By mid-November things have calmed down again and allergy sufferers get some relief all through winter.  
Mold Spores
It's not just pollen you need to worry about; mold spores can also trigger allergy symptoms in people sensitive to them. 
Mold allergies can occur at any time of the year, but they are particularly bad when it is hot and humid. So you may start to experience some symptoms as the weather warms up during spring. By summer, the combination of heat and high humidity causes a rise in mold spores in the air. 
You may also experience mold growth inside your home, which causes worse symptoms as the spores get concentrated in the indoor air. 
Other Triggers
Other triggers of seasonal allergies to watch out for include dust, dust mites, seasonal foods, smoke and pet dander. 
These peak at different times of the year. For instance, dust mites thrive in summer thanks to the heat and humidity, smoke from summer forest fires can trigger allergies, and pet dander is worst in the colder months when pets spend more time indoors. 
You may also struggle with dust allergies during winter when indoor heat and reduced ventilation leads to accumulation of dust on surfaces and in indoor air.  Some people are triggered by insect and bug bites, which tend to peak in the spring and summer. 
How Do Seasonal Allergies Affect Sleep? 
The discomfort and irritation caused by seasonal allergies are bad news for sleep quality. At the peak of allergy season, you may find yourself struggling to sleep as you battle a stuffy nose, itchiness, sneezing and other symptoms. 
Seasonal allergies can cause insomnia and sleep disruptions, resulting in sleep deprivation. Symptoms can be worse if you have trees, flowers and grasses in your compound. Mold growing inside your home can also cause serious mold allergies. 
Lack of quality sleep has plenty of unpleasant downstream effects. It affects your moods, increases risk of various diseases like diabetes and heart disease, affects your mental health (can make disorders like depression and anxiety worse) and interferes with your performance at work or school. 
If you don't do anything about it, you can easily find yourself struggling to sleep well all spring and again in the fall. 
Getting Ready for Allergy Season: Tips to Prevent and Manage Seasonal Allergies
1. Know What Triggers You 
It's important to know which allergen or allergens trigger you so you can better protect yourself. Some people are particularly sensitive to pollen, others get symptoms when exposed to dust and others are highly allergic to mold spores. 
If you are allergic to pollen, you can check the pollen count in your area. A pollen forecast can tell you how much pollen is in the air in your area at a particular time. 
If you are not sure what's triggering your allergy symptoms, talk to your doctor. They may be able to narrow down the cause. 
2. Keep Allergens From Getting Inside Your Home
The best way to protect yourself at home from external allergens like pollen and smoke is to keep them from getting inside the house. During peak allergy season, keep your doors and windows shut. A good ventilation system can also help keep concentrations of allergens in indoor air low. 
If you are highly sensitive to allergens, meaning even small amounts cause symptoms, keeping windows and doors shut may not be enough. In that case, we recommend getting a HEPA air purifier to keep indoor air allergen-free. 
3. Watch Out for Allergens From Inside The House
Not all allergens come from outside your home; some are right in there with you. Common household allergens include dust, dust mites, pet dander, and mold spores. 
Shutting the windows and doors won't help with these. If anything, it makes them worse since it increases their concentration. 
The first step is to figure out exactly which allergen is affecting you. It might be your pet, dust from furniture or dander from your pet. Then try to minimize or eliminate the allergens. 
Improving airflow inside the house, which includes opening the windows and doors, will help bring more fresh air inside and reduce concentration of allergens. 
A HEPA air purifier can also help you feel better. It can be especially helpful for sleep. 
4. Protect Your Bed and Bedroom From Allergens 
For better sleep, try to keep your bedroom and bed as allergen-free as possible. Here are some tips. 
Keep bedroom windows and doors shut if you are allergic to pollen or some other external allergens. 

Look for any mold growing in your home, especially in your bedroom. Look for it in damp areas like the basement or bathroom. 

Get a HEPA air purifier for your bedroom. It can prevent allergy symptoms and help you sleep better.  

Use a waterproof mattress protector to keep allergens like dust and dust mites from settling on your mattress. 

Wash bedding regularly including the sheets, duvet cover and pillowcase. Launder them once or twice a week to keep allergens from building up on them.  
5. Wear a Mask Outdoors
It can be harder to protect yourself from allergens outdoors where you can't control them. The best protection is a mask like our Aplu mask. It will keep you from breathing in allergens.  
6. Take Allergy Medication 
There are medications you can take to alleviate allergy symptoms such as eye drops, decongestants, and antihistamines. Depending on the severity of your symptoms, you can get over the counter drugs or ask your doctor for a prescription.
Quick links
Contact
6063 Hudson Road #160
Woodbury, MN 55125
Yo@hercLeon.com