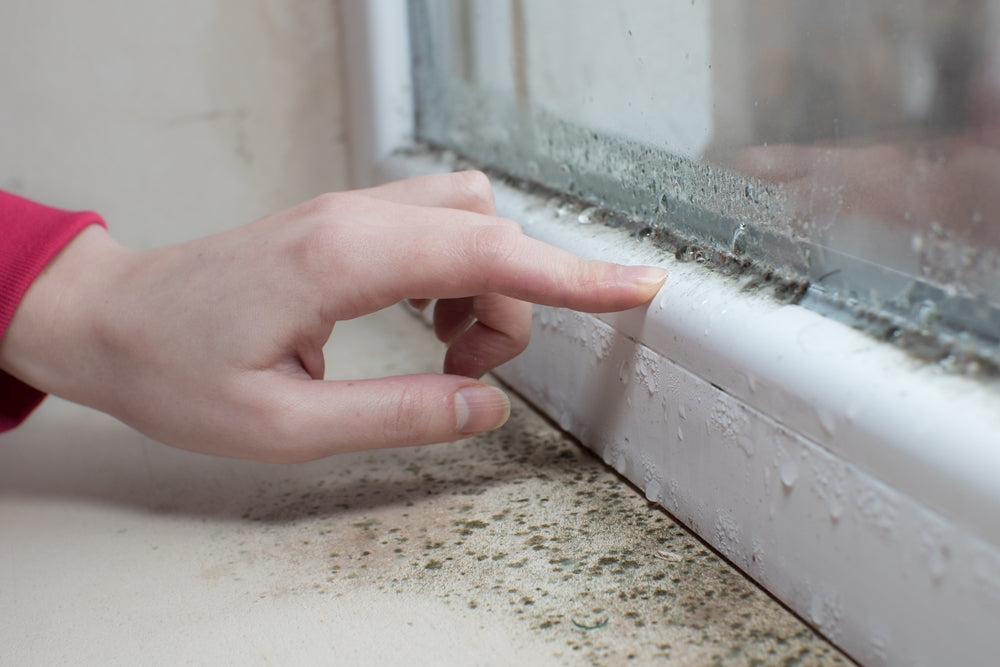 Posted on
---
You can have mold growing in your bedroom without realizing it. That's because it often grows in nooks and corners that are hard to see or reach. You also won't see the mold spores they release, even as they cause uncomfortable symptoms like itchy eyes and throat, coughing, skin dryness and more.
The discomfort can get to a point that it disrupts your sleep and leads to insomnia and sleep deprivation. So if you are experiencing allergy-like symptoms, it's a good idea to check for any mold in your bedroom and home. 
What Causes Mold in the Bedroom?
Mold loves damp, dark and warm environments. So there are plenty of nooks in your bedroom where mold can thrive. Your bedroom is already warm and there's no shortage of dark spots like your closet, under the bed, in the bathroom or in the corners. 
All that's left is some moisture. If there's moisture from a leak, condensation, high humidity or some other source, mold will inevitably take hold. 
Mold growth is especially aggressive in the spring and summer, since it is warm and humid during these months of the year. That's why mold allergy symptoms tend to get worse during these two seasons. 
5 Signs of Mold In The Bedroom?
If you are not sure if your allergy symptoms are being caused by mold spores, here are five signs that will tell you for sure there is mold in your bedroom. 
1. You Can See The Mold
If you notice spots or patches of white, black, gray, blue or some other color on the wall (mold can appear in a variety of colors), you might have a mold infestation in your home. 
In most cases though, the mold will not be in an obvious place since it thrives best in dark and damp areas. So you may need to go hunting for it. Some of the places to look for it include inside the closet, around the window (thanks to condensation), in the bathroom, and around any heating or cooling appliances you have in the bedroom. 
2. Musty Odor 
Usually, you can smell the mold before you even see it. If you have an unexplained musty smell in your bedroom, it could be mold. To some people, mold has an earthy or even meaty smell. The point is, watch out for any unusual pungent smells in your bedroom especially if they are accompanied by allergy flare ups. 
3. Peeling Paint or Wallpaper
Another visual sign of mold in your bedroom is a damaged wall surface. Look for bubbling or peeling paint or wallpaper. Mold can easily grow under paint or wallpaper thanks to the moisture that's trapped underneath. 
As it grows and multiplies, it causes the paint or wallpaper to bubble, chip or peel. 
4. Spotted Clothing 
If you notice black, gray, brown or white spots on your clothes, that's likely fungi. Clothes tend to hold onto moisture in the environment, so they provide a perfect place for mold to grow while they are in the closet. 
Mold can also grow in damp clothes in the laundry basket, causing them to get spotted and smell musty. 
5. Allergy Symptoms 
Your own body can also tell you if there is mold in the bedroom. Mold releases microscopic spores that float in the air. If you are sensitive to mold, contact with mold spores can cause allergy symptoms like sneezing, itchy eyes and skin, stuffy or runny nose and so on. 
Mold spores can also worsen respiratory conditions like asthma. 
You may notice that your allergies get worse in the spring and summer since that's when mold thrives most. But mold can affect you throughout the year.  
How Mold Can Ruin Your Sleep
Mold can cause enough discomfort to ruin your sleep. Now, not everyone is sensitive to mold. Some people will have mold growing in their bedroom and they'll be fine. 
But if you are sensitive to mold or have existing respiratory health problems, then mold in your bedroom and house is bad for sleep. Allergy flare ups can make it harder to go to sleep, keep you from enjoying deep sleep or wake you up at night, leading to sleep deprivation. 
Mold can be especially bad if you are already dealing with a sleep disorder like insomnia. It can make sleep even more difficult. 
How to Deal With Mold In Your Bedroom 
The best way to deal with mold is to get rid of it then take steps to keep it from coming back. If you have a huge infestation, it's best to call a mold specialist to deal with it. 
But if you only have small spots or patches of it, you can get rid of it yourself using mold-killing detergents or household products like vinegar and baking soda. However, you may want to get a professional inspection done to make sure there isn't more of it growing out of sight. 
Once you've gotten rid of the mold, it's important to keep it from coming back. Figure out what's causing it. If it is a leak or damp walls, you'll need a pro to help you fix the issue. 
If your bedroom is too humid, a dehumidifier can help. Improving ventilation in your home by opening windows or using a fan can also help keep moisture from building up indoors.  
Quick links
Contact
6063 Hudson Road #160
Woodbury, MN 55125
Yo@hercLeon.com