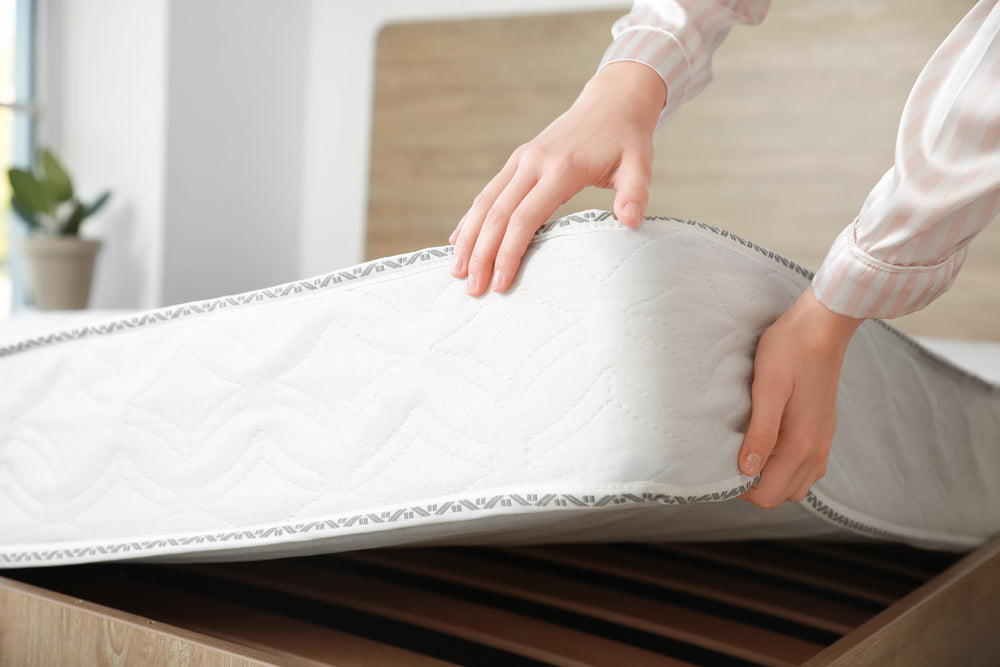 Posted on
---
I dread shopping for a new mattress. There are just so many types that I have no idea what to pick. On the other hand, this variety is awesome as it allows everyone to find the perfect mattress for their needs. 
Some people love the cuddly comfort of memory foam mattresses while others swear by the bouncy coolness of latex mattresses. Whatever you prefer, there's a mattress for you. Below, we recommend the best mattresses for different kinds of sleepers. 
What To Look For In A Mattress
Before we start, let's do a quick rundown of the features that actually matter when picking a new mattress. Don't get tricked by the marketing-speak of mattress companies. 
Support - if you are not careful, a bad mattress can ruin your back for life. You need a mattress that provides adequate support and keeps your body properly aligned. A firmer mattress is not necessarily more supportive. Some sleepers (e.g. side sleepers) get better support from a softer mattress.  

Pressure relief - a good mattress should contour to your body curves and joints. If it is too hard, it will apply pressure on your back, hips and other areas, causing pain. This is where the firmness of the mattress matters. 

Temperature control - look for a mattress that doesn't trap heat, especially if you are already a naturally hot sleeper, you live in a warm climate or you get night sweats. Latex and hybrid mattresses are the best at cooling. 

Responsiveness - some people prefer the feel of a bouncy mattress. Extra bounce/responsiveness in a mattress also makes it easier to switch sleeping positions and it's great for sex. Latex and hybrid mattresses are the most responsive.  

Motion transfer - if you or your partner is a light sleeper, look for a mattress that has minimal motion transfer. This will prevent movements of one partner at night from waking the other person up. Foam mattresses have the least motion transfer.   

Longevity - you might initially save money on a cheap mattress, but you'll probably be back to shopping for a new one in less than 5 years. You can save money by spending a bit more on a durable mattress that can last at least 10 years. 

Safety - finally, check the safety of the materials used to make the mattress. We recommend picking a mattress that has safety or quality certifications like

CertiPUR-US

.
Best Mattress for Different Sleeping Positions 
Your sleeping position greatly determines what kind of mattress you need. 
Back sleepers -

you need plenty of support to keep your spine aligned. A medium-firm mattress is ideal for most back sleepers. It can be memory foam, latex or hybrid — as long as it doesn't sink too much. 
Stomach sleepers -

this sleeping position leaves you vulnerable to back pain, so you need a mattress that keeps you in perfect alignment to avoid pressure on your spine. A medium firm to firm mattress is ideal depending on your body weight. 
Side sleepers -

you need plenty of pressure relief to avoid too much pressure on your shoulder and hip. A soft to medium firmness mattress feels great for most side sleepers depending on body weight. 
Combination sleepers -

if you don't have a particular sleeping position, a medium or medium firm mattress is best (get a medium if you weigh less than 130 lbs). It provides a good balance between soft pressure relief (for side & back sleeping) and firm support (for stomach & back sleeping).
Best Mattress for Different Body Weights 
After sleeping position, body weight is the next most important factor in choosing a comfortable mattress. 
The more you weigh, the more pressure you put on the mattress. If the mattress doesn't have enough support, you'll be complaining of back and joint pain after a couple of nights. 
Lighter sleepers (under 130 lbs) -

The lighter you are, the less pressure you put on a mattress. You will be more comfortable on a softer mattress that cushions your pressure points. If you are a back sleeper, try a medium mattress. If you are a stomach sleeper, a medium-firm mattress will do and if you are a side sleeper, get a soft mattress. 
Average weight sleepers (130-230 lbs) -

Most mattresses are designed for average weight sleepers, so you should have no trouble finding something comfortable. Refer to our recommendations in the previous section to find the right mattress firmness for your sleeping position. 
Heavier sleepers (over 230 lbs) -

Heavier sleepers need more support, which you can get from a firmer and thicker mattress. Hybrid mattresses with pocket coils are especially ideal for large sleepers as they offer excellent support and durability. If you are a back sleeper, get a firm mattress. If you sleep on your stomach, try a firm or extra-firm mattress. If you are a side sleeper, a medium-firm mattress will provide the right balance for support and cushioning.  
Best Mattress for Hot Sleepers & Night Sweats
If you get hot or sweat a lot at night, a natural latex mattress is the best choice. It's highly breathable, which keeps the bed cool and helps sweat evaporate from your skin.
The second best choice is a hybrid mattress with pocket coils and a cotton or bamboo cover. The coils and cover improve breathability. 
For even better cooling, look for a mattress with PCM (phase change material) cooling. This keeps the mattress cool to the touch at all times. 
Hot sleepers should avoid memory foam mattresses, even those with cooling gel. Memory foam traps too much heat. 
Tip: Remember your bedding is just as important for sleeping cool. Invest in breathable and cool sheets and comforter to sleep more comfortably. 
Best Mattress for Sex
Latex and hybrid spring mattresses are the best choices for sexually active sleepers. They have two features that enhance your amorous nights: they are responsive/bouncy and they stay cool and dry.  
Best Mattress for Light Sleepers
If you get woken up easily when your partner turns or wakes up, we recommend a memory foam mattress. Memory foam does an excellent job absorbing motion and preventing it from moving to the other side. 
If you have to get a hybrid mattress, make sure it uses pocket coils. They minimize motion transfer more effectively than traditional bonnell springs. It will also help if the mattress has a thick layer of foam on top of the coils.  
Best Mattress for Couples With Different Comfort Preferences
If you can't agree on what kind of mattress to get, try a medium firm mattress. Most people are fairly comfortable on a medium-firm mattress, regardless of their sleeping position and body weight. 
An even better option is to get a split mattress with a different firmness level on each half. That way, you both get your perfect mattress while still sharing a bed. 
Best Mattress for Health
Natural or organic latex mattresses are the best for your health and the environment. On the downside, they tend to be pricey. 
Quick links
Contact
6063 Hudson Road #160
Woodbury, MN 55125
Yo@hercLeon.com