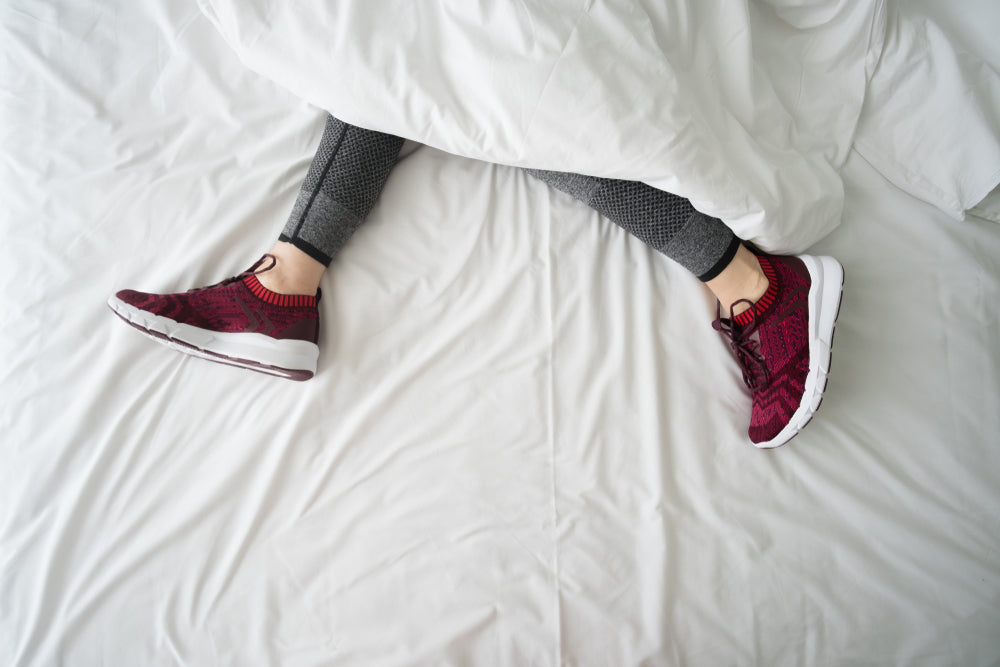 Posted on
---
Sleep and exercise have what researchers call a bidirectional relationship. That is, they affect each other. If one gets worse, the other also gets worse. If you improve one, the other also improves.  
You've likely experienced this yourself. On days you work out, especially in the morning, you may have noticed that you sleep better and deeper that night and probably even the next couple of nights. On the other hand, on nights you don't get enough sleep, it's hard to work up the energy to go to the gym. 
How Exercise Affects Sleep Quality 
Study after study has proven that working out helps you sleep better. Here are the biggest effects of sleep on exercise.  
It Reduces Sleep Onset
Many people struggle to fall asleep at night. Even if the bedroom is quiet, dark and cool, they still turn over in bed for a long time before they finally drowse off. 
The time it takes you to sleep is called sleep onset latency. A healthy sleep latency is 10-20 minutes. If you often take longer than 20 minutes to fall asleep, it could affect your sleep quality. 
Your sleep onset latency depends largely on how tired you are. Working out increases you sleep drive (your body's need for sleep), which makes you fall asleep faster. 
It Can Help With Various Sleep Disorders 
Being active during the day is one of the best ways to manage sleep disorders like insomnia, sleep apnea and restless leg syndrome. 
By helping us fall asleep quicker, enjoy deeper sleep and have better sleep patterns, exercise reduces many of the symptoms associated with sleep disorders. 
Exercise Reduces Stress, Which Helps You Sleep Better
Exercise, whether it's swimming, running, lifting or walking, is an amazing stress reliever. One of the ways it does this is by increasing the production of endorphins, which make you feel good. 
Exercise can also distract you from your anxieties, or work as a form of meditation to help you think clearly about the challenges you are facing. 
As your moods lift and the stress ebbs away, you'll find that sleeping becomes easier at night. Part of that is because you are just too tired (in a good way) to dwell too much on problems. Your body wants to rest.
But you'll also have less stress and anxiety, which makes it a lot easier to sleep and stay asleep. Stress is one of the most common contributors to insomnia. 
How Sleep Quality Affects Exercise
How well, or badly, you sleep can affect your ability to work out. 
Sleep is essential for recovery. So if you don't sleep well, your body will not be ready for strenuous exercise the next day. You can try to lift or go on a run, but you'll probably perform poorly and could even injure yourself. 
It becomes a vicious circle. If you don't get good sleep, you struggle to work out, which in turn affects your sleep quality, which leaves you even more tired to exercise and so on. 
It's important that you work on improving both exercise and sleep at the same time. Some light to moderate exercise is enough to help you sleep better. So even if you are feeling tired, try a 10 minute brisk walk or some body weight exercises. 
Next, make sure you have a healthy sleep routine. Turn off gadgets an hour before bedtime and go to bed at the same time everyday. Try to get 7-9 hours of sleep daily. 
This will boost your energy levels and make it much easier to work out intensively, which in turn improves your sleep quality.  
What's The Best Time to Work Out? 
Working out is more important than the time you work out. So go with a time that best fits your daily schedule. 
Some studies have shown that exercising in the evening a few hours before bedtime can impact sleep quality. But others have shown no negative impact. 
So if evening is the best time for you to go to the gym, go ahead and do it. The only thing we recommend is avoiding intensive exercise an hour or two before bedtime. 
The physical excitement and the increased core temperature can make it harder to sleep. If it's too close to bedtime, do something light like stretches or yoga. 
How Long Should I Workout To Sleep Well?
You do not need to exercise for long to enjoy the benefits of exercise on sleep. Even a 10 minute workout can have a significant effect on how well you sleep. 
If you are just starting out, focus on getting a bit of exercise every day. If you only have a few minutes to work out, try to make it intensive. This will tire out your body more, which will help you sleep better at night. 
As your sleep gets better and energy levels go up, try to get up to 30 minutes of moderate to intensive exercise daily. 
Is Too Much Exercise Bad for Sleep?
Yes, there is something like too much exercise. Your body will tell you when you are pushing it too far. You'll feel unusually tired (a good amount of exercise leaves you more energized) and you'll probably have a few aches and pains. 
Overtraining can worsen your sleep quality. Soreness, pain and injuries can keep you from getting proper sleep. 
So remember to work out within your limits and get plenty of rest. 
Quick links
Contact
6063 Hudson Road #160
Woodbury, MN 55125
Yo@hercLeon.com