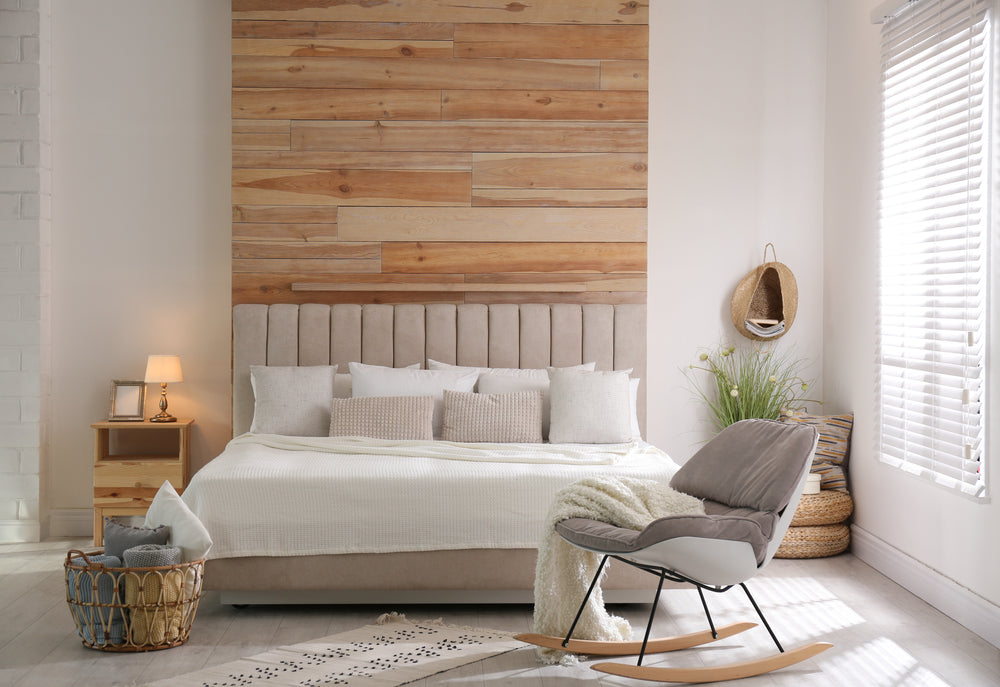 Posted on
---
Take a moment and think about how you feel when you walk into your bedroom. Does it feel calm and relaxed? Does it make you look forward to getting into bed? Does it feel like getting into your own little sanctuary?
It matters a big deal how your bedroom feels. A bedroom that feels good makes for better quality sleep. On the other hand, if you don't like how your bedroom looks or feels, then you might struggle with sleep issues. 
One of the best ways to get better sleep is to turn your bedroom into a sleep sanctuary. Here are five easy ways to do it. 
1. Pick Calming Colors
Color sets the tone of a room. Your favorite color may be red, but it's probably not a good idea to fill your bedroom with it. 
You want colors that help you calm down and get into a sleepy mood. Some of the best relaxing colors for a bedroom include blue, green, light pink, pale yellow and soft gray.  Mix and match different colors to get an overall relaxing decor. 
You don't even have to go so far as to re-paint the walls. There are plenty of ways to add various colors to your bedroom including furniture, bedding, a rug, artwork and so on. You can also use a wallpaper if you want a different color on the walls.  
2. Add Some Plants, Even if they are Fake
It's actually proven that plants can promote calmness, relaxation and positive emotions. This has a lot to do with their colors. 
So you don't even need real plants to turn your bedroom into a sanctuary. Good quality fake plants will do and they are easier to take care of. 
Even a small plant in a vase on your bedside can make your sleeping space feel more relaxing and help you fall asleep faster. 
3. Make it Smell Good 
Smell is one of the most powerful senses. Simply making your bedroom smell nice goes a long way in making it more sleep-friendly. 
You don't need to buy a whole aromatherapy kit or get a bunch of essential oils, though they can help make your bedroom smell amazing.
Just eliminating bad smells and keeping your bedroom smelling fresh is enough to turn it into a more welcoming space. 
If your bedroom smells funky or musty, figure out where the smell is coming from and fix it. It could be mold, the dirty laundry hamper in the corner or your mattress. 
Cleaning and vacuuming the bedroom, regularly airing out the mattress and airing the bedroom itself by opening windows can all help keep it smelling good. 
If your bed smells particularly funky (a common for people who sweat a lot at night), get one of our antimicrobial bedding such as the Jax sheets or comforter. The antimicrobial treatment kills odor-causing bacteria on the sheets, ensuring they never stink. 
4. Add Some Art 
It's surprising how a single piece of art can drastically change how a space feels. Most of the time we limit our art displays to the living room, where we can share the pieces with other people. 
But you can also get art just for yourself. Look for a piece that not only looks good, but also makes you feel good. It can be about the colors, the shapes, what it represents and so on. 
For some people a blow up of a sunset can be the best thing to put them into sleep mode, for others it is abstract art or a painting of flowers. Find a piece or several that work for you. 
5. Keep It Cool 
Temperature is a huge part of making your bedroom comfortable and relaxing. If it is too hot, you will not be able to relax and go to sleep. Too cold is also not ideal for sleep. 
The best bedroom temperature for sleep is around 65F. Try to maintain your bedroom around that temperature in the evening and at night. 
You can use central AC, a portable or window AC or a space heater to cool or warm your bedroom depending on the season. If you are looking for cheaper options to keep your bedroom cool, a fan can work if it's mildly hot. If you live in a dry area like Texas, an evaporative cooler works well. 
6. Make Your Bed Comfortable and Inviting
It doesn't matter if your bedroom looks like a spa but you have an uncomfortable bed. A picture of the ocean or the smell of lavender won't help much if your mattress leaves you with back pain or sore shoulders. 
Get a good quality mattress that is supportive, pressure-relieving, cool and breathable. Same goes for bedding. Avoid sheets or a comfort that makes you all hot and sweaty. 
Bamboo, linen, eucalyptus, and silk bedding feels luxurious on your skin and keeps you cool too. 
7. Keep it Quiet 
This can be a bit tough because most of the time we cannot control the source of the noise. It could be traffic in the street or loud music from the neighbor's house. 
Start by eliminating any noises within your bedroom like electronics and gadgets. For external noises, try to soundproof the bedroom as much as you can using thick curtains, door seals or thicker window panes. 
If that's not enough, you can also try introducing more relaxing sounds using a bluetooth speaker or a sleep sound machine. Another option is to block out the noise using earplugs. Foam plugs are highly effective but they are not reusable. We recommend getting reusable silicone ear plugs. 
8. Get Rid of Clutter 
Keep your bedroom as neat as possible. Clutter can make you more anxious and stressed, making it harder to fall asleep. 
Organize your bedroom so that everything has its place. This includes jewelry, books, gadgets, laundry and so on. 
Make your bed every morning and put away clothes and any other clutter, even if you don't feel like it. Later in the evening, you'll feel so good entering a neat bedroom. 
You also want to be careful with what you add to your bedroom, especially if it is on the smaller side. Sure, that loveseat would be nice to have at the end of the bed but it might clutter up the space. Too many things, as useful as they may be, can have a detrimental effect on how relaxing your bedroom feels.
If you have a little space to spare, carefully choose minimalist furniture that keeps the bedroom feeling light and airy. 
Final Thoughts: Do Not Overuse Your Bedroom 
The easiest way to turn your bedroom into the opposite of a sanctuary is to use it for things that are not sleep or sex. Don't watch TV all day in the bedroom, don't play your video games there, and definitely don't turn it into a dining room. If you have kids, let them know your bedroom is not a playroom. 
Limiting your bedroom to just sleep and sex (and the occasional nap or me-time during the day), helps keep it neat and clean. Associating your bedroom with just sleep has also been shown to help with insomnia and other sleep disorders. 
Quick links
Contact
6063 Hudson Road #160
Woodbury, MN 55125
Yo@hercLeon.com