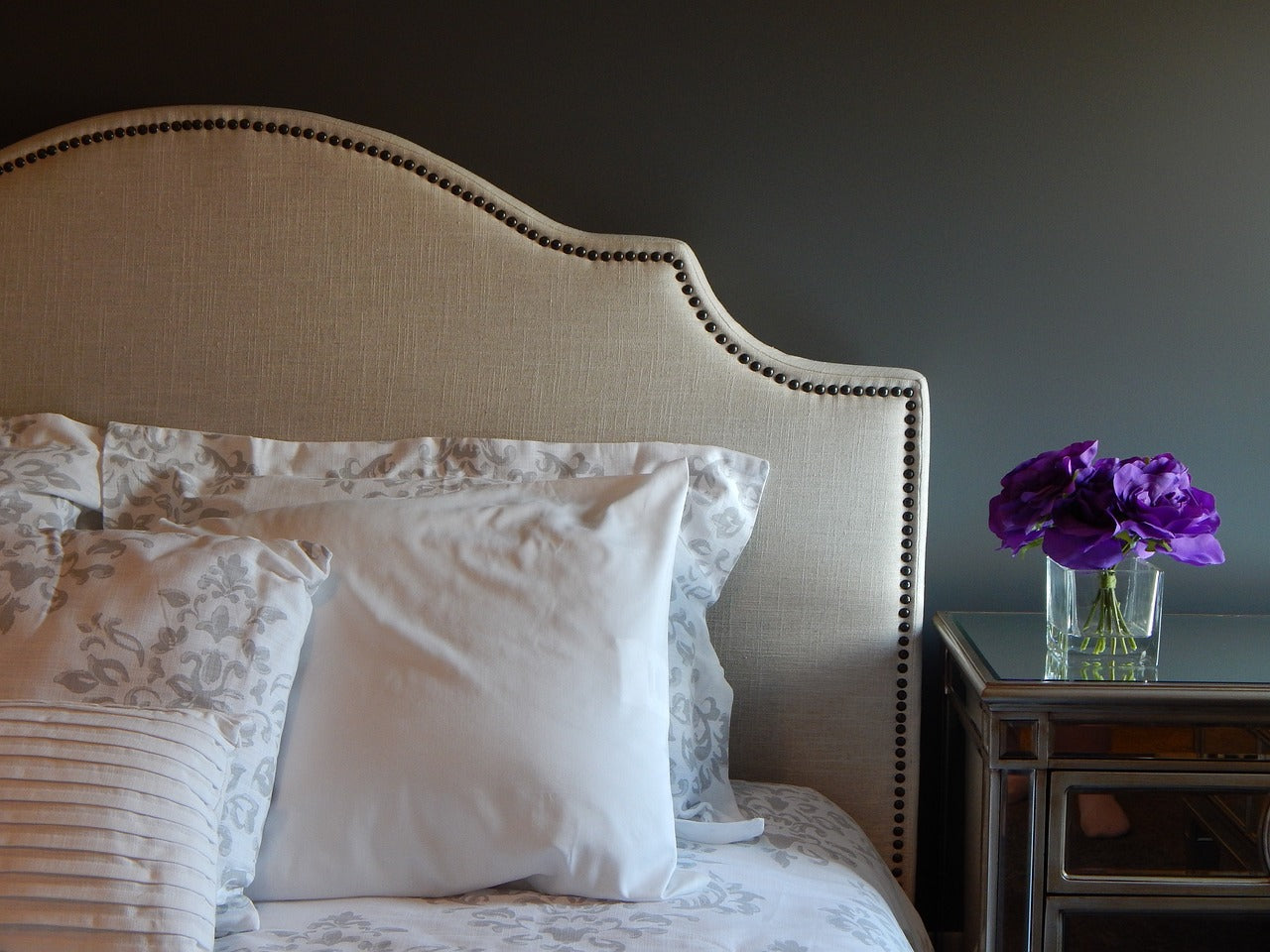 Posted on
---
There's a lot more than color and style to consider when choosing a pillowcase. The right pillowcase not only looks good on your bed, it also protects your skin and helps you sleep better. 
So we've written a complete guide to choosing the best pillowcases. We discuss what to look for when shopping for a pillowcase including fabric, size, style, thread count and more. 
Why The Right Pillowcase Matters
Here's why it is important to have a good pillowcase.   
A good pillowcase wicks away sweat, ensuring your face and head don't get clammy at night. This is especially helpful if you have night sweats or you sleep hot. By wicking away sweat, the pillowcase also ensures a comfortable and hygienic sleeping environment. 

If you are a hot sleeper, getting a good pillowcase that's breathable will help you sleep better. 

A good pillowcase protects your skin. It doesn't harbor bacteria and germs that can cause acne and breakouts. It's also soft and smooth against your skin and hair, which prevents frizzy hair and skin irritation.  
Types of Pillowcase Fabrics
The most important factor to consider when shopping for a pillowcase is the fabric. This determines how comfortable and skin-friendly the pillowcase is going to be. 
Here are the most common types of pillowcase fabrics with their pros and cons. 
Cotton
cotton pillowcases are a popular choice for many shoppers, mostly because of their affordable prices. Cotton is generally soft (though this depends on the quality, weave and thread count of the cotton), breathable and moisture-wicking. 
You can get 100% natural cotton and even certified organic cotton pillowcases if you prefer buying eco-friendly bedding. 
On the downside, cotton is not the most gentle fabric on your skin. It is rougher than silk, satin or bamboo, so it can create quite a bit of friction on your skin. This can cause skin irritation and wrinkles. 
Cotton's ability to absorb moisture is also bad news for your skin. That's because it doesn't just absorb sweat, it also absorbs products from your face, leaving your skin dry and prone to breakouts. 
Another downside of cotton is that it holds onto moisture when sweat. It doesn't dry as quickly as other fabrics. If you have serious night sweats, you might wake up with your face and neck feeling clammy. 
Also, all this dampness and oils absorbed by the cotton pillowcase creates an unhygienic environment for your skin, especially if you are prone to acne breakouts. 
Microfiber/polyester
Microfiber pillowcases are popular because they are some of the cheapest in the market. They are made from polyester though some also include other materials like nylon. 
Microfiber pillowcases are soft, though not as soft as silk. But generally, they are gentle on the skin and hair. They are hypoallergenic and are great for sensitive skin. They are also good at absorbing sweat and, unlike cotton, they dry quickly. 
Microfiber pillowcases are easy to take care of. You can throw it in the washer without worrying you'll damage it. Microfiber also doesn't crease easily. 
The main downside of microfiber pillow cases is their poor breathability. If you tend to get hot at night, a microfiber pillowcase is not the best choice. 
Microfiber pillowcases are also not ideal for eco conscious shoppers. 
Bamboo Pillowcases
A bamboo pillowcase is a softer alternative to cotton. While still not as soft and smooth as silk, bamboo rayon fabric is gentler on your skin and hair.
Thanks to their excellent breathability and moisture absorption, bamboo pillowcases are great for hot sleepers and those with night sweats. 
Most of the bamboo pillowcases you'll find in stores are not 100% bamboo. Rather, they are usually a bamboo and microfiber blend. But they are still better than microfiber-only pillowcases.
Pure bamboo pillowcases are expensive and harder to find.  
Silk Pillowcases
If you have the budget, go for silk pillowcases. They are the best of the bunch. 
For one, silk — and I mean real natural silk not fake 'satin' silk — is really soft and smooth, resulting in very little friction on your skin and hair. That's why silk pillowcases are recommended as part of a skin and hair care regimen.
Silk is less absorbent than cotton, so it will not dry out your skin and hair. But won't it make you all sweaty and clammy?
No it doesn't. Silk is highly breathable, keeping you cool and sweat free. It easily absorbs the little sweat you might produce. 
The main limitation of silk pillowcases is the price. Beware suspiciously cheap silk pillowcases. Those are probably silk blends (which are fine if you want some benefits of silk on a budget) or satin. 
Other Types of Pillowcases  
Satin pillowcases —

satin is actually a type of weave. The fabric itself can be made from polyester, nylon or silk. Polyester and nylon satin pillowcases are affordable and smooth, but they tend to get hot and don't absorb sweat. 
Linen —

linen is similar to cotton in many ways. They are both natural fabrics, they are breathable (though linen sleeps cooler), and they are fairly soft. Like cotton, linen can dry out your skin and hair. 
Eucalyptus pillowcases

— these are almost similar to bamboo pillowcases in terms of comfort and performance. They are soft, moisture-wicking, breathable and cool. Like bamboo, it's hard to find 100% eucalyptus pillowcases or sheets. You may have to settle on cheaper eucalyptus blend pillowcases. 
Antimicrobial pillowcases —

your pillowcase is probably teeming with bacteria, germs, oils and dead skin. These can worsen acne and trigger breakouts on your face. Antimicrobial pillowcases, such as our Zuri pillowcase, are treated to stay bacteria-free, making them safer and more hygienic.
Choosing the Right Pillowcase Size
This one's easy. Just pick the pillowcase size that matches the pillow you have. If you have a standard size pillow, get a standard pillowcase. Ditto for queen and king size pillows. 
If you are not sure which pillow size you have, take out the tape measure. Most people have standard size pillows, which measure 20 by 26 inches. A queen size pillow measures 20 by 30 inches and a king size 20 by 36 inches.
If you have a thick pillow, get a pillowcase that's a size larger to ensure your pillow will fit inside. 
Pillowcase Styles & Finishes
Finally, how you want your pillowcases to look. Most manufacturers sell pillowcases in a wide range of colors and patterns, so you'll likely have plenty of options to choose from no matter which brand you buy.
Most pillowcases have a simple design with little to no detailing. If you need something more eye-catching, get a pillow sham instead. 
Shams have extra details like decorative zippers, frills around the edges and textured surfaces. But they are designed mostly for aesthetics and are usually not comfortable to sleep on. 
Final Verdict
So, which pillowcase should you get?
Our top recommendation is natural silk. It is expensive, but it is the best choice for your sleep, skin and hair. 
100% cotton pillowcases are great if you are looking for a soft, cool and sweat-wicking pillowcase that's not too expensive. 
If you want something that's softer than cotton but cheaper than silk, consider eucalyptus or bamboo pillowcases. 
Avoid satin pillowcases (unless they are made from silk) as they sleep too hot and don't wick moisture. We are also not big fans of microfiber pillowcases especially if you have night sweats or get hot at night. 
Quick links
Contact
6063 Hudson Road #160
Woodbury, MN 55125
Yo@hercLeon.com