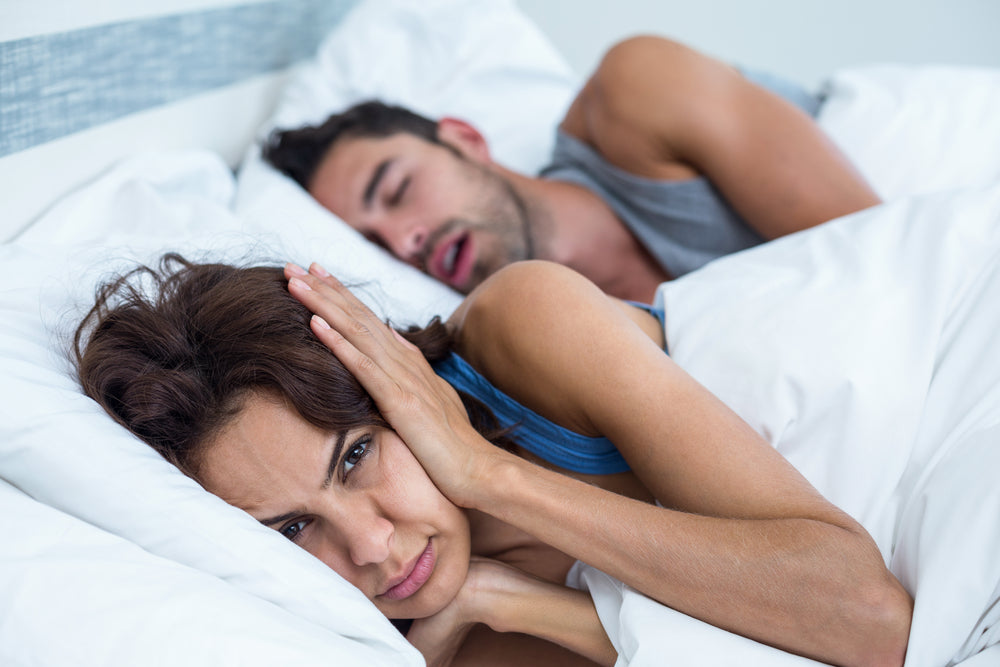 Posted on
---
Contrary to what single people might assume, couples who sleep together know it's not always cuddles and snuggles in bed. Sure, there are plenty of fun moments, but sharing a bed has its challenges too. 
From loud snoring to blanket hoggers, sleeping together can actually become a source of frustration for many couples. In this post, we explore some of the most common problems for partners sharing a bed and the best solutions you can try. 
5 Common Sleep Problems for Couples (With Solutions)
Snoring
This is a big one and a potential relationship-ender. If one partner is a habitual snorer, it becomes impossible for the other person to get a good night's sleep. 
Without enough sleep, our moods and personalities change. We become short-tempered, irritable, anxious and stressed. All these can put a strain on any relationship. 
Many couples with a snoring problem often resort to a sleep divorce, where they are together but sleep separately. While it's an effective solution, it can further strain the intimacy in a relationship. 
What to do: The first step is to see a doctor to ensure there isn't a serious underlying medical problem like sleep apnea. 
There are several things you can try to reduce or stop snoring including sleeping on a wedge pillow to elevate your head, sleeping on your side, avoiding alcohol in the evening (it relaxes muscles, which constricts airways and worsens snoring), and using an anti-snore device. 
If nothing works, the non-snoring partner can sleep with earplugs on to block the sound or get some sleep headphones and put on some music or sleep sounds. 
Sleeping separately should be a last resort.  
Hot vs. Cold Sleepers
You sleep too hot at night, but your partner gets cold no matter the season. You are most comfortable sleeping with a light comforter, but your partner wants the thickest duvet you can find. 
Whatever one person chooses, it messes with the sleep quality of the other person. If one of you can't sleep well, you end up cranky and irritable. 
What to do: See if there is a way you can compromise. For example, use a lightweight comforter for the too-hot partner and have the cold sleeper wear warmer sleepwear. Or turn down the thermostat but use a thicker comforter to keep everyone comfortable. 
Also look into changing the mattress; it could be what is making you sleep hot. A latex, innerspring or hybrid mattress can keep you cool.  
If there is no way to compromise, there is a way you can address each person's preferences. Get a bed climate control system like BedJet, Eight Sleep or SleepMe. 
These systems are available in split versions for couples. Each of you can keep your side of the bed as cool or as warm as you want. 
On the downside, bed climate control systems can be fairly pricey. A cooling mattress topper or pad is a cheaper alternative. Look for one made from latex, natural down, wool or gel memory foam. 
You can get a cooling topper for the entire bed (if your partner doesn't mind a slightly cooler bed) or get a half size for just your side of the bed.
Firm vs. Soft Mattress
Finding a mattress that both of you love can be tricky. You probably have different firmness preferences depending on your individual sleeping position, weight and physique. 
If one of you is heavier, they might prefer a firmer mattress because it offers more support. The lighter partner may prefer a softer mattress that contours to their pressure points. 
Or you may be a side sleeper who finds a soft to medium mattress most comfortable while your stomach-sleeping partner sleeps best on a rock hard mattress. 
Like other sleep problems, this one can wreck one person's sleep quality. If you are not getting the right amount of support and pressure relief, you won't sleep well. It can even cause a bad back. 
What to do: One option is to compromise and get a medium-firm mattress. Most people find medium-firm mattresses comfortable. They offer plenty of support, but still have a good amount of give to cushion you. They are ideal for different sleeping positions. 
If you want a mattress that's guaranteed to be comfortable for everyone, get a split mattress. Each half is designed with a different firmness. So you can have a mattress that's both firm and soft. 
If you are not able to buy a new mattress right now, another option is a mattress topper or pad for the partner who is uncomfortable. Get a half size topper for just that half of the bed. 
Most mattress toppers and pads are designed to soften a mattress, but you can also find a firm topper that boosts support on a soft mattress.
Constant Movement
If you sleep with someone who constantly turns over in bed or wakes up several times in the middle of the night, they can make it harder to get deep sleep. They keep waking you up with their movements. 
The problem is worse on bouncy mattresses that have high motion transfer. Any slight movement from one side of the mattress is felt on the other side. 
Sleep interruptions are just as bad as not getting 7-9 hours of sleep. If you keep getting woken up, your body doesn't get a chance to get the deep sleep it needs to restore itself. This can lead to emotional, mental and physical health problems.
What to do: Get a mattress that has minimal motion transfer. I recommend a memory foam or hybrid mattress with at least 2 inches of foam at the top. The foam absorbs motion and keeps it from transferring.
Alternatively, get a 2 or 3 inch memory foam mattress topper for your current mattress. It'll help minimize motion transfer. 
Blanket Hogger 
Hogging the sheets and blanket is one of the biggest sleep complaints among couples. No matter how much you tuck in the covers, there are partners who always end up with all the bedding on their side of the bed, leaving the other person cold and uncovered. 
What to do: There's a really simple solution to this one: get separate blankets or comforters. Just buy half size covers so they fit on each half of the bed. That way, even if one partner rolls up the bedding around themselves, they don't affect the other person. 
Another trick I've seen couples use is getting two separate twin beds and putting them right next to each other. That way, you sleep together but each person has their own bed complete with their own bedding. 
If you like to cuddle in bed, separate beddings will get in the way of that. The best alternative is to get a comforter or bedding that's bigger than your bed. If you have a queen size bed, get king size covers. This makes it harder for your sheet-stealing partner to pull away the entire blanket. 
For extra security, tuck the blanket tightly under your side of the mattress. 
Quick links
Contact
6063 Hudson Road #160
Woodbury, MN 55125
Yo@hercLeon.com