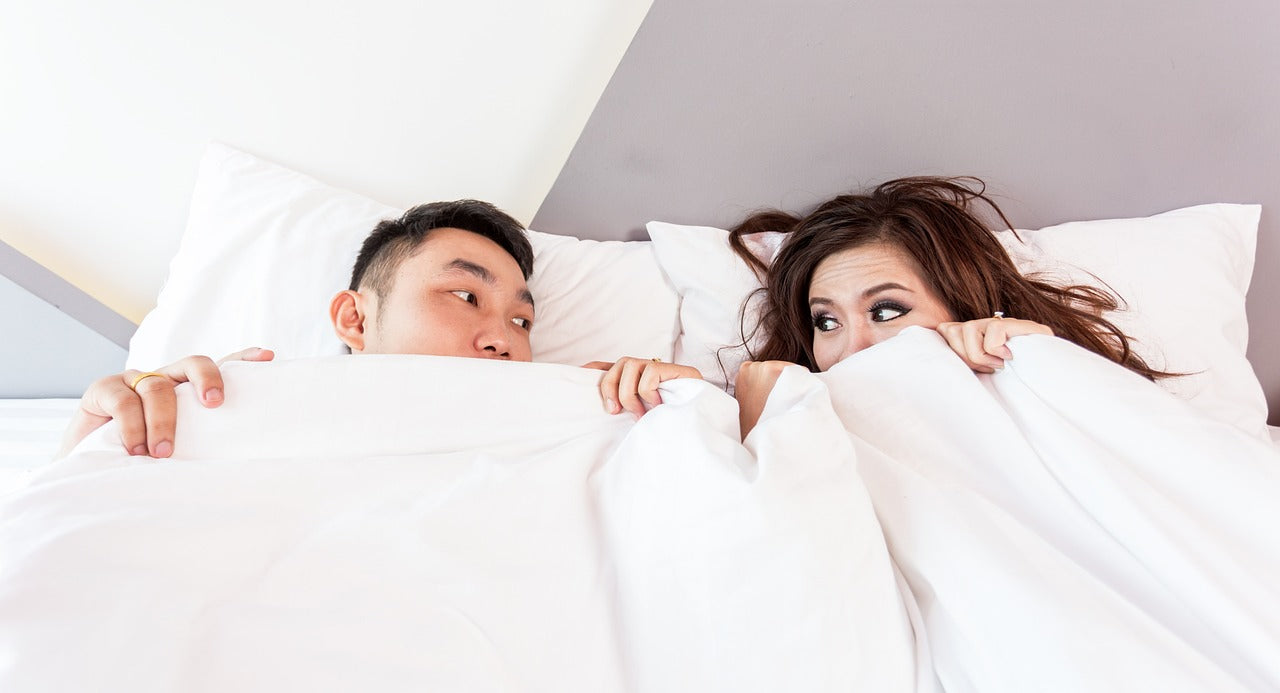 Posted on
---
Most men experience periods when the last thing on their mind is sex. In some cases, this feeling can last for days. That's completely normal. But if it continues for weeks and months, or if it frequently comes and goes, you may have a low sex drive.  
A low libido is something most men are ashamed to talk about. But it is a serious issue. It can affect your mental health, your relationships and even fertility. 
There are several ways you can increase your libido including exercise and nutrition. Today we focus specifically on sleep. You heard that right, you can sleep your way to a higher sex drive.  
Does Sleep Increase Sex Drive? What The Research Says
It is natural for libido to go down a bit as we age. But in some cases, sex drive can be a lot lower than it should be for a certain age. 
Poor health, medication, stress and depression are some of the most common reasons for men not wanting to shag. 
Poor sleep is also a major cause of low libido. Not getting enough sleep reduces testosterone levels in the body. And because testosterone is the main sex hormone in men that controls sex drive, when it dips it takes libido down with it. 
In one study, researchers tracked testosterone levels in a group of sleep deprived young men. After a week sleeping five or less hours a night, their testosterone levels had dropped 10-15%. That's similar to the reduction of testosterone caused by 10-15 years of aging.
So getting enough sleep can boost your testosterone levels and increase your sex drive.  
There are several other ways that sleep is connected to sex drive. Sleeping improves your mood, makes you more energetic and improves your overall health. All these can help improve your libido. 
Genital Arousal vs. Sex Drive 
Before we get into the specifics of exactly how sleep affects your sex drive, I wanted to highlight a specific study that reinforces the importance of sleep for libido. 
The study was set up to investigate the link between sleep deprivation and genital arousal, sexual desire and sex frequency. 
The results were surprising. They found that sleep deprivation actually increases genital arousal. That is, men got a hard on more easily and more often when they were sleep deprived.    
You've probably experienced this. You are dead tired or sleepy and out of nowhere, you have a raging boner. 
This happens because the blood vessels in the penis relax, allowing blood to rush into the penis. 
Interestingly, genital arousal (which also occurred in women) happened even without sexual stimulation. Even more interestingly, an increase in genital arousal did not result in increased sexual desire. 
In other words, there's a difference between getting a hard on and actually wanting to get down and dirty. 
The study did not investigate whether sleep deprivation worsened the sex drive (they only checked whether it increased). But based on other studies, it likely did.
4 Ways Sleep Increases Libido 
1. Higher Levels of Testosterone 
Sleep, or the lack thereof, has a bigger impact on testosterone than most men think. That's because your gonads make most of the testosterone that's present in your body at night. 
There's that study we mentioned earlier that showed a 10-15% drop in testosterone after a week of poor sleep.
There was also a study that tracked testosterone levels in older men. They found that their morning testosterone levels were correlated with how long they slept at night. 
It is likely that lack of good quality sleep, which is common in older men, is one of the reasons they have lower testosterone and lower sex drive. 
Researchers have also found that men with sleep disorders also tend to have lower testosterone levels, likely because of the frequent sleep interactions.   
Getting 7-8 hours of sleep every night gives your body the time it needs to produce testosterone. But it's not enough to be in bed for 8 hours. You actually need to get deep REM sleep. 
That's why sleep interruptions are just as bad as lack of sleep for your testosterone. Eliminating noise, light and other disturbances in your bedroom can help you get higher quality sleep. Having comfortable bedding — a supportive mattress, a good pillow etc. —can also help. 
And if you have a sleep disorder like sleep apnea or chronic insomnia, seek treatment.  
2. Better Overall Health
Lack of sleep is not the only enemy of testosterone. Various health conditions like diabetes, prostate cancer, prostatitis, obesity and heart failure can also bring down the testosterone levels, thus causing low libido. 
Getting enough high quality sleep has a proven protective effect on your health. It reduces the risk of a lot of diseases that are a threat to your libido. 
For instance, obese men tend to have lower testosterone levels as well as a lower sex drive. Low body confidence, stress, lack of energy and difficulty with various sex positions can also contribute to a low libido when you are overweight. 
Another impact of poor sleep on our health is increased inflammation. Sleep deprivation causes your immune system to go on the offensive against your own body. 
Chronic inflammation has been directly linked to a loss of sexual desire and satisfaction in both men and women. 
3. Feeling More Rested/Energetic
Sex is fun but it does require a whole lot of energy. Unless you like to lay back and let your partner do all the work, it's difficult to have sex when you are tired. If anything, most of us don't even want to have sex.
Sleeping poorly is one of the primary causes of tiredness and fatigue. Sleeping for less than 6 hours results in one of those days when you go through the day powered by endless cups of coffee and can't wait to hit the hay at night.  
If you are getting less than 6 hours of sleep night after night, it could develop into a persistent feeling of fatigue. You'll struggle to summon the energy to even make out with someone. 
Coupled with the inevitable drop in testosterone, you may even start to wonder whether you are asexual. 
There's some evidence that poor sleep quality contributes to chronic fatigue syndrome (CFS), a very serious health condition that can leave you bedridden. 
Getting enough sleep ensures you feel rested and have the energy to get frisky even after a long day at work. 
Good to know: Even if you sleep 6-8 hours a night, sleep orders like sleep apnea can cause fatigue. See a doctor if you suspect you have a sleep disorder. 
4. Improved Mental/Emotional Health
Sleep is not just good for your physical health; it also protects your mental and emotional health. 
Inadequate sleep and sleep interruptions can lead to or worsen stress, depression, anxiety and mood swings. All these can put a damper on your sex drive especially if they become chronic. 
I know I don't even think about sex when I am sad or anxious. And not getting a solid 8 hours of sleep somehow makes me feel even more anxious. 
Poor sleep quality can also reinforce feelings of hopelessness, low self esteem and poor body image. 
Sleep literally makes you happier, which in turn increases your desire to boink. 
Low Libido vs. Erectile Dysfunction 
A lot of people confuse a low sex drive with erectile dysfunction. While the two can occur together (usually a sign of an underlying health problem), they are totally different. 
Low libido is a lack or decrease in sexual desire over a period of time. If you just don't feel like having sex now and then, that's probably normal. 
But if the feeling persists for weeks or months, then that's a low sex drive. A low libido can also manifest itself in reduced sex frequency and lack of sexual satisfaction when you have sex.  
Erectile dysfunction or ED, on the other hand, refers to difficulty getting and maintaining an erection. You can have low libido but you are still able to achieve an erection.  
Poor sleep quality has been linked to both conditions, so it's not crazy for low libido and erectile dysfunction to occur together. 
One can also cause the other. if you can't get erect, your libido will likely take a dive and if you have a low libido, you are likely to suffer from psychological ED. 
In some cases a low sex drive and erectile dysfunction can be caused by an underlying health condition such as cancer or chronic fatigue syndrome. So have a doctor check you out if you are experiencing both problems. 
Other Ways To Boost Your Libido
In addition to getting plenty of sleep, make sure you are active (gym, jogging, home workouts etc.) and you are getting a balanced diet. 
This will boost your testosterone levels and energy, which should help in the bedroom. 
It's also important that you deal with any major source of stress in your life whether it is your job, where you live, or your relationship. Consider going to therapy, changing jobs, moving cities or whatever you think will help. 
Quick links
Contact
6063 Hudson Road #160
Woodbury, MN 55125
Yo@hercLeon.com