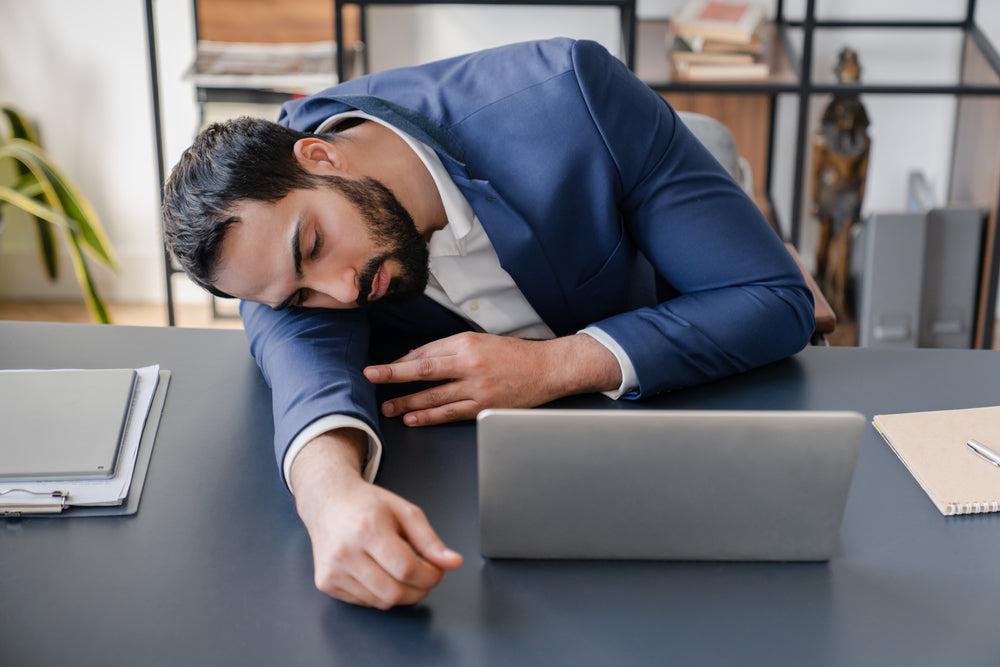 Posted on
---
Think of sleep as depositing money in a bank. Each time you sleep for 8 hours (or whatever time your body needs to feel rested), your account is all good. But fall short and your sleep account goes into the red. You experience fatigue, daytime sleepiness, irritability and other symptoms. 
That's called sleep debt or sleep deficit. It is the difference between how much sleep you need and how much sleep you actually get. 
Sleep debt affects your mental health, productivity and overall health. In some cases, it can be downright dangerous. Luckily, it's pretty easy to repay the debt — just go to sleep. 
What Causes Sleep Debt?
Staying up too late is the most common cause of sleep deficit. There's lots of reasons why so many Americans miss their ideal bedtime almost every night. Work, TV, browsing on their phone, stress-related insomnia and so on. 
When you sleep late, you are likely to sleep for less time than what's ideal. Most of us don't have the luxury of sleeping in to eliminate the effects of a late night. So we end up sleeping fewer hours than we are supposed to. 
Sleep debt can also occur even if you are in bed for eight hours. Some people have delayed sleep latency, meaning they take a long time before they fall asleep. This and other sleep issues like insomnia can lead to insufficient sleep. 
Even if you manage to sleep, disorders like sleep apnea and restless leg syndrome can reduce the quality of your sleep so you still wake up with sleep debt. 
How Does Sleep Debt Affect You?
All the awful things you feel when you have not slept well — fatigue, irritability, mood swings, sleepiness — are all caused by sleep debt.  
Your body has not had time to fully recover and rest, so most of your systems are not working right. What's worse is that many people aren't just suffering from one night's sleep debt; they don't get enough sleep most nights. 
This leads to chronic sleep deprivation and never ending sleep debt, which can have far reaching health consequences. When you walk around with perpetual sleep debt, you are at a higher risk of depression, high blood pressure, type 2 diabetes and other health issues.   
Sleep debt, whether short term or long term, also has a huge negative effect on your performance and productivity. That's because it affects your memory, learning, attention, reaction time, coordination and other physical aspects.  
In certain tasks like driving or operating heavy machinery, sleep debt can be deadly. 
How to Recover From Sleep Debt 
The good news is that it's pretty easy to pay back your sleep debt. The bad news is that most of us find it quite hard. 
To recover from sleep debt, you simply need to sleep. On nights when you have sleep debt, you'll need more sleep than usual. Go to bed earlier or sleep in. 
Depending on how sleep deprived you are, it can take days or even more than a week to fully recover from sleep debt. Sleep as much as you can at night until you feel your body going back to a regular sleep rhythm. 
Of course, that's not as easy as it sounds for many people. That's why a lot of us have permanent sleep debt. We never make time or get time to recover. 
How to Avoid Sleep Debt
A little fatigue and moodiness may not seem like a big deal, but chronic sleep deprivation is terrible for your wellbeing. It causes inflammation, affects your immune system and increases your risk for all sorts of illnesses including Alzheimer's, cancer and heart disease. 
Poor sleep has also been linked to reduced lifespan. Yes, sleep debt could be cutting years off your life. 
So instead of having to constantly sleep longer to recover from sleep debt, try to avoid it in the first place. The best way to do this is having a sleep routine. 
Have a specific time when you go to bed and wake up. This ensures you sleep the right amount of hours each night. Your routine should include an electronics shutdown time (an hour or two before bedtime) and a relaxing activity like a bath, reading or meditation. 
Try not to vary your routine too much even on the weekends. It will be harder to get back to it at the start of the week. If you sleep late on the weekend, make sure you sleep in and take daytime naps so that you go into the new week debt-free.   
Here are a few more tips. 
Late night browsing on the phone is one of the most common causes of sleep debt. Don't keep your phone by your bed. Even better, keep it out of the bedroom completely. Also avoid other late night activities that chase away sleep like TV and gaming. 

If you think you have a sleep disorder, consult your doctor or a sleep specialist for diagnosis and treatment. You may be able to deal with insomnia on your own, but other disorders like sleep apnea require medical intervention. 

Make your bedroom as sleep-friendly as possible. This will improve the quality and quantity of sleep. Keep it dark, neat, quiet and cool. A comfortable mattress and bedding also go a long way in helping you sleep better. 

Consider using sleep aids to help you fall asleep quickly. It doesn't have to be sleeping pills. There are plenty of natural sleep aids like melatonin, magnesium and glycine. These don't create any dependencies. 

Be careful with daytime naps. Even if you are suffering from sleep debt, try not to nap for more than 20-30 minutes. Any longer than that and you might struggle to fall asleep at night. 20-30 minute naps early in the afternoon are perfect for restoring your energy without interfering with nighttime sleep. 

Exercise is great for insomnia and delayed sleep latency. But avoid working out too close to bedtime as that could leave you too alert to sleep. 
Quick links
Contact
6063 Hudson Road #160
Woodbury, MN 55125
Yo@hercLeon.com