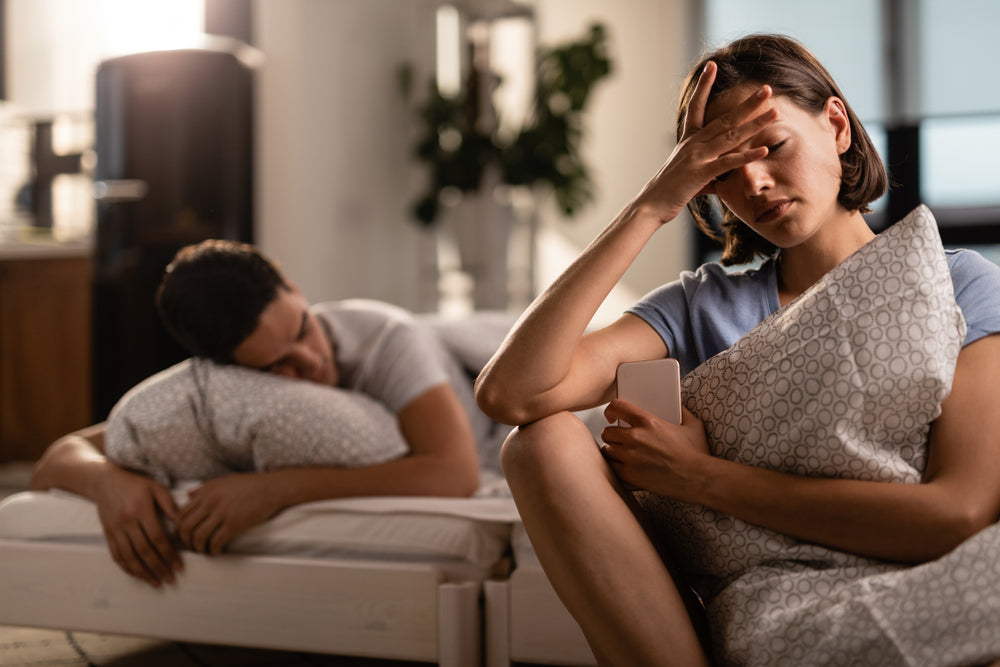 Posted on
---
"Honey, I think we should get a divorce." 
"Whaaat? Why?"  
"Uhh, sorry…I meant, a sleep divorce."
Much like an actual divorce, these are words you hope never to hear from your partner or even say them yourself. But at some point, for both your sake, a sleep divorce is something you have to seriously consider. 
What Is Sleep Divorce?
Don't worry, a sleep divorce doesn't mean an end to your marriage. If anything, it will probably make it better. It also doesn't mean one of you has to move out. 
A sleep divorce means sleeping separately. It could be separate beds or separate bedrooms. To be honest, I think the term 'sleep divorce' is unfortunate as it has a negative connotation. But sleeping separately from your partner has lots of benefits and can be great for your relationship. 
Some experts suggest a different term like sleep separation or alternative sleeping arrangements. 
5 Reasons To Consider Sleep Divorce
The main reason couples decide to sleep separately is to improve their sleep quality. Sharing a bed with your partner is amazing but it can come with certain downsides and compromises. For example, your partner might be a snorer or maybe you prefer a warmer bed. 
Here are some reasons to consider sleeping separately from your partner. 
1. Snoring 
A snoring partner is probably the most common reason couples decide to get a sleep divorce. Sleeping with someone who snores loudly can seriously affect your sleep quality, causing sleep deprivation, fatigue, irritability and other problems. 
While there are plenty of ways to treat snoring, none is guaranteed to work. Some solutions may work but they only reduce, but don't stop snoring. So for some couples, the best solution to snoring is sleeping separately.  
2. Tossing and Turning 
Noise is not the only thing that can keep you awake at night. Some people can never stay still when sleeping. They are constantly tossing and turning. 
This can happen if someone finds the mattress uncomfortable and they need to constantly adjust. It's also common for people who frequently wake up to pee, hot sleepers who have to keep shifting to try and cool off and people who naturally can't stick to one sleeping position. 
Some sleep disorders can also cause disturbances in bed. These include restless leg syndrome and REM behavior disorder (physically acting out dreams). 
As with snoring, there are a few solutions to this. The best one is buying a mattress that has minimal motion transfer, such as a memory foam mattress. This keeps disturbances on one side of the bed from transferring to the other side. A memory foam mattress topper can also reduce motion transfer if you are on a budget. 
But these solutions do not eliminate all motion transfer. If you are a particularly light sleeper or your partner tosses heavily (especially if they weigh more than average), you'll still struggle to sleep well. 
In that case, moving to a separate bed or bedroom is the best solution. 
3. Different Comfort Preferences
I am a cold sleeper, so I like to cozy up in bed with a couple of heavy comforters. My partner is a hot sleeper and cannot stand being too warm in bed. 
Luckily, we found a solution that works for us — separate twin size comforters. So I can bundle up with a couple of blankets while he keeps his lightweight comforter that he can throw off whenever he feels too hot. 
Sleeping temperature is not the only thing co-sleeping couples fight over. You may both prefer different mattress firmness, different kinds of sheets, or even completely different mattresses. 
In some of these cases, you can find a compromise like we did. Alternatively, opt for a sleep divorce. Everyone sleeps on their own bed that they can customize to their liking. 
4. Blanket Hogging 
Oh, this is an annoying one. Most partners aren't doing it to be mean, but it can be annoying to sleep with someone who hogs the entire blanket. Worse, it can leave you cold, uncomfortable and struggling to get quality sleep. 
Blanket hogging can be caused by a number of factors. They may be feeling cold and want to cozy up a bit more or they probably love cuddling up with the duvet. One study found that people who slept with teddy bears when they were young are more likely to be blanket hoggers. 
A simple solution here is to get separate duvets or blankets. Get a couple of smaller ones so that everyone has their own. 
But if, for some reason, that doesn't work or you don't want to get separate bedding, then sleep divorce can also help. 
5. Varying Sleep Patterns 
Most couples usually go to bed at the same time. Having similar sleep patterns is really helpful in ensuring everyone sleeps well. But that's not always possible. 
If your partner works a different shift, they have to sleep earlier or later than you, or if they have insomnia and tend to stay up late on their phone, it can affect your sleep quality. 
Having different sleep patterns means one person is likely to disturb the other when they come to bed or get out of bed. 
Sleeping in different bedrooms is probably the best way to fix this problem. Everyone can come and go from their bed at whatever time they want.
Downsides of Sleep Divorce
A sleep divorce is a very effective solution to many sleep problems. But it comes with significant drawbacks that you have to be ready to deal with. 
It can affect intimacy with your partner since you are no longer sleeping together. You'd be surprised at how much random pillowtalk builds emotional intimacy. 

It may be bad for your sex life. For some couples, a sleep divorce actually improves their sex life since they are sleeping better and fighting less. You just make time for sex. But for many couples, it can hurt your sex life, partly because of reduced intimacy. Without frequent cuddles at night, you may not have as much sex as you did when sleeping in the same bed. 

It can cause resentment in one partner if you have not thoroughly discussed the matter. This can end up hurting your relationship. 

If you don't already have another bedroom and bed ready, it can be expensive to set up separate sleeping arrangements. You have to buy a new bed, mattress and bedding. 

Sleeping alone can be lonely. This can be especially acute if you only see your partner in the evening after work. 
How to Do it Right
Before you decide to sleep separately, consider other alternatives that might help both of you sleep better. I wrote a blog post with some good alternatives to a sleep divorce. 
If you truly think a sleep divorce is the best solution, talk it out with your partner. Make sure everyone understands the reasons behind it. Let your partner know that you are suffering from lack of adequate sleep, which is affecting other areas of your life.  
I recommend doing a trial run, maybe a week or two and see how it goes.Find ways to adjust other aspects of your relationship like sex, cuddles and cuddles around your new arrangement. For example, you could cuddle in bed for a while before retiring to separate beds. 
If you feel the separation is straining your relationship, go back to sleeping together and find an alternative that will allow everyone to sleep well. 
If possible, try sleeping in separate beds but in the same room. This will reduce loss of intimacy and feelings of loneliness. Of course, this may not work for problems like snoring or different sleep patterns. 
Quick links
Contact
6063 Hudson Road #160
Woodbury, MN 55125
Yo@hercLeon.com