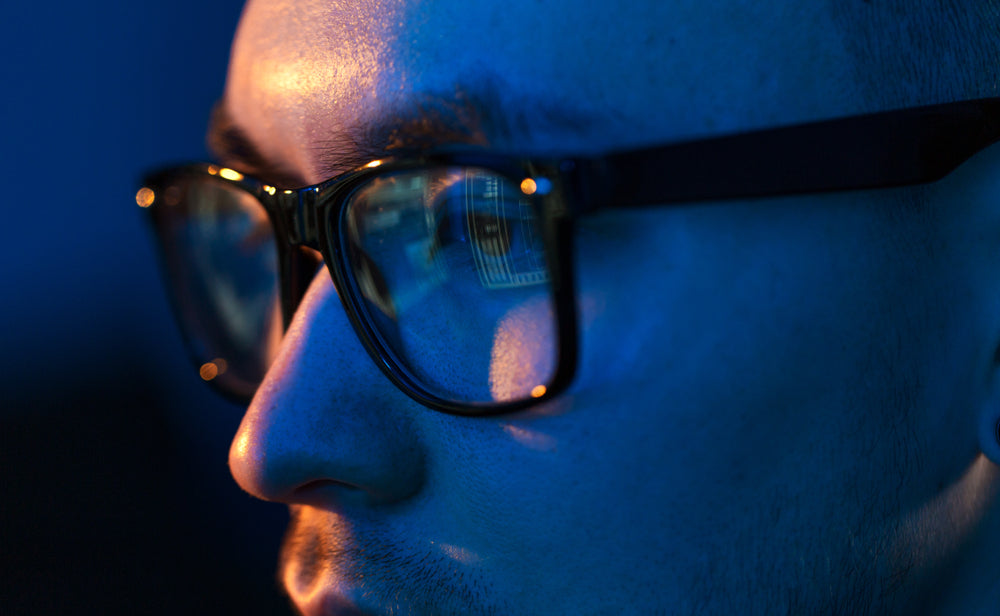 Posted on
---
Blue light is the new big enemy of sleep. We are told that blue light from our phones, TVs and other gadgets is messing up with our sleep quality. At the same time, there has been a huge increase in blue light blocking glasses, which purport to protect your eyes from this harmful exposure. 
But do blue light glasses actually help you sleep better? 
What Is Blue Light?
Blue light is part of the visible light spectrum. Blue light, along with indigo and violet have the shortest wavelengths. That means blue light has a high frequency and carries more energy compared to other colors like red, orange and yellow. 
There's blue light all around us. The sun gives off blue light as does the television, smartphones, laptops and LED lights.  
Is Blue Light Bad For You?
There have been concerns that blue light contributes to various visual problems including macular degeneration and eye strain.
Digital eye strain is common for people who stare at computers or their phone for a long period. Some experts think this is because blue light scatters easily, so the eyes struggle to focus on the blue light emitted by computers and other screens.    
But there's not yet strong evidence that blue light causes or contributes to eye strain or macular degeneration. After all, we are exposed to more blue light from the sun than any device or screen gives off. 
Does Blue Light Affect Sleep?
Blue light has also been linked to poor quality sleep. In this area, we have a bit more evidence to suggest that this is true. 
Your body's sleep-wake cycle doesn't just depend on the presence or absence of light; the color of light matters too. The red and orange hues of sunlight in the evening signal to the body that nighttime is approaching. This boosts the production of melatonin to prepare you for sleep. 
Blue light, on the other hand, makes us more alert. So exposure to blue light in the evening can suppress melatonin production and make it harder to fall asleep. 
Are Blue Light Blocking Glasses Worth It?
Based on the research we have so far, it seems blue light affects sleep and might contribute to digital eye strain. So is it worth it to buy a pair of blue light blocking glasses?
Well, it's not clear. 
Blue light glasses have special filters or lenses that block or absorb blue light so they don't reach your eyes. But many experts are skeptical about the effectiveness of blue light blocking glasses. 
For one, most glasses block only 10-25% of blue light being emitted by devices. Secondly, the amount of blue light given off by our phones and laptops is tiny relative to the safe limit (between 0.4% to 4% of the safe limit).
So a lot of experts think digital eye strain is not caused by blue light. Rather, it could be caused by staring at a screen in close range for extended periods. Staring at something mere inches from our face means our eyes have to work harder to focus. We also blink less, which causes eye dryness and leads to strain.
In that case, blue light blocking glasses are probably pointless at preventing digital eye strain. What helps instead is taking frequent breaks from staring at the screen. 
What about sleep?
Here there's some evidence that using blue light blocking glasses in the evening can help improve melatonin production and thus helps us sleep better. But the evidence isn't very strong, so we can't say for certain that blue light glasses help with sleep.
It could very well be that the small amount of blue light from devices isn't the main problem, but rather the stimulation we get from using these devices. 
So while wearing blue light glasses to watch TV or work on your computer in the evening might help you stay calm and sleep better, the best solution is to turn off all devices at least an hour or two before you go to bed. 
This gives your body and brain time to calm down and maximizes melatonin production. 
What About Blue Light Blocking Apps
Most smartphones, tablets and laptops have a night shift setting that changes the color of the screen to give off less blue light. You can also download an app that does a similar thing. 
These digital solutions are even less effective at blocking blue light compared to actual glasses. As with glasses, the night shift setting doesn't hurt to try but don't expect much. 
Final Thoughts
Unfortunately, blue light glasses or the night shift mode on your phone that reduces blue light are not a license to use your phone in bed. 
They might help a little but probably not the extent that they can fully prevent insomnia. So put down that phone, turn off the TV, don't work late into the night and go to bed gadget-free. 
And when it comes to eye strain, the best solution is to stop staring at a screen for hours at a time. Take breaks every 20 minutes and see if you can reduce how long you spend in front of a screen each day. 
Quick links
Contact
6063 Hudson Road #160
Woodbury, MN 55125
Yo@hercLeon.com