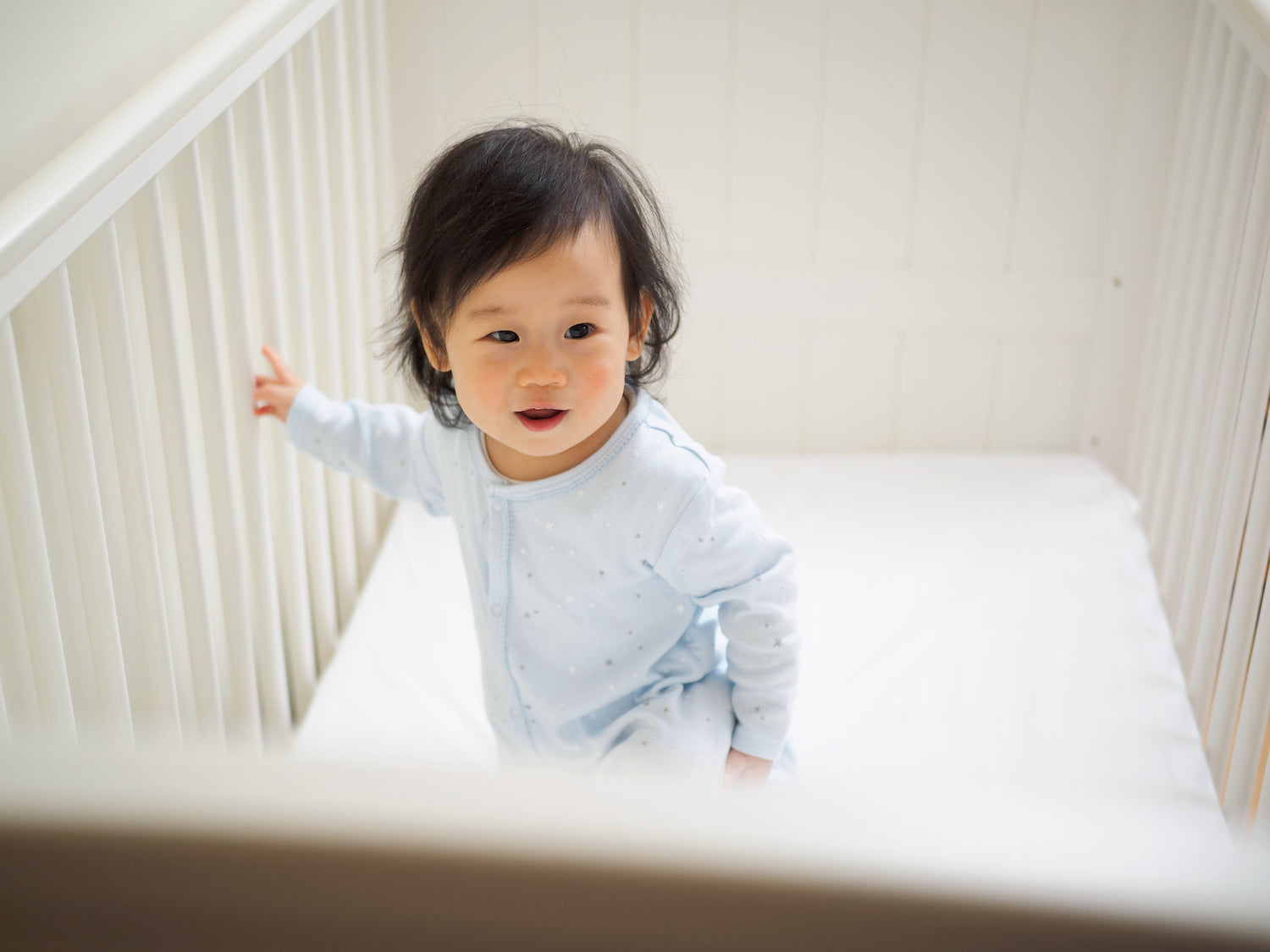 Posted on
---
A baby's peaceful night's sleep is just as important as the parents' sleep, and sometimes, even more. Along with better brain development for the baby during sleep, it is also important for the parents to spend some quality time with each other or do some chores around the house. 
One of the most important things that parents do for their newborns is to make sure that the baby gets enough sleep. While most parents tend to put a lot of thought into the crib and the nursery itself, little or no attention is paid to the sheets used in the crib. To make sure that the baby is comfortable while resting, the sheets of the crib matter the most. 
Types of Crib Sheets
Not all crib sheets are equal, so you need to find out which fabric suits your baby and which one promotes a healthy, comfortable night's sleep. There are several types of crib sheets, each with its own benefits and drawbacks.  
Pure Cotton Crib Sheets
Cotton is a classic option for crib sheets as it is a breathable fiber. One of the reasons why people tend to choose cotton over other fabrics is because it keeps the baby cool in the summer and warm in the winter. 100% cotton sheets can be irritable at first since new cotton sheets tend to be scratchy and rough, but they soften over time and with use. 
They are also durable and hypoallergenic, which means that the baby's sensitive skin will be protected from irritants. They are easy to find, come in lots of colors, and are good all season round. However, if you want a crib sheet with a higher thread count, that may be more expensive and harder to find.
Flannel Crib Sheets
Flannel sheets are okay during the winters as they keep the baby warm and cozy. However, they are not breathable and can make the baby hot if used during summers. So, even though flannel is durable and comfortable, it is best only for wintertime.
Bamboo and Cotton Crib Sheets
The mesh of bamboo and cotton makes the fabric super breathable and silky smooth. Even after throwing these sheets into the washing machine several times, bamboo and cotton retain their quality and shape, which makes them ideal for a peaceful nights' sleep. 
If you have been swaddling your newborn baby in order to make them sleep, this material is ideal for you as it provides the same buttery, satiny feeling. However, you have to be careful when purchasing these sheets as many retailers pass off synthetic, cheap bamboo as original and pure bamboo.
Polyester Crib Sheets
Polyester sheets can be considered if you are looking for a more budget-friendly option. They may not be as breathable as cotton; however, they are cheaper and last longer despite being washed several times. For winters, they are ideal as they keep the baby warm and do not shrink in the wash. However, they are not as breathable, so you may want to avoid them during summertime.
How to Choose the Right Crib Sheets
The infant's safety, comfort and health are paramount for every parent. To ensure that your baby sleeps peacefully during the night, you need to invest in good-quality crib sheets that are long-lasting and soft. Here are some considerations you should make before buying one for your child's crib:
Material
While marketers may advertise a specific material of crib sheets being applicable for every baby, it is not always entirely true. You need to pay attention to the specifics of the material used in the sheets and check if it is suitable for your baby or not. The criteria that you need to look for in the sheets are:
Weave
The feel and appearance of the sheets are highly dependent on their weave. While the standard for most bedsheets is satin or percale, most manufacturers often do not mention it on the packaging of the sheets. You need to ask a personal assistant or choose a sheet that has the weave mentioned.
Feel
Since babies have sensitive skin, you need to make sure that the sheet you choose is hypoallergenic or is at least soft and comfortable. The feel of the sheets is extremely important as this can help the baby sleep better and reduce the number of rashes formed on their body.
Fabric Care
You also need to check how easy it is to care for the crib sheet. Most sheets in the market these days are machine-washable unless mentioned otherwise. Make sure that the washing instructions on the packaging of the sheet are clear and that the material is less prone to shrinkage and damage after wash.
Durability
Since babies throw up a lot and regurgitate the food they eat, it is highly likely that you need to keep changing their sheets and throwing them into the wash. For this reason, you need to invest in sheets that can withstand numerous washes without the quality of the fabric being compromised. 
Breathability
The ease of breathing is a huge factor that should be considered when shopping for babies' crib sheets. Since babies cannot get up or talk, they cannot tell you if they are able to breathe properly or not. It can be dangerous to purchase sheets with 0% breathability, so you have to make sure that the material of the sheets promotes steady airflow to the baby's lungs.
Thread Count
While thread count is not the best measure of a sheet's material, it is certainly a factor that should be considered in addition to those mentioned above. A good-quality sheet has a minimum thread count of 200, so anything below that can be considered as cheap. 
Crib Size and Sheet Dimensions
Apart from the material, the size of the crib and its dimensions can matter a lot when you buy sheets. There are three kinds of sizes that cribs usually come in: mini, standard and shaped. A mini crib usually measures around 24 x 38 inches, while a standard one measures 28 x 52 inches.
The mini crib is for people living in a small home with limited space, while the standard ones are almost as big as a toddler's bed. Shaped cribs can be in different shapes, such as circular or round, so it can be difficult to find sheets for these unique-sized cribs.
Safe Materials
The type of material used in the crib sheets can heavily influence their longevity, quality, comfort and safety. Since babies have the most sensitive skin, most parents tend to avoid sheets made with chemicals or synthetic fabric. They usually opt for more organic and natural materials since those are better for the baby's skin. Crib sheets are usually made from a combination of different materials, with the common ones being:
Cotton: Cotton is the most popular and commonly used natural material in crib sheets. It is soft, breathable, and helps the baby sleep comfortably. However, one of the cons of getting a cotton sheet that hasn't been pre-shrunk is that it may not fit the crib properly after being washed. 
Bamboo/Eucalyptus: Rayon, lyocell and modal usually come under bamboo-derived fabrics, and they are silky, smooth and buttery on the baby's bare skin. They also retain moisture and help overcome dry, flaky skin for babies. However, some bamboo sheets are made with chemicals, so they may not be entirely organic.
Polyester: Polyester is a lightweight and affordable synthetic material, which is why most parents avoid purchasing it. This material is wrinkle-resistant, easy to wash and widely available. However, it is not breathable or as durable as compared to other materials, which is why it is cheaper.
Linen: Linen is considered to be a breathable, hypoallergenic and temperature-regulating fabric that helps the baby sleep soundly. However, if not pre-shrunk beforehand, it can shrink after washing and may also feel rough and harsh on the skin when used for the first time.
Crib Sheets and Fit Safety
The American Academy of Pediatrics has given safe sleep guidelines for parents so that they can help their babies sleep more comfortably during the night. It is recommended that the babies sleep on their back on a firm surface with a fitted sheet as this allows them more room to toss and breathe properly. There should be no other bedding or stuffed animals used, as this could risk a suffocation hazard for the baby. 
If the sheet is not fitted and bunches up when the baby moves, it could also pose a risk of suffocation since babies do not know how to straighten the sheet. To make sure that this does not happen, it is imperative for the parents to buy a sheet that fits the crib snugly and make sure that the crib sheet is made every morning. This will help avoid any bunching or wrinkling of the sheet when the baby sleeps.
Most baby crib sheets come with elastic bands on the edge to help the sheet stay in place. Do monitor the bands regularly so that if they seem to be wearing down, you can replace the sheets in time.
Frequently Asked Questions on Crib Sheets
How do I care for the crib sheets?
This depends on how regularly the baby throws up or soils the sheets. If the sheets get dirty regularly, you need to wash them as soon as they are dirty. Most sheets are machine washable, so you should follow the care instructions given by the manufacturer of the particular sheet. The severity of the sheet's shrinkage depends on how carefully you follow the care instructions and the kind of detergent you use as well. 
Do I need to change the crib sheets daily?
Crib sheets need to be changed when the baby soils them or makes them dirty. However, if the infant has not thrown up or soiled the bedsheet, it is recommended to still throw the sheet in the wash at least once a week. Do check the sheets for diaper leaks, drool or any other form of baby excretion regularly. 
How many crib sheets should I buy?
The number of sheets you purchase depends on the times you wash them. If you wash the crib sheets more regularly, it is better to have at least five sheets in stock. However, if you do not wash the sheets as regularly, then having 2-3 sheets as backup is just fine.
Final thoughts
Getting the right crib sheet is not an easy feat since it takes a lot of research and thinking on the parents' part. However, we hope that this guide helped alleviate most of your concerns and provided you with the best guideline for getting your child's new crib sheets.
Quick links
Contact
6063 Hudson Road #160
Woodbury, MN 55125
Yo@hercLeon.com