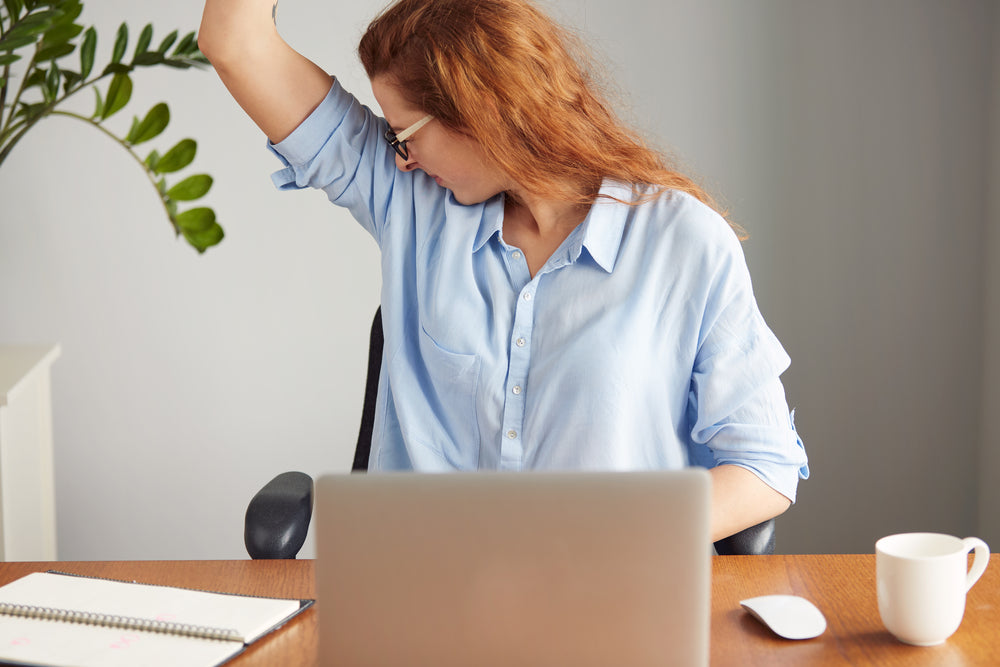 Posted on
---
Most of the sweat your body produces is odorless. This may be hard to believe when you can't stand your own body odor (BO). But the culprit in bad BO is not sweat, but rather bacteria on your skin interacting with the sweat. 
Lots of factors influence your skin microbiome including diet, health, medication, hormones, stress and so on. Any change in one or more of these factors can suddenly cause your sweat to smell bad. 
Unlike what many people think, BO doesn't depend on the amount of sweat. You might not see a change in how much you are sweating but still develop an unpleasant smell. It's all about the bacteria. 
In this post, we explore the most common reasons for smelly sweat and some of the things you can do about it. 
5 Reasons Your Sweat Stinks 
1. Genetics 
Your body odor is greatly determined by your genetics. There are people who naturally have mild BO no matter how much they sweat and there are those whose sweat has a stronger scent. 
For example, smelly armpits are caused by the ABCC11 gene. If you have this gene, your underarm sweat contains a chemical that feeds specific odor-causing bacteria, resulting in a strong body odor. 
Those who lack this gene don't have smelly armpits even when they don't apply any deodorant. Lucky them!     
Some people also have a genetic mutation that causes their sweat to smell particularly bad. One example is trimethylaminuria or fish odor syndrome. People with trimethylaminuria are unable to metabolize a compound called trimethylamine in their body. 
 Trimethylamine builds up and is released through sweat and breath, causing an unpleasant fishy BO.   
2. Diet 
If your body odor has suddenly changed, your diet is most likely to blame. What we eat directly affects the composition of your sweat. When the sweat interacts with bacteria on the skin, it results in a different odor. 
Foods that are associated with smelly sweat include meat, garlic, spicy foods, broccoli and alcohol. It's usually the overconsumption of these foods that result in a bad BO. If you eat them in moderation, you should be fine. 
Some of these foods like spicy foods, alcohol and caffeinated beverages can also make you sweat more from your armpits. Unlike sweat from your arms, legs and torso, armpit sweat comes from different kinds of glands (apocrine glands) and it has a scent before it even interacts with bacteria.  
Once you add bacteria into the mix, it can result in a pretty strong odor. 
Starting a new diet, dropping certain foods, and dehydration can also make your sweat stinky. 
3. Underlying Medical Condition 
Another likely reason for a sudden change in body odor is an underlying health condition. Plenty of illnesses including diabetes, gout, liver disease and kidney disease. 
Not all these smells are bad. Diabetes, for instance, causes your sweat to smell fruity because of high ketone levels in your blood. 
If you notice a sudden change in the amount and smell of your sweat, it's a good idea to see a doctor especially if you've not made a major change to your diet or lifestyle. There could be something else going on.  
4. Clothing
Your favorite shirt might be making your sweat smellier. If you wear clothes that have poor breathability, you tend to sweat more as your body struggles to keep you cool. 
Increased sweat from your armpits and groin can result in a worse body odor. 
Fabrics with poor breathability also tend to stay damp with sweat, creating a perfect breeding ground for odor-causing bacteria and make your body odor even stronger.  
5. Stress & Anxiety 
There's something like stress sweat. It occurs when your emotions trigger the apocrine glands under your arms, causing you to sweat regardless of whether it's hot or not. 
Because armpit sweat is naturally smellier (it contains more fats and proteins), stress sweat can cause an unpleasant body odor. 
Tips for Reducing Body Odor 
The first step to dealing with sweaty smell is to figure out why it's happening and what's triggering it. If you've always had smelly sweat for most of your life, it could be a genetics thing. 
But that doesn't mean there's nothing you can do about it. Try switching your diet or use clinical antiperspirant to see if the smell goes down. 
If you suspect your smelly sweat has been caused by a change of diet, reduce or cut out some of the foods and see what happens. Moderate consumption of things like alcohol, coffee, spicy foods, and meats can help prevent bad BO. 
Processed foods including junk foods have also been linked to body odor. If they are part of your diet, cut back or eliminate them and see if it changes how your sweat smells. 
Pay attention to the kind of clothes you wear. Only put on breathable clothes made from fabrics like cotton, polyester, linen, rayon and wool. These clothes will keep you from getting too hot and thus reduce how much you sweat. 
For intense activities like hiking, running and workouts, stick to performance fabrics like polyester and nylon. These synthetic fabrics are not only breathable, they also wick moisture and dry quickly. Dry clothing is less likely to smell. 
Cotton and linen have great breathability and wick moisture well, but they tend to stay damp for longer. So they can get smelly if you are sweating a lot.   
Another option is antibacterial/antimicrobial clothing (like our Apollo Shirt) that's treated to defend against odor-causing bacteria as well as mold and mildew.
You can wear antimicrobial clothing multiple times without washing it and it still smells fresh. There's also antimicrobial underwear that keeps your nether areas from producing any unpleasant odors.  
Finally, don't forget about hygiene. Showering once or twice daily and using antiperspirant if necessary goes a long way in keeping you smelling fresh. 
Quick links
Contact
6063 Hudson Road #160
Woodbury, MN 55125
Yo@hercLeon.com