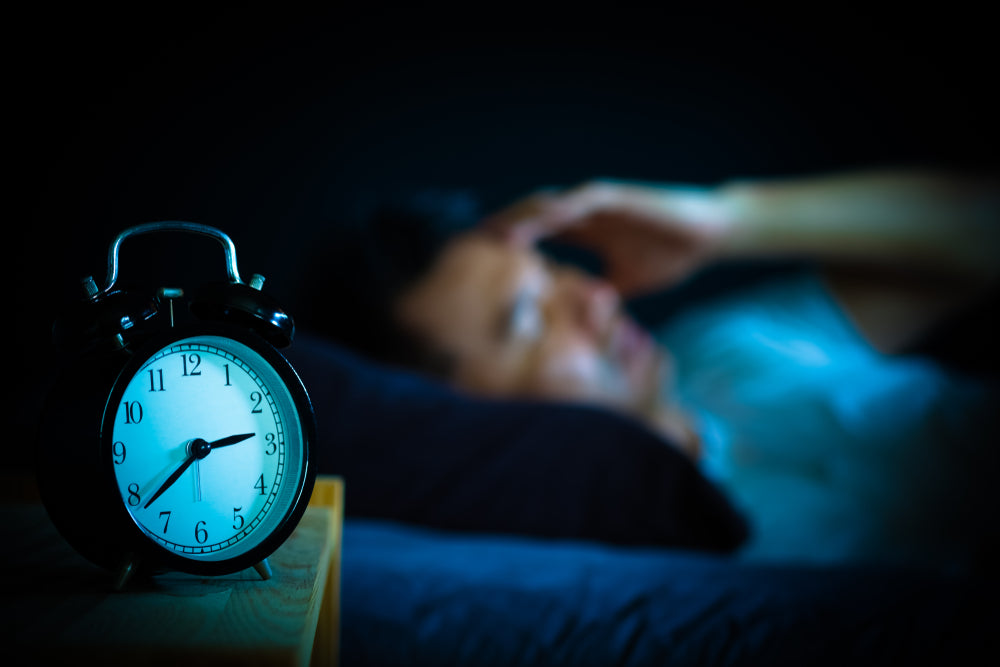 Posted on
---
If you have trouble falling asleep on most nights, you probably have insomnia. This is a sleep disorder where one has difficulty sleeping or staying asleep. 
While there are severe forms of insomnia that need medical intervention, in most cases you can manage or even eliminate insomnia with a few changes to your lifestyle. Here are 10 tips to fight insomnia and fall asleep faster. These tips will also help you sleep longer and deeper. 
1. Reduce Your Stress/Anxiety 
Stress causes the body to produce hormones like cortisol and adrenaline that keep you in a heightened state. Eons ago, this was good to protect humans from predators. Today, too much stress keeps us awake at night and messes with our health. 
Consider talking to your doctor or psychotherapist if you feel you have serious stress or anxiety. They may recommend medication or some other treatment to help you feel calmer and sleep better. 
You can also try a few things to manage stress like working out, spending time with friends, getting out into nature and meditation. If possible, make changes to whatever's causing the stress. For example, find another job or take a sabbatical if you feel burned out.   
2. Make Your Bedroom Sleep-friendly
If you are one of those people who can fall asleep anywhere, lucky you. But most of us struggle to sleep if the environment is not perfect for sleep. Too much noise, light or too high/low temperatures can cause or worsen insomnia. A friend of mine cannot go to sleep if there's a tiny blinking light from a device or an appliance in the bedroom. She has to tape over the lights. 
The ideal sleep-friendly bedroom is cool (60-67F is comfortable for most people), quiet, and dark. Find ways to achieve those three in your own bedroom. Here's one of our blog posts on turning your bedroom into a sanctuary. 
In addition to the above three things, removing clutter, adding relaxing colors and getting rid of odors can also help you relax more and fall asleep faster.  
3. Make Your Bed More Comfortable
Making your bed comfortable is part of making your bedroom sleep-friendly. But it's the part many people don't pay attention to. A pretty bedroom doesn't matter if your mattress wakes you up with back pain or your sheets leave you all hot and clammy.  
Figure out what you can change or improve to make your bed more comfortable. A good quality mattress, though it may be pricey, is always worth it. 
Another worthwhile investment is your sheets. Get cool, breathable, moisture-wicking and soft sheets made from materials like cotton, eucalyptus, bamboo and silk like our very own Jax Sheets. Don't forget to get a comfortable pillow too.   
4. Tire Your Body Out With Exercise 
The main reason that exercise is so good for sleep is that it tires you out. When you are tired, your body has a higher sleep drive. That is, the need for sleep. You'll find yourself dozing off without struggling. 
In addition to tiring you out, exercise also helps you sleep faster by reducing stress and anxiety.
Try to get in about 30 minutes of moderate to intense exercise everyday. It will help with your insomnia. And don't worry about what time you have to work out — morning, afternoon or evening. Pick whichever time works best for you. Just avoid anything intense an hour or two before bedtime. 
5. Have a Sleep Routine 
Sticking to the same sleep routine daily can make it easier to fall asleep faster, even on days you are a bit stressed. By going to bed at the same time every day, it also helps you get the recommended 7-9 hours of sleep.  
The first step of a good sleep routine is choosing a regular bedtime and sticking to it even on weekends. You don't have to pick a specific time; that can create pressure and anxiety around sleep. Instead, pick a 1 hour period like 9-10pm or 10-11pm. Just make sure that you pick a time that ensures you get 7-9 hours of sleep.   
The other big part of a sleep routine is the wind-down period. This is where you relax and prepare your body and mind for sleep. Switch off devices and pick an activity that relaxes you like a warm bath, sexy time with your partner, meditation, aromatherapy or reading a book. 
6. Watch Out for Caffeine 
There are people whose genetics allow them to drink coffee at any time and it doesn't affect their sleep. But for most people, caffeine can fuel insomnia if you have it at the wrong time. 
Because caffeine stays in the body for several hours, experts recommend drinking your last coffee (or any caffeinated beverage) at least 6 hours before bedtime. This gives it enough time to clear from your body and ensure it doesn't interfere with your sleep. 
7. Eliminate or Cut Back on Alcohol and Smoking
Two other things to watch out for are alcohol and nicotine. 
Alcohol actually makes you sleepy and can help you sleep faster. But it messes with your sleep later in the night and can cause or worsen insomnia. 
Over time, taking too much alcohol affects your sleeping patterns to the point where you may find yourself even struggling to fall asleep at night. 
Nicotine, on the other hand, is a stimulant. Smokers generally take longer to sleep compared to non-smokers.  
Similar to alcohol, smoking can negatively affect your sleep quality and patterns over time. Both increase the risk of insomnia and other sleep disorders like sleep apnea. 
If you drink alcohol, try to cut back and avoid taking it in the evening close to bedtime. If you smoke, work on stopping the habit. 
8. Do Not Force Sleep - Learn A Sleep Technique Instead 
When we have insomnia, most of us often try to force ourselves to sleep. This usually makes insomnia worse because it makes you more stressed and anxious about sleep. 
Never try and force yourself to sleep. Instead, learn some techniques to help you fall asleep. 
Of course, these include everything we've discussed like working out, avoiding caffeine 6 hours to bedtime, having a routine and so on. 
In addition, there are interesting techniques that can help you go to sleep faster. Some people count backwards from 100, I personally listen to rain sounds and some people have a breathing technique that puts them right to sleep. 
Find something that works for you and add it to your bedtime routine. 
By the way, if you ever find yourself in bed unable to sleep, get out and do something else like reading a book or painting. It eliminates stress from not sleeping and you'll actually find yourself getting sleepy more easily. Just don't do anything too exciting like playing video games or scrolling social media.  
9. Check Your Diet 
A good diet with fewer processed foods and lots of fruits, veggies, whole grains, healthy proteins and other healthy foods will help you sleep better and faster. 
Timing also matters. Eating a large meal close to bedtime can make it harder to fall asleep. Experts recommend eating smaller meals during dinner and eating earlier in the evening. 
Remember to avoid anything that can keep you up like caffeine, very fatty foods and highly spicy meals. If you often get heartburn, avoid anything that might trigger it. 
10. Consider Using Sleep Aids for a Short Period 
If you have severe insomnia, consider consulting your doctor about using sleep aids. You can also get some sleep aids over the counter. 
Be careful about using sleeping pills. They are supposed to be used only for a short period. Otherwise, your body could become dependent on them and they could actually end up worsening your insomnia, what's called rebound insomnia.
If you have to use sleep aids, also work on the lifestyle changes we have discussed above to help you sleep faster. That ensures that once you stop taking the pills, you'll still find it easy to go to sleep. 
Quick links
Contact
6063 Hudson Road #160
Woodbury, MN 55125
Yo@hercLeon.com