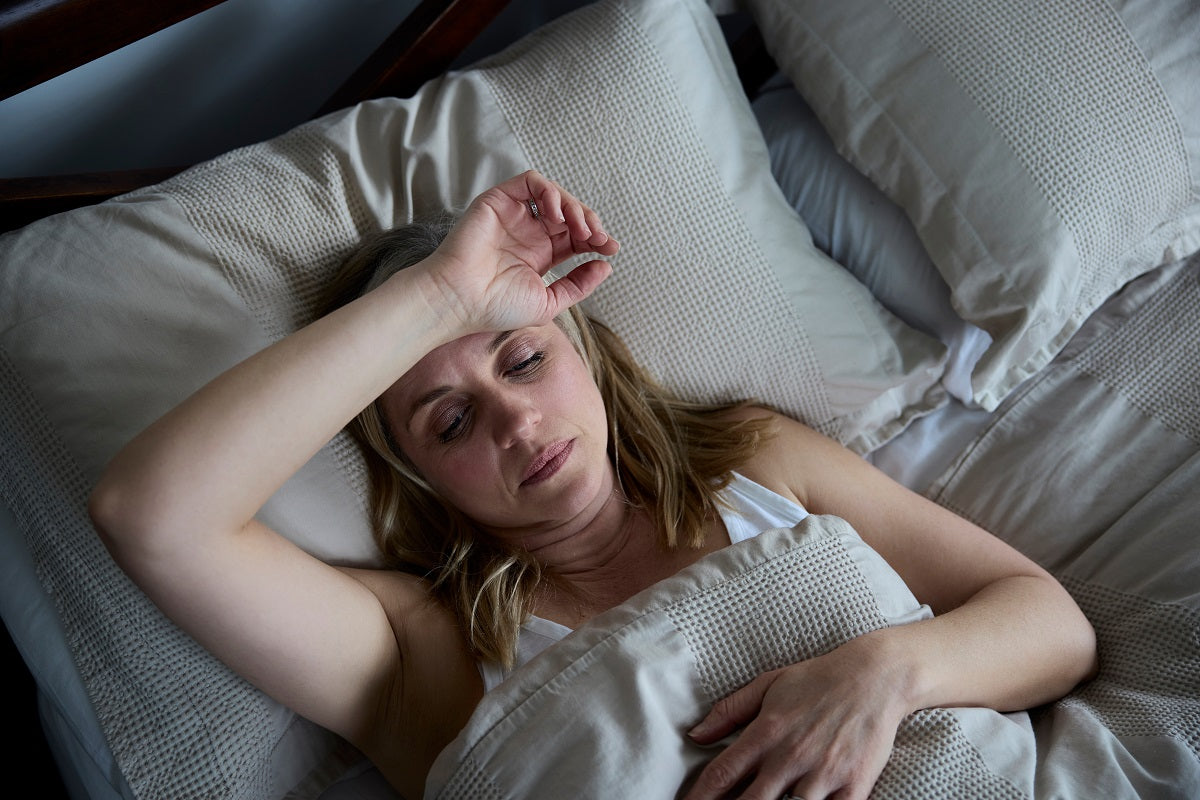 Posted on
---
Hot flashes occur in different forms. Some women describe partial discomfort on just some areas of their body like their face and chest while others get hot all over. 
But one thing is true for most hot flashes — they are incredibly uncomfortable. I've seen people say it feels like someone has opened an oven right next to you or being trapped in a hot car. 
Nighttime hot flashes (usually accompanied by night sweats) are particularly awful since they interrupt your sleep and can lead to sleep disorders like chronic insomnia. This introduces even more problems like fatigue, loss of focus, irritability and increased risk of various health issues like obesity and diabetes. 
Here are some strategies for cooling down and sleeping well for anyone experiencing hot flashes. This includes men (yes, men can also get hot flashes).  
5 Effective Cooling Strategies for Hot Flashes 
1. Get A Cooling Mattress or Mattress Topper 
A heat-trapping mattress can make your hot flashes even more unbearable. Memory foam mattresses are the worst when it comes to sleeping cool.
Memory foam mattresses with cooling gel are cooler, but usually not cool enough to provide relief against hot flashes. 
Natural latex mattresses are the best for hot flashes and anyone who gets really hot at night. But they can be pricey. Hybrid mattresses with pocket coils are cheaper and they sleep pretty cool. If you can, find one with latex on top and coils at the bottom. It will provide the best cooling. 
If a new mattress is not in your budget right now, consider buying a cooling mattress topper or pad instead. A 1-3 inch natural latex mattress topper will keep your memory foam mattress from making you hot and sweaty. 
Wool toppers are also great for hot flashes and night sweats. 
Avoid memory foam toppers, including those with cooling gel. They are good for mild hot sleepers, but won't help with hot flashes. 
2. Use Breathable Bedding 
Next up, check your bedding — sheets, comforter/blanket and pillow. When shopping for bedding, stick to fabrics that are breathable, moisture-wicking and quick drying. 
Cotton sheets are great at cooling but if you get lots of night sweats, they tend to stay damp. Silk, linen, bamboo, and eucalyptus sheets are great for both hot flashes and night sweats.  
These fabrics are also excellent for pillow cases, especially if your hot flashes occur in the upper body. As for the pillow itself, look for those filled with natural materials like latex and down. If you have to get a memory foam pillow, look for one with shredded memory foam — it'll be more breathable.  
Our very own Jax Sheets are not only cool and moisture-wicking, they are also antimicrobial. So even if you sweat buckets, they stay fresh and hygienic for days or weeks. 
We also have the Jax Comforter that's thermoregulating, fights night sweats and is also antimicrobial. And if you are looking to upgrade your pillow, get the silk and copper Zuri pillowcase. 
3. Get a Bed Climate Control System 
If you only pick one solution from this article, let it be this one. A bed climate control system is one of the best ways to combat hot flashes at night. Unlike other bed cooling strategies, a climate control system cools you rapidly or instantly, thus providing immediate relief from a hot flash. 
We especially love air-cooled bed systems like BedJet. It blows cooled (or heated) air under the sheets. It's great for night sweats since the air quickly dries the sweat and cools you down. 
Water-cooled systems like Sleepme Cube and Ooler are also effective especially if you get serious and prolonged hot flashes. Water-based systems can make the bed colder and they absorb more heat.  
The main downside of bed climate control systems is that they are pricey. But the improvement you get in your sleep quality is worth it. 
Tip: These systems are also great if you feel cold after a hot flash. Simply turn the temperature up on the remote control or app and the water or air warms you. 
4. Cool The Bedroom 
Cooling the bed is easier, more effective and more efficient than cooling the entire bedroom. But if you'd rather not buy a bed cooling system, then cooling the bedroom can make you more comfortable at night. 
Options include turning down the thermostat, buying a window unit or portable AC for your bedroom, using an evaporative cooler (only for hot and dry climates like Texas) or using a fan. 
5. Avoid Triggers Before Bedtime 
This is not exactly a cooling strategy but it can help stop the hot flashes from occuring in the first place. Different people have different hot flash triggers. Some common ones include smoking, alcohol, caffeine, spicy foods and stress. 
Figure out what triggers your hot flashes and try to avoid it before bedtime. If stress is the culprit, incorporate relaxing activities like stretching, breathing exercises or reading into your bedtime routine. 
Final Thoughts
We know that hot flashes and other menopausal symptoms worsen sleep. But some studies indicate that it also goes the other way. Poor sleep can make hot flashes and other problems worse.  
So working on improving your sleep quality is itself a great way to combat hot flashes.  
Quick links
Contact
6063 Hudson Road #160
Woodbury, MN 55125
Yo@hercLeon.com