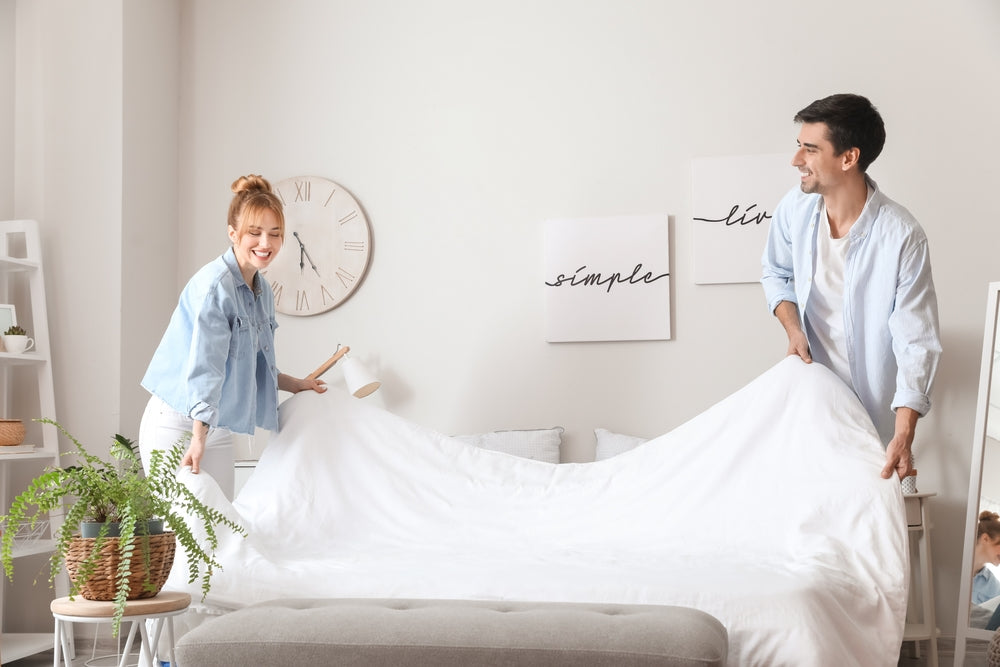 Posted on
---
If you could see your bedsheets under a microscope, you'd probably never sleep on them again. If it has been sometime since you washed them, they are crawling with dust mites, fungus, bacteria, dead skin cells and all kinds of gunk. 
Men are particularly bad when it comes to bed hygiene with multiple studies indicating that most change their sheets just 3-4 times a year.  Dirty sheets are bad for your skin. They can cause allergic reactions, inflammation and acne breakouts.  
If you are wondering why you keep getting acne on your back or face, it's probably your sheets. 
What's On Your Sheets?
Here's a non-comprehensive list of all the stuff that ends up on your bedsheets. 
Dust mites

- these are probably the most terrifying occupants. But they are typically harmless for your skin. They are only a problem if you are allergic. In that case, they can cause inflammation, which can lead to an acne breakout. Dust mites on your bed feast on your dead skin cells.
Sebum & skin care products -

Sebum, your body's natural moisturizer, transfers from your skin and onto the sheets. Any makeup, lotion or oils on your skin will also transfer and build up on your pillow and sheets. 
Fungus and bacteria -

A mixture of sweat, saliva, dead skin cells and other gunk make your bed sheets a great host of different kinds of fungus and bacteria. 
Dead skin cells -

We shed

hundreds of thousands of dead skin cells daily, and many of these end up on your bed. They, in turn, attract dust mites and bacteria. 
Dirt -

You likely transfer some dirt from your body or clothes onto your sheets when you sit or sleep in your bed. There's all the dust and particulates from the bedroom and whatever finds its way from outside through the windows and ventilation. 
In short, your sheets can get pretty dirty and icky really quickly. If you are one of those men who go months without washing your sheets, your bed probably resembles a biohazard zone.   
How Your Sheets Affect Your Skin Health?
You may be wondering, what's the big deal with a few dust mites and bacteria on my bed? 
Putting aside that some of these stuff like E. coli and dust mites could give you a serious infection or affect your respiratory health, dirty sheets are terrible for your skin. 
If you don't take care of your sheets, you'll probably have to deal with persistent breakouts including whitehead, blackheads, cysts, rashes and pimples. 
You'll notice breakouts on multiple areas of your body including your face, neck, chest, back and shoulders. 
This happens because all the gunk on your sheets transfers onto your skin and clogs your pores. This is what causes an acne breakout. Bacteria on your bedsheets can also enter your pores, resulting in infected cysts. 
If you have sensitive skin that is prone to rashes and breakouts, all this icky stuff will affect you more severely to the point that it even affects your sleep quality.  
How Often Should You Wash Your Bedsheets?
The best way to avoid skin problems from dirty sheets is to clean your sheets often. At the very least, you should wash or change your sheets once a week. 
But if you get our antimicrobial Jax Sheets, you can go longer since they actively kill any bacteria on the sheets. So they stay fresh and clean for longer. 
If you have sensitive or acne-prone skin, we recommend changing your sheets more often, maybe 2-3 times a week. The same goes if you sweat a lot in bed. All that moisture is going to attract more bacteria, fungus and even mold. 
By the way, don't forget about your pillowcase. It is also a potential cesspit of bacteria and dirt, which can cause facial acne. Because your face is more sensitive, change your pillowcase 2-3 times a week.  
The Best Types of Sheets for Acne
When you are shopping for bedsheets, look for those that are: 
Soft and gentle on your skin. Constant friction between sheets and your skin can cause acne (it's called friction acne). It's worth it to spend a bit more on linen sheets, bamboo sheets, silk sheets and high thread count cotton sheets.  
Moisture-wicking. You don't want sheets that keep your skin damp and clammy when you sweat. This can clog your pores and trigger a breakout. Look for sheets like cotton, silk, linen and bamboo that easily absorb moisture. 
Anti-bacterial. Sheets that are treated with an antimicrobial material like copper create a more hygienic sleep environment, which is especially beneficial for those with sensitive and acne-prone skin. 
Breathable. Breathable sheets allow sweat to evaporate quickly, ensuring the bed stays dry. This discourages bacteria, fungus and other microorganisms that thrive in damp warm environments. Breathable sheets also help you sleep cool. The best sheets for breathability include cotton, silk, linen, bamboo, eucalyptus/Tencel and high-performance polyester sheets. 
Tip: If you have to buy polyester sheets because of budget, look for those that are a blend of polyester and another better quality fabric like cotton, bamboo or eucalyptus. 100% poly sheets are usually poor or average when it comes to sweat absorption and breathability. 
Final Thoughts
Bed hygiene is really important and not just for your health or skin. It can also affect your sleep quality. If you start itching every time you get in bed or get sniffles or a clogged nose, you have trouble sleeping well. 
Quick links
Contact
6063 Hudson Road #160
Woodbury, MN 55125
Yo@hercLeon.com