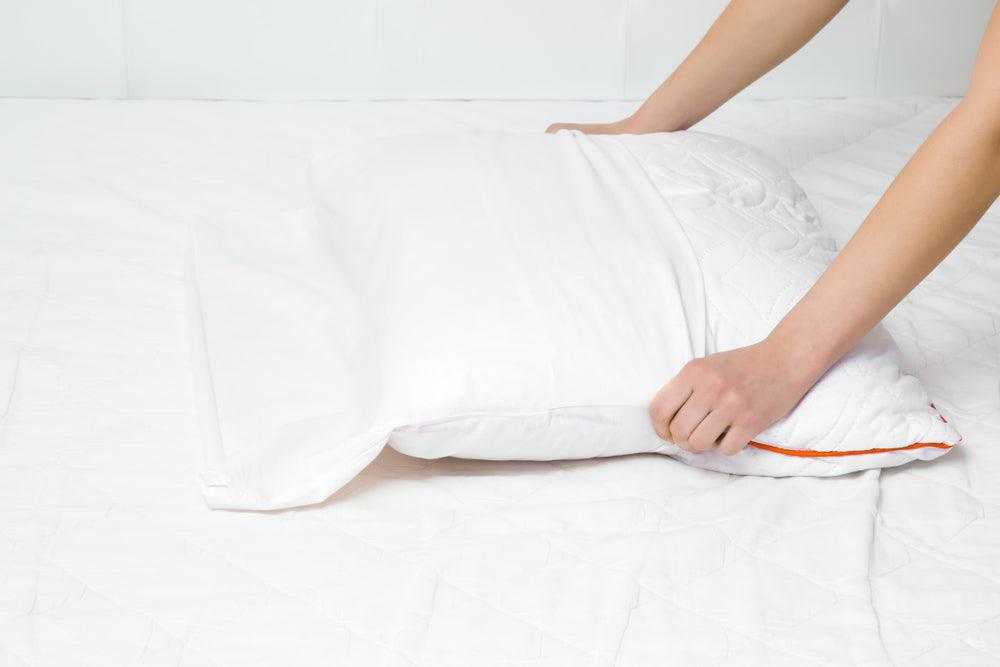 Posted on
---
You may not think it matters, but your pillowcase is essential for your skin health. In fact, your pillowcase could trigger or worsen acne on your face. We wrote an entire post on it here. 
People with sensitive and acne-prone skin need to be especially careful what kind of pillowcase they get and how well they maintain it. 
How Your Pillowcase Affects Your Skin Health
You (hopefully) spend over 6 hours each night with your face touching the pillow, so it makes perfect sense that your pillow can affect your skin health. 
Your pillowcase is not as pristine as it seems, especially after a couple of nights of sleeping on it. If you were to examine it under a microscope, you'd see all sorts of icky stuff on it. 
Dead skin cells, dirt, and body oils from our skin build up on the pillow. You'll also find bacteria thriving there as well, especially if you sweat at night. 
Normally, this is not a problem as long as you wash or change your bedding often. But if you go too long without getting a fresh pillowcase, all that stuff builds up to the point of affecting your skin. 
It begins to clog your hair follicles, what we often refer to as skin pores. This leads to acne breakouts such as whiteheads, blackheads or pimples. If bacteria gets trapped in the pores along with all the other stuff, you could get infected cysts that are red and swollen. 
Your pillowcase might be the reason you keep getting acne breakouts on your face. They may disappear for a while with medication or after you change your pillowcase, but the breakout will keep reappearing unless you improve your bed hygiene. 
Another way your pillowcase affects your skin health is through friction. If you have a cheap pillowcase that feels rough, it could cause friction acne on your face. This friction can also cause wrinkles on your skin, making your face appear older. 
That's why the type of pillowcase matters just as much as how often you clean it. 
What to Look for in a Skin-friendly Pillowcase
Here are three features that make a pillowcase skin-friendly. Look for a pillowcase with all these features if you want to protect your skin while you sleep. 
Moisture-wicking 
When we talk about moisture here, we mean sweat. Most of us sweat in our sleep, with some people experiencing more severe night sweats because of hormones, genetics or bedroom temperature.  
If your pillowcase doesn't absorb moisture well, all that sweat will have nowhere to go and it will pool on the pillowcase. This creates a great environment for bacteria. Some of the sweat also stays on your skin and clogs your pores. 
In contrast, a sweat-wicking pillowcase keeps your skin dry, which keeps your pores from clogging and reduces the risk of breakouts. 
Some of the best moisture-wicking pillowcases include silk, cotton, bamboo and Tencel.  
Breathable 
A breathable pillowcase allows air to easily pass through the fabric. This is important for a few reasons: 
It keeps your pillow feeling cool since hot air is not trapped under the pillowcase. A non-breathable pillowcase can make you hot, which in turn makes you sweat more and that's bad for your skin. 

It keeps your pillow smelling fresh, since odors don't get trapped under the pillowcase. 

A breathable pillowcase stays dry since sweat evaporates easily from it. A dry pillowcase will have fewer bacteria and is healthier for your skin. 
Silk, cotton, bamboo and Tencel/eucalyptus pillowcases are breathable. But avoid cotton if you sweat more than average at night. It's really good at absorbing sweat but it dries slowly and thus can make your pillowcase damp. 
However, this has nothing to do with its breathability. It's because of the nature of cotton fibers. They are hydrophilic (water-loving) so they hold onto water molecules for longer compared to other fabrics.  
Soft & Smooth 
To reduce the risk of friction acne (acne mechanica), get a pillowcase that's made with a soft and smooth fabric. 
This reduces the friction between your skin and the pillowcase. All the fabrics we've mentioned above are generally soft (though softness can also vary depending on thread count and type of weave). But the best picks if you want the softest pillowcase is 100% natural mulberry silk. 
It's why a silk pillowcase is also highly recommended for protecting your hair when you sleep. 
Anti-bacterial  
Anti-bacterial or antimicrobial pillowcases (like our very own Zuri pillowcase) are treated to actively kill bacteria on the fabric. The treatment makes the pillowcase cleaner, fresher and more hygienic.
Without acne-causing bacteria right next to your face, you'll have fewer to no breakouts and your pillow will also stay fresher for longer since odor-causing bacteria are also killed.   
The 4 Best Types of Pillowcases for Your Skin
1. Silk Pillowcase
A silk pillowcase is the best kind of pillowcase for your skin (and hair). It meets almost all the above requirements — it is soft on your skin, it absorbs sweat and it is breathable. 
If you want a silk pillowcase that's also antimicrobial, get our Zuri anti-acne and anti-aging pillowcase.  
The only downside of a natural silk pillowcase is that it's more expensive than other types of pillowcases. But it's worth it. 
2. Cotton Pillowcase 
Cotton pillowcases are cheaper and offer many of the same benefits as silk — breathable, moisture-wicking and fairly soft (depending on type of weave and thread count). 
For the best skin protection, we recommend a 200-400 thread count cotton pillowcase with a sateen weave. A high thread count produces a softer cotton fabric and a sateen weave is silkier compared to percale cotton. 
That said, people who sweat a lot from their head and face at night should probably stay away from cotton pillowcases. They get damp and stay damp for longer than other types of pillowcases. Get a silk, bamboo or eucalyptus pillowcase instead. 
3. Bamboo or Eucalyptus/Tencel Pillowcase
Two other great options are bamboo and eucalyptus. These plant-based fabrics are soft, breathable and moisture-wicking.   
You can get 100% bamboo or eucalyptus pillowcases but they are pricey. If you are on a budget look for those that are blended with cotton or polyester. 
4. Satin Pillowcase
Satin is often advertised as a cheaper alternative to silk. It is true that satin is really smooth, making it great if you want to avoid wrinkles, frizzled hair and friction acne. If all you want is a smooth and pocket-friendly pillowcase, satin is a good option. 
But we don't recommend satin pillowcases for most people. Satin is made from synthetic fibers and has poor moisture-wicking and breathability. If you are a hot sleeper or have night sweats, it can cause or worsen acne. 
What About Linen Pillow Cases?
Linen makes for good sheets but not pillowcases. It is too rough and scratchy when new. This is usually not a big deal for your body since you have pajamas and the rest of your skin is not as sensitive as your face. 
But for pillowcases, avoid linen pillowcases. They take several washes to get soft enough to the point that they don't aggravate your skin. 
Quick links
Contact
6063 Hudson Road #160
Woodbury, MN 55125
Yo@hercLeon.com