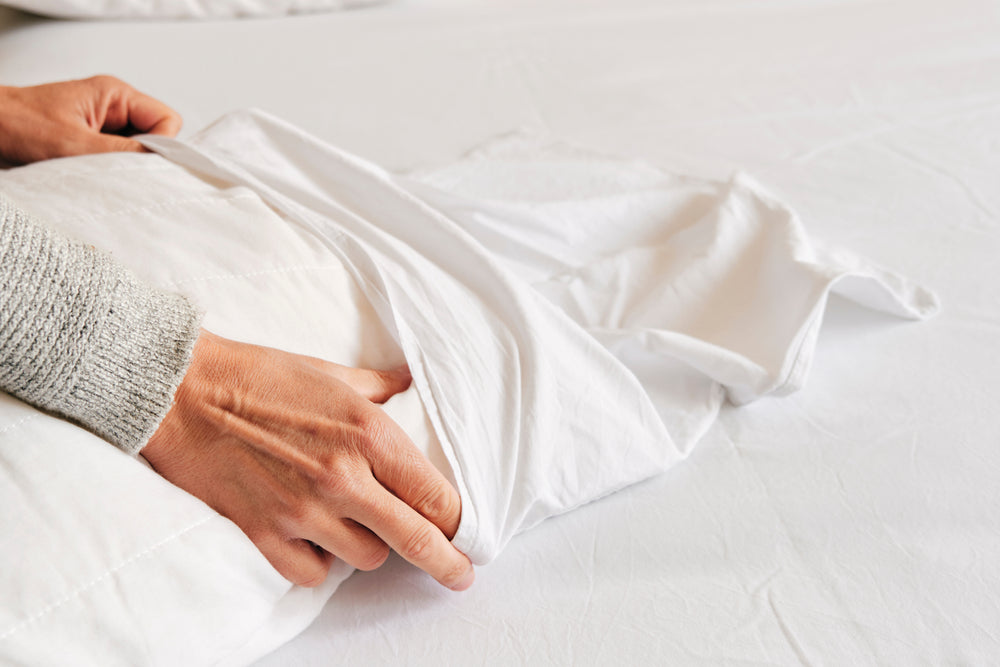 Posted on
---
If you are suffering from persistent acne, check in the mirror and see if the pimples are concentrated on a particular area of your face. If they are mostly on your cheeks or sides of your face, your pillow might be the culprit. 
Yes, your pillowcase and even the pillow itself, can cause or worsen acne. Washing it more often, using the right kind of pillowcase and practicing good skin care can help keep your face acne-free. 
How Your Pillowcase Can Cause Acne
When it comes to skin health, we often think of skin products, cleansing and exfoliation, moisturizing and other common skin care practices. 
We forget that we spend several hours each night with our face pressed against the pillow. If you don't take care to keep your pillow clean and hygienic, it could cause persistent and recurring acne particularly on the sides of your face. 
This happens because the pillow collects a lot of oils, germs, dirt and dead skin cells. When your face is in contact with the pillow, all this stuff transfers onto your skin and clogs your hair follicles (skin pores). 
This results in different kinds of acne breakouts including pimples, blackheads and whiteheads. 
Friction between your face and the pillowcase can also cause or worsen an acne breakout. This is called acne mechanica.
How Do I Know If My Pillow Is Causing Acne?
Acne has numerous causes and it can be hard to narrow down exactly what's causing your breakout. Here are some clues that point to your pillow as the culprit. 
The acne occurs mostly on the sides of your face, especially on the cheeks. If you sleep on one side, the acne might be concentrated on that side of the face. 

Pimples reduce or disappear after you've washed your bedding and then gradually returns. 

The breakout disappears when you sleep at a hotel bed for several nights.   

Your skin often looks worse in the morning after you wake up. 

You go for a long period (days or weeks) before washing your sheets and pillowcase. 
6 Ways To Prevent Pillow/Pillowcase Acne
1. Keep Your Pillow Clean 
The most important thing you can do to prevent pillow acne is to improve your bed hygiene. Get several pillowcases and switch to a fresh one every couple of days, or even daily if your skin is prone to acne. 
If your pillow is washable, wash it 2-3 times a year to remove the dirt and debris that has built up inside the pillow. 
2. Keep Your Skin Clean
The dirt and oils on your pillowcase mostly come from your face. So an easy way to keep your pillow cleaner and more hygienic is to keep your own face clean. 
Here's a simple rule that will help: never get in bed before washing your face. Even if you are just taking an afternoon nap, a quick wipe of your face with a soft towel will help keep your pillowcase clean. 
Consider also using a facial cleaner. It does a better job than just plain water at removing dead skin cells and oil that's clogging your skin pores. 
3. Get a Softer Pillowcase 
Cheap pillowcases often feel rough. They are made from low quality fabrics and have a coarse weave that aggravates the skin. 
A rough pillowcase can lead to friction acne on one or both sides of the face. Upgrading to a softer and smoother pillowcase can help. 
We recommend pillowcases made from natural fabrics like cotton, silk, bamboo or eucalyptus. 100% natural silk has the least friction, and is great for both your skin and hair. 
4. Get a Breathable and Moisture-wicking Pillowcase
If your pillowcase usually feels damp at night, it's not good for your skin. It's not wicking away sweat, so moisture pools on your skin and on top of the pillow. 
This causes two problems: sweat clogs your skin pores and the dampness provides an environment for bacteria to thrive. These are the perfect conditions for acne to occur. 
We recommend getting a breathable and moisture-wicking pillowcase like silk, bamboo, eucalyptus and cotton. 
Be careful, though, with cotton pillowcases if you have sensitive skin that is prone to breakouts or you sweat a lot at night. Cotton is great at wicking away sweat from your skin, but dries slowly. So it tends to stay damp for too long, which can also cause or worsen acne. 
5. Get an Antimicrobial Pillowcase 
If you have acne-prone skin, we highly recommend an antimicrobial pillowcase like our very own Zuri pillowcase. It is treated with materials that actively kill acne-causing bacteria.  
An antimicrobial pillowcase keeps your sleeping environment a lot more hygienic and you can even go for longer without washing it. 
Because the antimicrobial treatment also kills odor-causing bacteria, you'll notice that your pillow smells fresh, too.  
6. Change Your Sleeping Position 
If the pillow acne won't go away no matter what you do, try changing your sleeping position. Switch from sleeping on your side or back to sleeping on your back. 
What About Chin Acne?
Some people have acne breakout that is concentrated around their chin. Believe it or not, this could also be connected to your bed. 
Your pillow is not to blame this time. Instead, the culprit is likely your comforter or blanket. If you have a habit of pulling your comforter and tucking it under your chin when you slip, that could result in chin acne. 
It occurs for the same reasons as pillow acne. The blanket might be carrying dirt, sweat and body oils, which transfer onto your skin and clog your pores. You might also be causing a lot of friction between your chin and the blanket, resulting in friction acne. 
You can fix this by keeping your comforter clean. Washing a thick blanket or comforter can be tedious and may even damage it. So the best thing is to get a duvet cover, which you can wash regularly. 
You can also try to wean yourself off the habit of tucking the blanket under your chin. 
Final Thoughts
Bed hygiene is really important for your skin health. A dirty or unhygienic mattress or sheets can cause all sorts of skin problems including face and back acne. Here's a post we wrote with 10 tips for good bed hygiene. 
Quick links
Contact
6063 Hudson Road #160
Woodbury, MN 55125
Yo@hercLeon.com