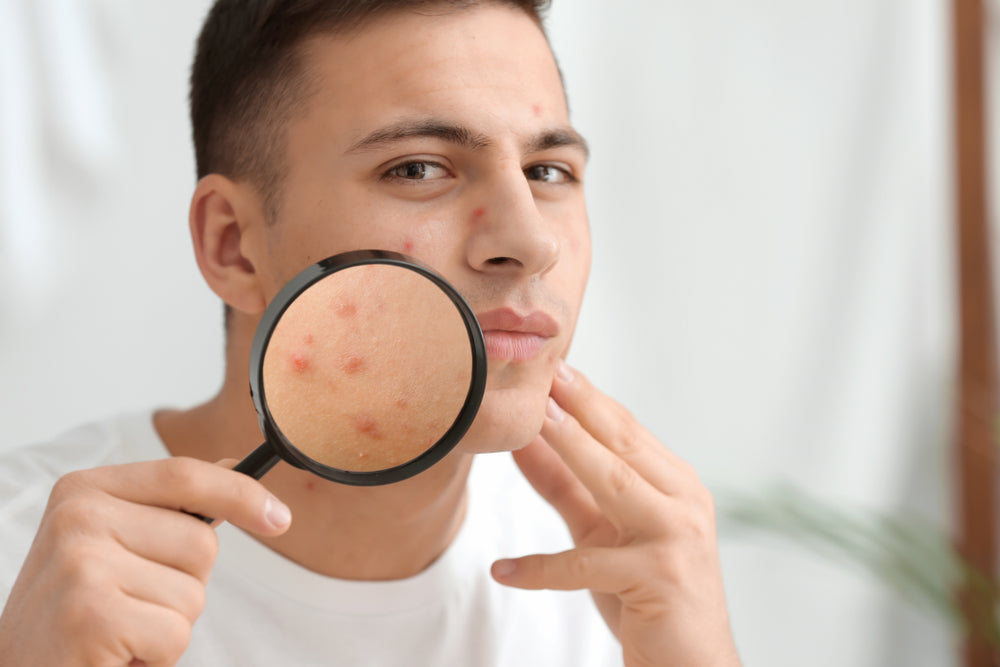 Posted on
---
Acne can sometimes feel like this mysterious condition. It strikes unexpectedly and you are never really sure what has caused it. Is it hormones? Is it the cream I'm using? Is it something in the air?
There are plenty of acne triggers including hormonal imbalance, poor skin hygiene, stress and so on. Here's one more you've probably never considered — sleep deprivation. 
That's right, lack of sleep could trigger or worsen an acne breakout. It's one more reason why you should really try and get 7-9 hours of high quality sleep every night. 
Can Sleep Deprivation Cause Acne? 
The research we have so far indicates that, yes, sleep deprivation is linked to the occurrence of acne. People who get less than 6 hours of sleep each night are more likely to also suffer from acne. 
Now, lack of sleep doesn't directly cause acne. But it can promote conditions (like stress, hormonal imbalances etc.) that make you more vulnerable to a breakout. 
A few studies have also shown a reverse effect. That is, having acne can affect your sleep quality. This is because acne can affect your mental health, which in turn interferes with your ability to sleep well. 
The relationship between sleep and acne can end up in a vicious cycle. Sleep deprivation makes it easier for you to get acne, the acne affects your sleep quality, worsening sleep quality causes even more breakouts and so on. 
3 Ways Lack of Sleep May Trigger Acne?
Exactly how sleep is connected to acne, we are not completely sure. But experts have a few theories that we discuss below. 
1. Increased Inflammation 
Regular acne happens when your pores clog with sebum, dirt and dead skin cells, resulting in a breakout. 
If these pimples become infected by bacteria, the immune system responds by triggering inflammation. Inflammation is a perfectly normal and good immune response. But in this case, it causes a worse form of acne, called inflammatory acne. Your pimples become red, swollen and painful bumps. 
As we've covered multiple times in various posts, sleep deprivation is known to worsen inflammation. Basically, it causes inflammation to go from a healthy immune response to a prolonged condition that harms our health.
So not getting enough sleep can make you more likely to get inflammatory acne. 
Researchers also think that lack of sleep can increase your risk of even the regular kind of acne. There's evidence that inflammation is involved in every stage of acne development. So high levels of inflammation can cause or worsen 'noninflammatory' acne. 
2. Higher Stress Levels 
There is something like stress acne. It occurs when stress triggers or worsens an acne breakout. This happens because your body starts producing more stress hormones. These hormones, such as cortisol, in turn trigger an increase in the production of sebum, the natural oils in our skin. 
More sebum means more pores become clogged, which inevitably results in a breakout. 
You may have noticed this yourself. You have a few pimples on your face, then you encounter a psychological stressor like exams, a fight with your partner or a major life change. Suddenly, you have pimples all over your face. 
Something else that can worsen or even trigger stress is lack of sleep. Repeated sleep deprivation can lead to chronic stress, resulting in perpetually elevated stress hormones. This can cause persistent stress-related acne. 
You are at a higher risk of stress acne if you are already prone to acne (those with oily skin type) or if you are experiencing hormonal imbalance such as during menstruation, menopause or pregnancy.  
3. Hormonal Imbalances
Hormonal changes are one of the biggest causes of acne. That's why acne breakouts are common in women going through pregnancy, menopause and other major hormonal upheavals. 
Sleep can also cause or aggravate hormonal imbalances, thus increasing your risk of getting acne. 
How To Improve Your Sleep Quality for Better Skin Health  
Getting quality sleep is not just great for preventing acne; it improves every aspect of your skin. It reduces wrinkling, keeps skin well moisturized, helps maintain good blood flow to your skin (important for keeping your skin glowing), and many other benefits. 
So as you fill up on your skin care products, don't forget to get your beauty sleep. Try to hit at least 7 hours of sleep each night and make sure it is high quality sleep. 
If you have a sleep disorder, see a doctor for treatment. Avoiding alcohol and caffeine in the evening will also improve your sleep quality. 
Also take a look at your bedding. Clean and comfortable bedding will help you sleep better, and it's also great for your skin. 
Get soft, breathable and moisture-wicking sheets and pillowcases. For the pillow case, 100% natural silk is the best material for your skin and hair. 
Sleeping on antimicrobial bedding can also help prevent acne by killing any bacteria on your bed. 
Quick links
Contact
6063 Hudson Road #160
Woodbury, MN 55125
Yo@hercLeon.com