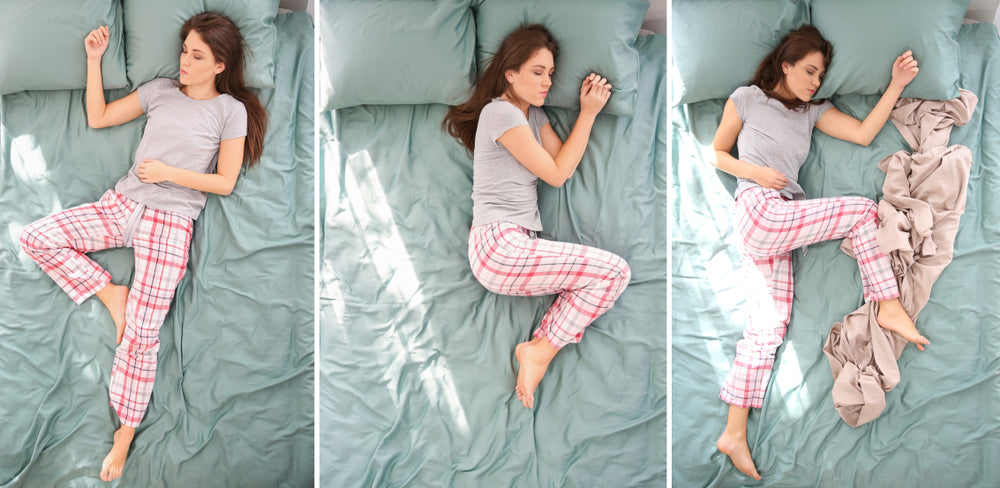 Posted on
---
Believe it or not, your sleeping position has an impact on the health of your skin, particularly your face. The main issue is contact between your face and your pillow. 
Certain sleeping positions like sleeping on your side can age your skin faster and increase your risk of getting acne. 
The Worst Sleeping Positions for Your Skin 
Your side and stomach are the worst sleeping positions for your skin health. The reason is simple: these positions keep your face constantly in contact with the pillow. 
This has three big problems. 
1. Pressure and Friction On The Skin 
When you sleep on your side or stomach, the side of your face will be in contact with the pillow for hours. This places constant pressure on your skin. It also creates friction between the pillowcase and your face. 
The pressure and friction night after night can cause fine lines and wrinkles to appear on your face prematurely. This is especially so if you have a rough pillowcase made from polyester or low thread count cotton. 
The best way to counter this problem, short of changing your sleeping position, is switching to a pillowcase with less friction. The best option is a silk pillowcase like our anti-aging Zuri pillowcase. 
The second best option is a satin pillowcase. Satin pillowcases are smooth, making them great for your skin and hair. But they have poor breathability and are not suitable if you sleep hot, have hot flashes or sweat a lot at night.
2. Skin Drying
The other problem with sleeping on your side or back is that the pillow could dry out your skin. This happens most with moisture-wicking pillowcases like cotton, bamboo and polyester. 
Some moisture-wicking ability is good as it keeps sweat from pooling on your skin. But too much moisture-wicking can draw oils and water from your face, leaving your skin dry and prone to wrinkles and acne breakouts. 
Silk and satin pillowcases don't absorb as much moisture, so they are great if you want to keep your skin hydrated throughout the night. 
3. Dirt & bacteria from the pillowcase 
Your pillowcase can get pretty dirty — dead skin cells, sweat, dirt, oils, makeup, bacteria and other stuff quickly build up on the pillowcase if you don't change it often. When your face is in contact with the pillow for hours, it is easy for all these things to transfer onto your skin and clog your pores, resulting in acne breakouts. 
If you sleep in your side or stomach, you may notice that you get breakouts mostly on the sides of your face, particularly the side you sleep on most. 
If you want to keep sleeping on your side or stomach without having to endure frequent breakouts, you'll need to improve your bed hygiene. Change your pillowcase every couple of days and make sure you always wash your face before getting in bed to avoid transferring dirt, makeup and other stuff onto the pillow.  
Getting an antibacterial pillowcase like our Zuri pillowcase can also help reduce your risk of breakouts, especially if you have acne-prone skin. 
Tip: While sleeping on your side is not very good for your skin, it has lots of benefits including reducing snoring and heartburn. To sleep on your side while protecting your skin, use a silk or satin pillowcase, wash your pillowcase often and avoid sleeping on the same side the entire night. 
The Best Sleeping Position for Your Skin 
Sleeping on your back is the best sleeping position for your skin. It also happens to be one of the best sleeping positions for your overall health. It offers the best support for your spine and various joints.  
When you sleep on your back, your face doesn't press into the pillow, preventing the problems associated with sleeping on your side or stomach. You'll have fewer wrinkles, a lower risk of acne breakouts and overall healthier skin. 
For extra benefits to your skin, sleep with your upper body elevated. You can do this using a wedge pillow or by getting an adjustable bed frame. This keeps fluids from pooling on your face, preventing puffy eyes and facial swelling. 
Sleeping in an elevated position can also help reduce or prevent snoring, which is a common issue for back sleepers. 
By the way, don't worry if you find it hard to sleep on your back and always find yourself back to sleeping on your side or stomach. You can train yourself to become a back sleeper by placing a pillow on either side of your body to avoid rolling over in your sleep. 
Other Ways To Improve Your Skin While Sleeping
Your sleeping position is not the only thing that affects your skin while you are in bed. Here are other sleep improvements you can make for healthier skin. 
Get 7-9 hours of sleep each night. Lack of adequate sleep can cause acne and other skin problems including premature aging, inflammation and bags under your eyes. Getting high quality sleep is one of the best things you can do to keep your skin looking good and young. 

Keep your bedding clean by changing it often. Dirty, bacterial-riddled sheets and pillows can cause a lot of skin issues. 

Moisturize your skin before you go to bed. This will keep your skin from drying out especially if you have moisture-absorbing bedding like cotton. 

Even if you don't take a shower, always clean your face before you get in bed using water and a cleanser. This removes a buildup of dead skin cells, make up and dirt that could clog your pores. It also keeps your pillowcase clean and reduces your risk of getting acne breakouts. 

Apply a topical retinoid when you go to sleep. Here's a secret: you are wasting your pricey retinoid cream or serum if you apply it in the morning. Retinoids don't work as well when exposed to UV rays during the day. At night, they are much more effective at promoting growth of new skin cells and collagen formation. 
Final Thoughts
There you have it. To give your skin the best chance of staying clear, smooth and glowing, sleep on your back. 
If sleeping on your back causes issues with snoring or heartburn, elevate your upper body. If that doesn't work, you can switch to side sleeping but take precautions (silk pillowcase, wash pillowcase often etc.) to protect your skin. 
The one sleeping position we don't recommend is sleeping on your stomach. It's bad for your skin, your breathing, your spine and many other areas of your body.   
Quick links
Contact
6063 Hudson Road #160
Woodbury, MN 55125
Yo@hercLeon.com