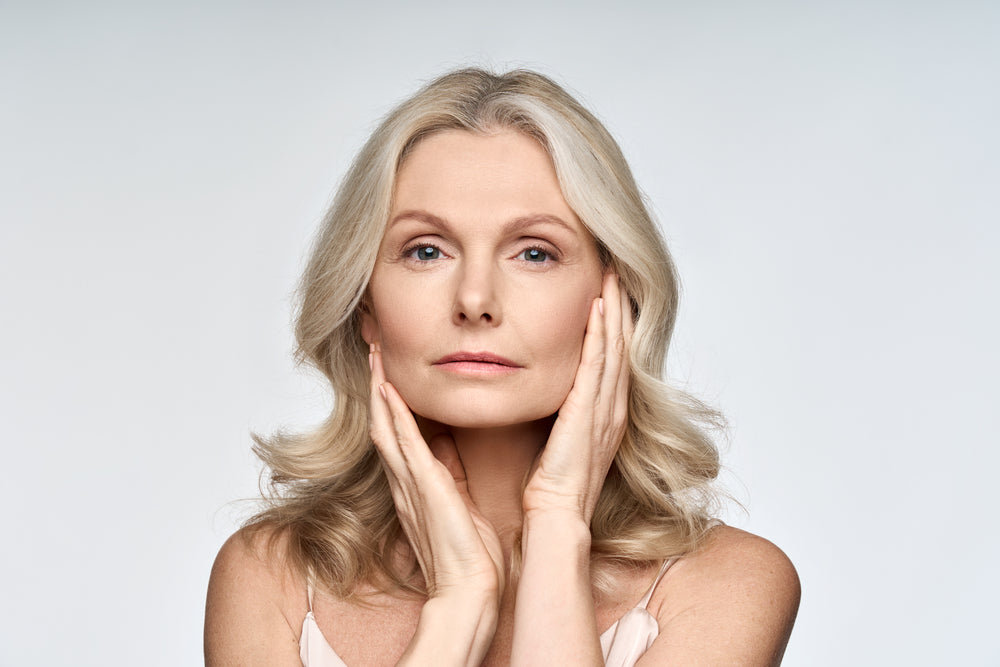 Posted on
---
Pregnancy and menopause are two periods in a woman's life when hormonal changes are most extreme. These changes affect almost every aspect of your body, the skin included. We've already covered how pregnancy affects the skin.
In this post, we focus on menopause and how it changes your skin. The bad news is that most of these changes are not good. We are talking about increased skin dryness, more acne breakouts, higher risk of sun damage and so on. The good news is that there's plenty you can do to mitigate these changes and keep your skin looking great. 
How Do Hormones Change During Menopause?
The biggest change that happens during menopause is a drop in estrogen and progesterone levels. These are the main hormones that control the menstrual cycle. Estrogen is involved in ovulation while progesterone is responsible for periods. 
These hormones don't just drop suddenly. In most women, estrogen and progesterone levels begin to drop starting around age 30 (mimicking a similar drop in testosterone in men). During the transition phase into menopause (called perimenopause), the levels of these hormones begin to fluctuate. 
This results in irregular ovulation and periods. During menopause, estrogen and progesterone drop further to the point that ovulation and menstruation completely stop. 
5 Ways Menopause Changes Your Skin
While progesterone and estrogen are primarily sex/reproductive hormones, they also affect the health of your skin. 
Estrogen is essential in keeping your skin smooth and plump by maintaining high levels of collagen in the skin. 
Progesterone, on the other hand, boosts how much sebum the skin produces. Sebum is the skin's natural moisturizer. A rise in progesterone is one of the reasons why many pregnant women get a pregnancy glow. 
So a drop in these two hormones will definitely affect your skin. Here are the most common changes.  
1. Your Skin Is More Prone to Wrinkles, Sagging and Thinning 
Collagen is responsible for keeping the skin strong, plump and elastic. Estrogen helps maintain collagen production, which keeps the skin looking youthful. 
When estrogen levels drop in the lead up to and during menopause, levels of collagen begin to drop. The drop is gradual, so you won't suddenly have sagging skin. But your skin becomes more vulnerable to wrinkles and sagging as it loses some of its elasticity.  
Your skin may also get thinner, which leaves you more prone to sun damage and bruises. 
By the way, this loss of collagen caused by the drop in estrogen doesn't just impact your skin. It's the main reason why bone loss and the risk of osteoporosis go up during menopause. 
2. Skin Dryness
Progesterone triggers an increase in the production of sebum, the natural oils found on our skin. This is why menstruation and during pregnancy are the times when many women experience skin breakouts. Progesterone levels go up during these periods. 
The skin produces more sebum, which clogs your pores and causes breakouts. The opposite happens during menopause. A drop in the production of progesterone causes a corresponding drop in the amount of sebum on your skin. 
Estrogen is also important in skin hydration, so the drop in both estrogen and progesterone can make your skin feel drier than usual. Your skin may also feel itchy and become more sensitive to the sun, some soaps and various skin care products. 
3. Skin Pigmentation (Melasma)
Melasma (dark patches on the skin, usually on the face) occurs mostly during pregnancy because of elevated levels of estrogen and progesterone. They trigger melanocytes (pigment-producing cells) to produce more melanin than usual. 
Melasma can also occur during the perimenopause period as hormone levels fluctuate up and down. It can also occur in menopausal women who are receiving hormone therapy (particularly progesterone therapy) 
Sun exposure can also cause or worsen skin pigmentation. Because your skin thins during menopause, you could be at a higher risk of melasma caused by exposure to the sun.  
4. Acne Breakouts
Acne breakouts in women are commonly associated with adolescence, periods and pregnancy. This is because of a rise in progesterone, which causes the skin to produce more sebum, leading to pores clogging. 
Acne breakouts can also occur as menopause approaches and your hormone levels begin to fluctuate. During menopause, high testosterone levels (relative to the level of progesterone) can also make your skin oilier and more prone to acne. 
5. Facial Hair
Normally, estrogen suppresses growth of facial hair in women. But in menopause, there's less estrogen while testerone levels remain fairly steady. So the effects of testosterone become more apparent, including development of a bit of facial hair. 
How to Take Care of Your Skin During Menopause
You cannot stop hormonal changes associated with menopause. That means you also cannot fully stop changes to your skin. But you can take steps to reduce their impact and severity. Here are some tips for taking care of your skin during menopause. 
If you are not yet fully in the menopause period, this is the best time to start implementing them. 
Keep your skin well moisturized all the time. Use a hyaluronic acid moisturizer to help your skin retain water. 

Protect your skin from the sun to reduce and prevent sun spots and pigmentation. Apply a good sunscreen and wear protective clothing whenever you go out. 

Use a cleanser and occasionally exfoliate your skin to reduce the chances of an acne breakout. But use a gentle cleanser and exfoliate no more than once a week to prevent excessive dryness. Remember your skin is more sensitive now. 

Check how clean your bedding is. A dirty pillowcase or sheets full of dead skin cells, body oils and skin care products can trigger acne breakouts. Change your bedding more often (especially if you are now sweating more) or switch to antimicrobial bedding (like our

Jax sheets

or

Zuri pillowcase

) that protects your skin from acne and infections. 

Talk to your doctor about any hormonal treatments such as replacement therapy or oral contraceptive to help reduce skin problems associated with menopause. 

Botox treatments can help maintain skin elasticity and reduce the appearance of wrinkles. 

Be more careful about the products you use on your face including soap, creams and cleansers. Look for gentler products that will not cause any sensitivity issues. 

Consider using products that boost collagen production such as collagen supplements, retinoids, vitamin C and hyaluronic acid. 

See your dermatologist more frequently. They will help you deal with any skin problems before they get worse. Most importantly, they will advise you on how to prevent or mitigate skin problems caused by menopause.  
Final Thoughts — It's a Lifelong Effort
While hormones will stabilize after menopause, you'll need to maintain a rigorous skin care routine. Estrogen and progesterone levels will remain low going forward, so you have to do more to take care of your skin and slow down aging. 
Quick links
Contact
6063 Hudson Road #160
Woodbury, MN 55125
Yo@hercLeon.com