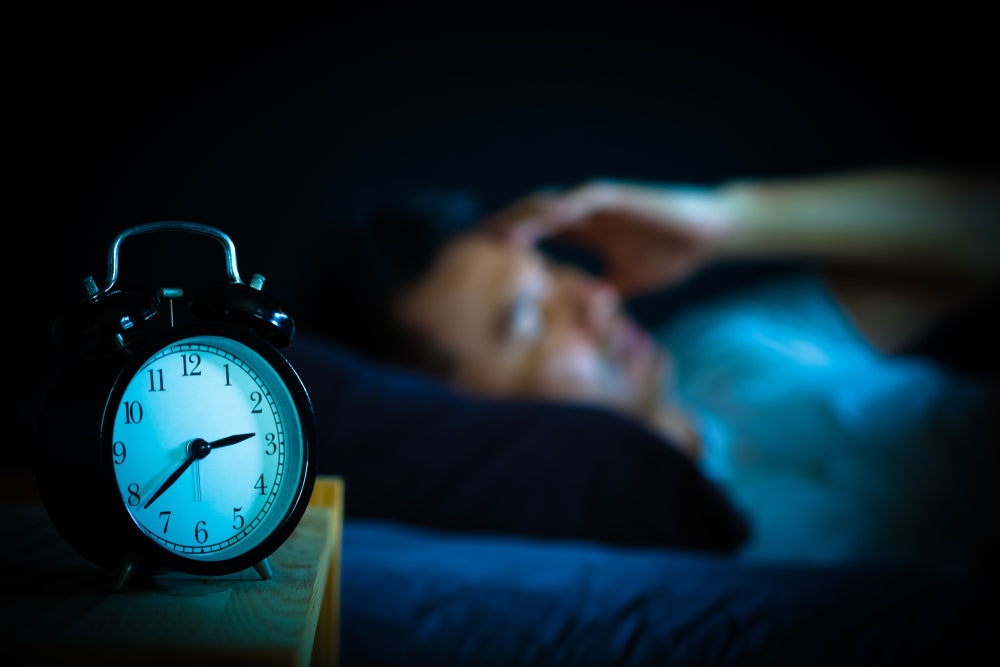 Posted on
---
Insomnia can be a frustrating condition to deal with. Because so many issues can lead to it, it can be difficult to narrow down the exact causes of your sleeping problem. 
The circular relationship between insomnia and its causes can also make it challenging to treat it. For example stress causes insomnia, which causes more stress, which worsens insomnia…on and on it goes. So you have to find a way to improve your sleep quality while also dealing with the root issue at the same time. 
So you'll need all the help you can get to tackle insomnia, including making lifestyle changes and adding a few essentials to your bedroom. Here are 10 products that are great for insomniacs.  
1. Melatonin 
If you have chronic insomnia (meaning it's been going on for a long time), it's a good idea to see your doctor. They might prescribe sleeping pills to help you sleep better. 
But before you get to the point of taking prescription sleep aids, start with melatonin supplements. These are available over the counter and are generally safe to use even in the long term. But talk to your doctor first if you are taking some other medication or you have a health condition like depression or high blood pressure.
Melatonin supplements work the same way as the melatonin hormone your brain produces as nighttime approaches. Melatonin helps you relax and get ready for sleep. 
Experts recommend starting with 0.5mg to 1mg about 1 hour to 30 minutes before you sleep. Make sure you actually get in bed, turn off the lights and put away your gadgets. That's because it is easy to overcome the drowsy effect of melatonin if you expose yourself to light or stimulation like social media.
If the initial dosage doesn't help, increase it by 1mg each week until you are able to fall asleep quickly. Do not take a dosage higher than 10mg.   
2. Magnesium
Magnesium is another supplement that can help you overcome insomnia. We naturally have magnesium in our body to help us relax and sleep. 
Magnesium calms down nerve activity, activates the parasympathetic nervous system to relax your body and helps regulate melatonin. So if you have a magnesium deficiency, you could experience insomnia and other sleep problems. Taking magnesium supplements can help. Specifically, look for magnesium glycinate or magnesium citrate.
The recommended dosage is 200-350 mg per day for adults. Take it 30 minutes before sleep. 
You can also try improving your diet by adding magnesium-rich foods like nuts, fish, fruits and leafy greens. A rich and balanced diet, especially one with lots of high fiber foods, can provide all the magnesium you need. 
3. Sleep Sounds Machine (or a Pair of Sleep Headphones)
Supplements are not the only thing you can take to help you sleep better. You can also take in soothing sounds. Different people prefer sleeping to different sounds. I love the sound of rain. Others love white noise, thunder, meditation and so on.
An easy way to add sleep sounds to your sleep routine is using sleep headphones. You can then play sounds from an app on your phone. 
If you don't want to have your phone in the bedroom, get a sleep sound machine. These come with a variety of preloaded sounds that you can choose from. 
Sleep sounds can help calm you down, take your mind away from anxiety and running thoughts, and help you sleep more easily. Sleep sounds can also help drown out intrusive noises like traffic or neighbors. 
4. Noise-reducing Earplugs
Not everyone prefers sleep sounds. Some people sleep best to silence. This can be an issue if you live close to a busy road or street. Noises from other parts of your home or from your neighbors can also cause or worsen insomnia. 
You can get noise canceling earbuds like the Bose QuietComfort II, but they are a bit pricey. For a cheaper option, silicone or foam earplugs will do. 
Foam earplugs block out almost all the noise, making them excellent if you like sleeping in total silence. On the downside, they are not reusable. So using fresh ones each night can get fairly expensive. 
Silicone earplugs don't completely block noise, but they block enough to let most people sleep undisturbed. They are washable and reusable so you can just get a pair or two. 
5. Weighted Blanket 
Until you've used a weighted blanket, it's difficult to understand why many people are crazy about them. People describe sleeping under a weighted blanket like being hugged and cuddled. 
A weighted blanket works wonders for reducing anxiety and stress, which can help you overcome insomnia. It's also great if you have insomnia that's caused by restless leg syndrome. 
When choosing a weighted blanket, pick one that's about 10% of your body weight. 
6. Bed Cooling System 
Your sleeping temperature can make your insomnia worse, and it could even be the main cause of your insomnia. 
A too-hot bedroom is especially bad for sleep. We sleep best at a cool temperature between 60 and 67 degrees Fahrenheit. If it's too hot, the body struggles to relax and go to sleep. If you are a naturally hot sleeper, you'll struggle even more. 
There are plenty of ways to sleep cooler including cooling sheets, a cooling mattress or mattress topper, or a portable air conditioner.  
Our favorite way to sleep cool is a bed cooling system like BedJet (which blows cool air under the sheets) or Sleepme (circulates chilled water through a mattress pad). Both systems let you select your preferred temperature. 
These cooling systems are extremely effective as well as highly efficient (compared to an AC) since they only cool the bed. 
7. Night Light 
Melatonin is highly sensitive to light, even artificial light. That's why using your phone in bed is terrible for your sleep and is one of the main reasons so many people struggle with insomnia. 
A bright overhead light can also make it harder to feel drowsy. As part of your sleep routine, consider getting a soft night light that's dimmable. 
As you get ready for bed, turn off the main light and use just the night light to signal your brain that it's time to sleep. A soft light can also help you relax and reduce your stress levels. 
Our favorite night light is the Glow Light by Casper. It gets dimmer automatically to lull you to sleep and will even wake you up with soft warm light.  
8. Sleep Mask 
Some people love the soft ambience of a night light. Others, like me, cannot sleep if it's not pitch dark. Even a little bit of light coming through a slit in the curtains can be enough to keep me awake. 
Blackout curtains can help block light from outdoors. A sleep mask is a cheaper option. Look for a 3D mask that fully covers your eyes without squishing them.  
9. Essential Oil Diffuser
Aromatherapy is one of the best ways to reduce stress and anxiety. It can help you calm down and fall asleep faster and more easily. 
All you need is an ultrasonic diffuser and one or two of your favorite essential oils. Add water to the diffuser and a few drops of the essential oil. Most diffusers have a timer so they can turn off automatically after you sleep. 
Some good essential scents for insomnia include lavender, bergamot and ylang-ylang. 
10. A Comfortable Mattress
A terrible mattress can really mess up your sleep and worsen whatever sleep problems you are already experiencing. 
It may be expensive, but a comfortable mattress is worth the much better sleep you'll get. Look for a mattress that provides adequate support, cushions you and sleeps cool. 
If you are on a budget, a memory foam mattress with cooling gel and open cell construction (both important for cooling) is a great pick. For a bit more money, you can get a luxury hybrid mattress that combines foam or latex with pocket coils. 
Organic or natural latex mattresses are also great though they can be a bit pricey. 
As you upgrade your mattress, it's a good idea to also upgrade the rest of your bedding. A comfortable pillow, cooling and soft bed sheets, and a cozy and breathable comforter can make a whole lot of difference to your sleep quality. 
Quick links
Contact
6063 Hudson Road #160
Woodbury, MN 55125
Yo@hercLeon.com