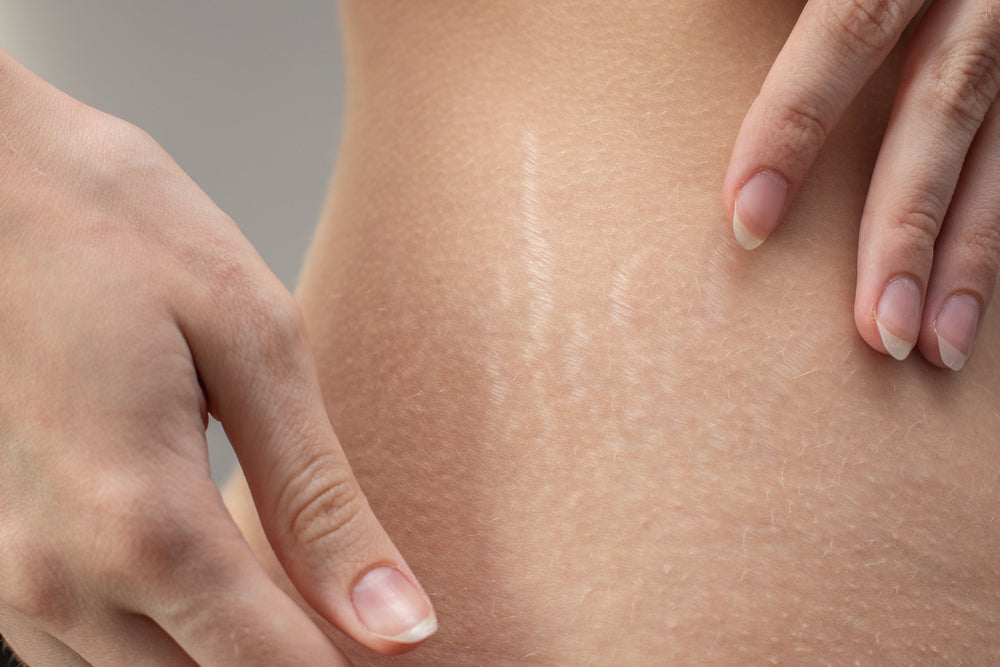 Posted on
---
A lot of women experience a pregnancy glow when they are expecting starting around the second semester. But this is one of the few good changes to your skin that you will experience during pregnancy. 
Most of the effects of pregnancy on the skin are less pleasant. Fortunately, many of them go away or reduce after delivery, so you don't have to worry about being stuck with acne or dark patches forever. 
5 Ways Pregnancy Affects Your Skin
1. Your Skin Glows
Let's start with the good news: your skin will probably look brighter, shinier and rosier when you enter your second trimester. That is what's called a pregnancy glow. 
Pregnancy glow can be less noticeable in some women, so don't worry if your skin doesn't glow as much as you expected. Pregnancy effects are unpredictable. 
Pregnancy glow is caused mostly by hormonal changes. Increased production of certain hormones like progesterone makes your skin produce more sebum, resulting in a shinier look. 
Blood flow to your skin also increases during pregnancy, making your skin look rosier and more glowy. 
What to do about it: Enjoy it while it lasts. After pregnancy, you'll need to work (exfoliation, moisturizing…all that shebang) to get that glow.     
2. Melasma 
Onto the less pleasant effects of pregnancy on your skin, we start with melasma, sometimes also called chloasma. Melasma is a condition characterized by dark patches on your skin. These patches or spots tend to be brown or blue-gray.
Melasma happens when melanocytes (melanin-producing cells) produce more pigment than usual, causing parts of the skin to darken.  
Melasma occurs mostly on areas of the skin that are exposed to the sun such as the face and your forearms. That's because sunlight combined with hormonal changes causes melanin production to spike. That's also why these pregnancy patches tend to darken or get worse in summer. 
What to do about it: You don't have to do anything about it. Melasma goes away after pregnancy, though it could take several months. Protecting your skin from the sun using sunscreen, wide brimmed hats and arm-covering clothing will help reduce the appearance of melasma. 
After pregnancy you can try treatments like chemical peels, microdermabrasion and topical medications. Consult your doctor first if you are breastfeeding.  
3. Stretch Marks 
As your belly grows, it stretches your skin. This makes the middle layer of the skin thinner and it breaks in places. These form into stretch marks. 
Hormonal changes and pregnancy weight gain makes expectant women more prone to stretch marks. 
What to do about it: As with many other effects of pregnancy, you just have to wait it out. After pregnancy, stretch marks will fade though they will probably never go away completely. As of now, there is no evidence that stretch mark creams, lotions and oils work to eliminate stretch marks or prevent them. 
4. Acne Breakouts
The same increase in sebum that gives you a nice pregnancy glow can also cause havoc on your skin. With your skin producing more sebum, your pores become clogged. 
This results in breakouts on your face, chest, arms, back and other areas. If you already have an oily type of skin, pregnancy can make acne breakouts more likely and more severe. 
What to do about it: Maintain a good skin care routine while pregnant - wash your face daily, apply moisturizer, use safe cleansers and occasional exfoliation. In addition, eat a healthy diet with plenty of fruits, vegetables, whole grains and lean proteins. It's good for your skin and your pregnancy. 
Also check your bed hygiene. Change your sheets and pillowcases more often. A build-up of oils, sweat, dirt and dead skin cells on bedding can trigger a breakout. Consider buying antimicrobial sheets or pillowcase that keep your bed more hygienic. 
If you have to use medication, ask your doctor for pregnancy-safe acne treatments. Over the counter topical acne products like glycolic acid, azelaic acid, salicylic acid and benzoyl peroxide are safe for pregnancy.  
5. Spider veins and Varicose veins
Increased blood flow makes your skin glow, but it comes with a downside. It increases pressure inside veins, making them more noticeable. This causes the appearance of blue, red or purple spider veins on the skin, usually on the legs and thighs. 
Hormonal changes also weaken the walls of veins, which contributes to spider veins. 
Varicose veins are larger and more noticeable. They can also be painful. These dark blue bulges are caused by weakened veins as well as poor blood flow in the lower body (which causes blood to pool in the veins and enlarge them).   
What to do about it: Spider veins are harmless and will go away on their own. Varicose veins will also go away after pregnancy but there are some things you can do to prevent or reduce them while pregnant. These include staying active, reducing sodium intake, wearing compression socks or stockings, and raising your feet when you lie down to improve blood flow to the heart. 
Final Thoughts
For most of these pregnancy-related skin conditions, it's best to let them run their course. Most of them disappear once you give birth. And you can always seek treatment after the pregnancy. 
But if you have a skin condition that's uncomfortable, painful or drastically changes your appearance, consult your doctor before trying any medication or treatment. 
Quick links
Contact
6063 Hudson Road #160
Woodbury, MN 55125
Yo@hercLeon.com