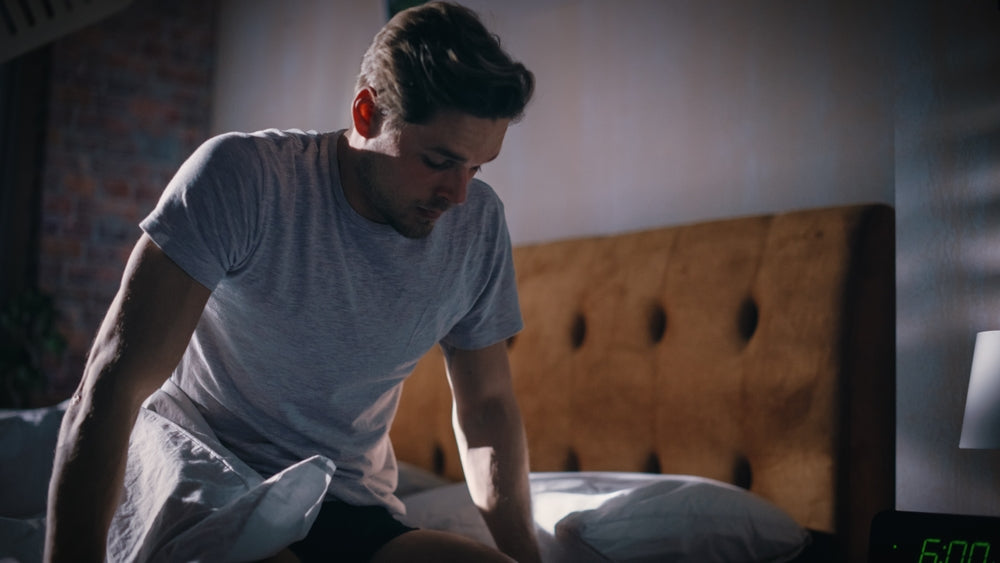 Posted on
---
It's okay to wake up once or twice in the middle of the night to use the bathroom or when a particularly vivid dream wakes you up temporarily. But if you wake up too frequently at night, your sleep quality will suffer. 
Waking up disrupts your sleep cycles, which can negatively affect your sleep quality. It also reduces how long you sleep, especially if you struggle to go back to sleep. So you might be in bed for eight hours, but only sleeping for six or less. 
Here are 8 possible reasons why you wake up at night and what you can do about it. 
1. Sleep Disturbance  
While your brain is good at filtering out noises to keep you from waking up, loud or persistent sounds can disrupt your sleep. Bright light can also trigger you to wake up. 
The solution is to try and keep your sleep environment quiet and dark. Black out curtains and soundproof window coverings can keep out noise and light. You can also sleep with earplugs and an eye mask on. 
2. Nocturia
Nocturia refers to frequent nighttime urination. Most times, it happens if you drink too many liquids close to bedtime. Drink fewer liquids or take them earlier to prevent sleep disruption. 
Nocturia can also get more common during pregnancy and as one gets older. In some cases, it can also be a symptom of an underlying health problem. So talk to your doctor if it persists.  
3. Sleep Disorder 
Most sleep disorders are associated with nighttime awakenings. For instance, some insomniacs tend to wake up very early while it's still dark even though they've not gotten enough sleep. 
Sleep apnea, nightmares, restless leg syndrome and narcolepsy can also cause you to wake up at night and struggle to go back to sleep. 
We recommend consulting a sleep specialist for advice regarding treating or managing your sleep disorder. 
4. Disrupted Circadian Rhythm
Your internal circadian clock governs your sleep-wake rhythm. If it is disrupted, you might find yourself sleeping and waking up at odd times including in the middle of the night. 
This usually happens after traveling across time zones or doing shift work. Alcohol, caffeine and a poor sleep routine (e.g. staying up late) can also disrupt your circadian rhythm. 
The best solution is to have a regular sleep routine. Go to bed and wake up at the same time everyday to get your body used to a particular rhythm. Getting outside and being active during the day will also improve your circadian clock. Remember to avoid alcohol and caffeine in the evening. 
5. Health Problem 
Poor health can disrupt your sleep. For instance, chronic or acute pain can easily wake you up at night and keep you from going back to sleep. 
Symptoms associated with diseases like diabetes, asthma, flu and other health problems can be disruptive enough to wake you up from sleep. In some cases, the culprit is the medication you are taking to treat these diseases.  
The solution here is to work with your doctor to find a way to minimize sleep disruption. 
6. Uncomfortable Bed
Ever woken up feeling like you need a break from your bed? That's how an uncomfortable bed can make you feel. A too firm or too soft mattress, scratchy sheets, the wrong pillow or a duvet that's too hot can all disrupt your sleep. 
Figure out what exactly about your bed you don't like. If it's giving you back pain, you probably need to change the mattress or get a supportive topper. If it's too hot, look into getting cool and breathable bedding. If you are too cold, get warmer bedding. 
7. Mental Health Issues Like Stress
Issues like stress, anxiety and depression are strongly linked to sleep onset insomnia. That is, they make it harder to fall asleep. 
They can also make it difficult to stay asleep. You might find yourself waking up in the middle of the night with running thoughts. And the worse your sleep gets, the worse your mental health also becomes. 
Improving your sleep quality by having a sleep routine, avoiding alcohol and caffeine and creating a sleep-friendly bedroom goes a long way in improving your mental health. 
Also look into other ways to deal with your mental health like therapy, medication, going outdoors, meditation, exercise and so on. 
8. Hormonal Imbalance
This one mostly affects women. You may notice that at particular times of the month such as during ovulation or menstruation, you find yourself awake in the middle of the night for no particular reason. 
It's likely caused by hormonal imbalances. It can also happen during pregnancy and menopause. 
Hormonal imbalances can also cause discomfort that wakes you up. A common occurrence is hot flashes during menopause. They can be severe enough to wake you up. 
The best solution is to make yourself as comfortable as possible. Here's a post on how to stay cool during menopause. 
Also talk to your doctor to see if there's any treatment such as hormone therapy to improve your symptoms. 
Quick links
Contact
6063 Hudson Road #160
Woodbury, MN 55125
Yo@hercLeon.com