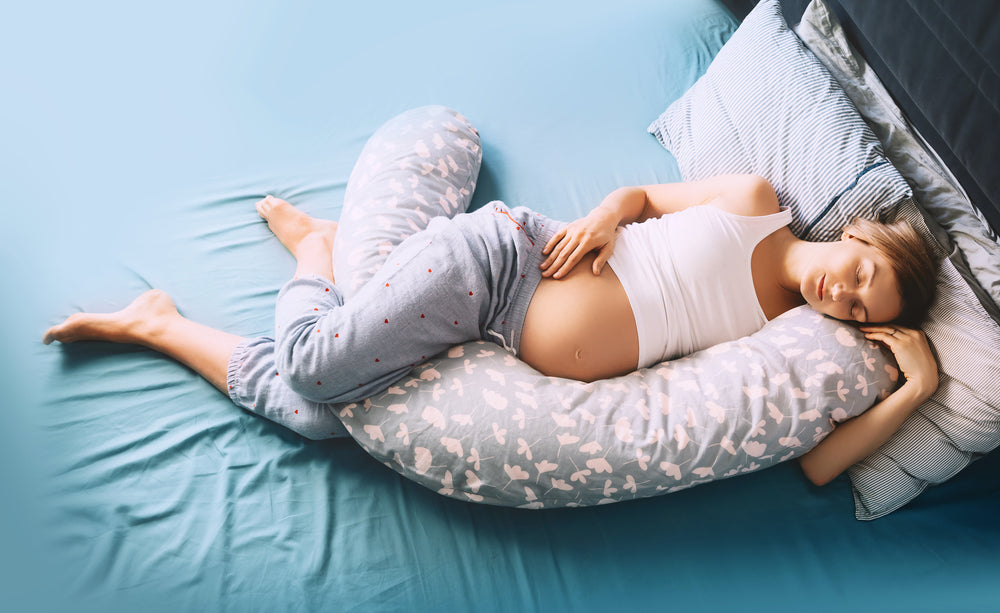 Posted on
---
In addition to a growing belly that makes finding a comfortable sleeping position a nightly battle, pregnancy comes with hormonal turbulence and other issues that mess up your sleep. Expectant moms often experience insomnia, obstructive sleep apnea, acid reflux and other problems that lead to a drop in sleep quality. 
This is a big deal since this is the time you should be getting as much rest as possible for the sake of your health and that of your baby. 
Why is Quality Sleep so Important During Pregnancy?
Sleep is already super important for everyone. We've mentioned in countless posts how it helps with mental health, healing and recovery, muscle growth, immunity and many other things. 
When you are pregnant, getting quality sleep becomes doubly important. The demands on your body are higher and you will be under more stress. 
Quality sleep is also essential for your growing baby. Studies have found that sleep deprivation (less than 6 hrs a night) increases the risk of premature birth, low birth weight, miscarriage, prolonged labor and other issues. 
For the mum, lack of quality sleep increases the risk for pregnancy complications like gestational diabetes, preeclampsia and high blood pressure. 
That's not to mention the deterioration in mental health that you are likely to go through if you don't get enough sleep and rest. Depression, suicidal thoughts and postpartum psychosis have all been linked to poor quality sleep during pregnancy.  
Common Sleep Problems During Pregnancy 
Insomnia —

Insomnia usually sets in early during pregnancy. You may find yourself feeling sleepy and tired a lot of the time, but somehow still struggle to fall asleep or stay asleep at night. Insomnia during pregnancy can be caused by hormonal changes, nausea, heartburn, frequent need to pee, and general discomfort. 

Restless leg syndrome

(RLS)

—

RLS is a sleep disorder characterized by a strong urge to move your legs. Up to a third of pregnant women experience RLS. Experts don't know exactly why pregnancy causes RLS, but they think it

may be related

to genetics, hormonal changes and preeclampsia (sudden high blood pressure).

Sleep apnea —

If you feel unusually tired during pregnancy, even after a night of sleep, you might have obstructive sleep apnea or OSA. This is where your airway is restricted by soft tissue, causing breathing problems. It also usually causes snoring. Body changes during pregnancy as well as hormonal changes contribute to sleep apnea. 

Nocturnal acid reflux —

Pregnant women are all too familiar with acid reflux and heartburn. They tend to get worse at night when you lie down, which can make it harder to sleep. As your growing belly presses against your stomach, the reflux gets worse. Hormonal changes have also been linked to acid reflux during pregnancy. 

Discomfort in bed —

Pregnancy comes with a gazillion discomforts, large and small. If it's not heartburn, you probably have low back pain. Sometimes it's migraines, other times it is constipation or nausea. You also have to keep turning in bed to find a comfortable sleeping position. All these are bad for sleep and they tend to get worse as your pregnancy progresses. 

Frequent toilet visits —

Frequent need to pee is one of the main contributors to insomnia during pregnancy. It's often caused by the uterus pushing on the bladder, but it can also occur as hormones change. That's why frequent urination can occur as early as the first week or two of pregnancy. 
5 Tips for Better Sleep During Pregnancy
1. Have a Sleep Routine 
If you have bad sleep habits like browsing on your phone late into the night or drinking coffee in the evening, they will aggravate any pregnancy-related sleep problems you have. 
So if you don't yet have a bedtime routine, you need one more than ever. It will help with insomnia and other sleep problems. 
Start your routine by turning off gadgets an hour or two before bedtime. This promotes the release of melatonin, which helps you calm down and fall asleep. 
Look for relaxing activities you can do to wind down like taking a warm bath/shower (make sure it's not too hot as that's dangerous for the baby), reading, light yoga, meditation and so on. 
Try to go to bed at the same time everyday. It will make it a lot easier to fall asleep even when you are experiencing a bit of discomfort. 
2. Stay Active
Safe exercise is massively important during pregnancy. It reduces risk of complications like preeclampsia, gestational diabetes and prolonged labor. 
Staying active also helps a lot with sleep. It tires you out, which increases your sleep drive. In other words, you'll find yourself falling asleep effortlessly at night. 
Exercise is also great for your mental health. It can help counter pregnancy-related stress and anxiety.  
3. Watch Your Diet 
Of course you should be eating food that promotes your health and that of the baby. A good diet with minimal processed/refined foods and sugary snacks also helps a lot with sleep quality. 
Something else to watch out for when it comes to diet is foods that trigger acid reflux when you are trying to get a good night's sleep. These include fried foods, greasy foods like bacon, spicy foods and soft drinks. 
4. Get Frequent Medical Checkups 
Pregnancy complications like hypertension and gestational diabetes can affect the quality of your sleep. So frequent medical checkups are crucial to catch these issues early on and start treatment. 
Many times, pregnant women will chalk up certain symptoms like chest pain to just being pregnant. But they can be an indication of an underlying disease. 
So mention any discomforts or problems you are experiencing when you go to the doctor. Getting an early diagnosis can also protect you and your baby from serious problems. 
5. Make Your Bedroom & Bed Comfortable 
Finally, make your bedroom as sleep-friendly as possible. Start with your bed as it is the one that most affects your sleep. 
You need a mattress that's firm enough to support you, but with enough give to cushion your hips, shoulders and other pressure points. Consider getting a pregnancy pillow (one of those C-shaped pillows or a full body pillow) for additional support on your back and belly. 
It is also important to have a mattress and bedding that are breathable and moisture-wicking. We recommend our very own Jax Sheets or Comforter. They are not only soft, cool and sweat-wicking, they are also antimicrobial. They offer a more hygienic sleeping environment for expectant moms. 
Next, work on making your entire bedroom sleep-friendly. Keep it cool, dark and quiet. Keeping it clean and clutter-free also helps promote better sleep. Here's our guide on how to turn your bedroom into a sleep sanctuary. 
Final Thoughts
Of course, the above tips will not make your sleep completely problem-free. Sleep difficulty during pregnancy is inevitable. 
But they will reduce the severity of these issues and help you sleep much better.  
Quick links
Contact
6063 Hudson Road #160
Woodbury, MN 55125
Yo@hercLeon.com