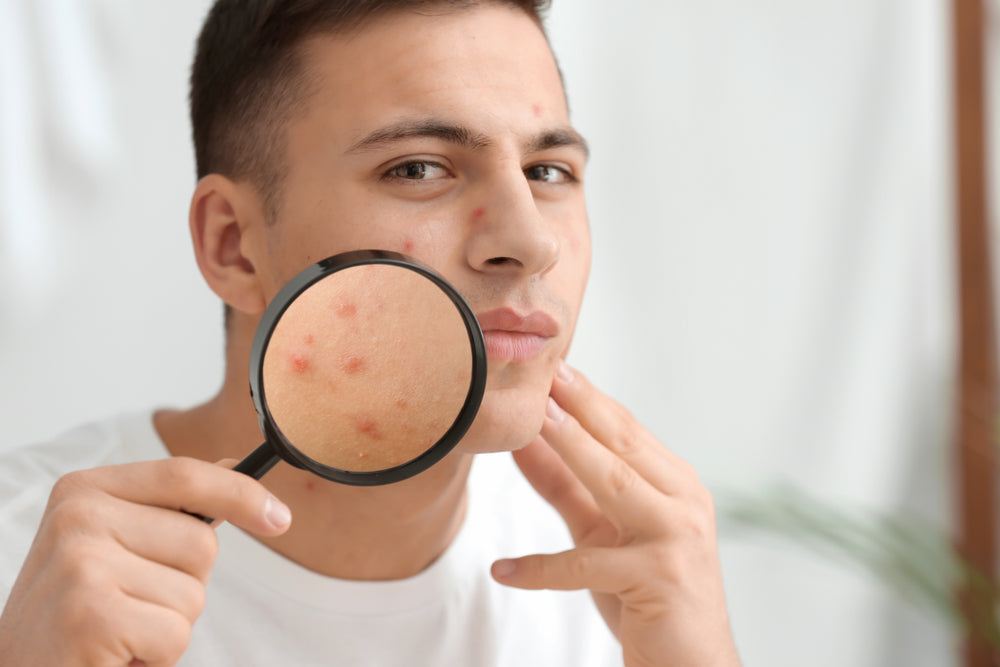 Posted on
---
While acne is more common in women (mostly because of hormonal imbalances), men also suffer from it. In fact, a lot of the time, acne in men can be more severe since men tend to have oilier and thicker skin. 
Similar to women, an acne breakout on your face can affect your self confidence and social life. Luckily, acne is fairly easy to treat or manage in men. Most times, you'll find that regular skin hygiene is enough to keep it in check. 
What Causes Acne In Men?
The mechanism of acne breakouts is similar in both men and women. Pores on the skin become clogged with dirt, oils, dead skin cells and bacteria, leading to pimples, blackheads or whiteheads. 
But the underlying factors leading to acne can vary between men and women. In women, frequent hormonal changes because of menstruation, pregnancy or menopause can cause the body to produce more sebum, which clogs the pores and leads to acne. 
Women also generally apply more makeup, which increases the risk of clogged pores. 
In men, hormones, testosterone in particular, can also cause acne breakouts. High levels of testosterone increase the body's production of sebum. This is why acne breakouts are most common in teenage boys since that's when testosterone levels start going up significantly. 
But for most men, testosterone is usually not to blame for acne. Here are the most common causes of acne in men. 
Intense physical activity can increase the risk of a breakout. A buildup of sweat, dirt and oils on your skin clogs your pores. 

Poor skin hygiene. If you don't wash your face daily and exfoliate regularly, your pores will clog up and become inflamed, resulting in acne.

Diet. Some foods, particularly high-glycemic ones like white bread and rice, have been

linked

to higher occurrences of acne. 

Stress can also trigger or worsen acne in men. Researchers don't know exactly the mechanism behind this, but they suspect that high stress levels cause the skin to produce more sebum, thus getting skin pores clogged.  

Environmental pollution. Air pollution

can cause

inflammatory acne. Fine particles of smog and pollution can also block skin pores, causing breakouts. 

Poor bed hygiene. Because we spend hours with our faces in contact with our pillow, a dirty pillowcase can lead to acne breakouts. Dirty sheets can also cause or worsen acne on your back. 

Using the wrong skincare products can lead to increased clogging on your skin or trigger your skin to produce too much sebum. 
The Best Acne Treatments for Men
Depending on the type and severity of your acne, making a few lifestyle changes or using topical and oral treatments will help clear the acne. In many cases, a combination of both works best for treating and preventing acne breakouts in men. 
When looking for the best treatments, it's ideal to start with basic OTC medication and see if it works. If the acne doesn't clear, talk to your primary doctor or dermatologist for prescription-strength medication.  
There are two main types of medications for acne: topical and oral. 
Topical Treatments for Acne 
For mild to moderate acne, topical treatments are the best. These include creams and gels. The most common are topical retinoids. They work by removing dead skin cells and any other debris that's clogging the hair follicles (pores). 
At the same time, they encourage the growth of new skin cells, resulting in smoother and healthier skin. 
Note that retinoids can cause skin sensitivity, especially when you go in the sun, so use them sparingly. 
You can also get topical antibiotics to kill bacteria that could infect your clogged skin pores. Topical antibiotics can help if you have inflammatory acne (characterized by red and swollen pimples or bumps).
You can combine topical antibiotics and retinoids for better results. Apply them for about 6 weeks. Be careful not to use antibiotics longer than 8 weeks as it could result in antibiotic resistance. 
Another common topical treatment for acne is azelaic acid, which combines the benefits of retinoids and antibiotics. A 20% azelaic acid cream will remove dead skin cells clogging your pores while also killing bacteria. 
Oral Treatments for Acne
For men with severe acne, your doctor may recommend oral antibiotics such as tetracycline. These are typically used alongside topical treatments. A full course of treatment lasts 4-6 months, though you may start to notice an improvement after just 6 weeks. 
If you have persistent acne that will not clear away with other treatments, your doctor might prescribe Isotretinoin. It's also often used to treat deep and painful acne cysts. 
Isotretinoin has several potentially serious side effects including depression and inflammatory bowel disease, so make sure you discuss this treatment with your doctor before taking it. 
Other Treatments for Acne
A chemical peel using salicylic, glycolic or retinoic acid can get rid of mild to moderate acne. You can do a mild chemical peel at home, or get a deeper peel at a dermatologist's office. Chemical peels treat acne by exfoliating the skin and removing whatever is clogging the hair follicles. 

Manual extraction of blackheads and whiteheads. A professional might use their hands or a pore extractor to clear your skin pores. Extraction treatment is often a last resort after everything else has failed. That's because it is slow, expensive and can cause scarring. 

Steroid injections are another last resort treatment and typically reserved for painful lesions or cysts.     
5 Tips To Prevent Acne In Men
1. Wash & Moisturize Your Face Daily 
Washing your face at least twice a day prevents a build-up of dirt and oils on your skin. Wash once in the morning and again in the evening. It's also a good idea to wash your face after a workout to immediately get rid of the sweat and dirt. 
Use a soft towel (without any soap) to wipe your face clean. If you are prone to acne, you should follow it up with a facial cleanser. It will do a better job breaking down dead skin cells and sebum in your skin pores. 
After cleansing your face, apply a moisturizer to keep your skin from producing too much pore-clogging sebum. 
2. Exfoliate 1-3 Times a Week
Washing and cleansing your face are not enough to keep your hair follicles clog-free. For that, you need a facial scrub/exfoliation. 
If you have dry or sensitive skin, exfoliate only once a week to prevent skin sensitivity or worse acne. For other skin types, exfoliating 2-3 times a week is enough. 
You can use a store-bought scrub to exfoliate your skin, or make a DIY facial scrub at home
3. Watch Your Diet 
Reduce your intake of refined foods and sugary foods as they have been linked to skin problems including acne. The best skin-friendly foods include whole grains, lean proteins, healthy fats, fruits and vegetables. 
Alcohol can also indirectly contribute to acne, so you may want to watch how much of it you drink. 
4. Lower Your Stress Levels
Stress doesn't directly cause acne but it can increase your risk of a breakout. In fact, there is something like stress acne. 
Stress acne mostly affects women because stress can cause hormonal imbalances, which in turn contribute to acne. But stress can also trigger or worsen acne in men. 
Find ways to manage your stress such as spending more time with friends and family, sleeping for 7-9 hours, spending time outdoors and working out more. 
5. Keep Your Bed Clean
Your bed collects lots of dirt, oils and bacteria. These can transfer onto your skin and cause or worsen an acne breakout. 
Wash your bedding often to keep your sleeping environment hygienic. If you have sensitive or acne-prone skin, consider getting antimicrobial bedding such as our Jax Sheets or Zuri Pillowcase.
They are treated to kill bacteria. They stay hygienic even if you go for weeks without washing them. 
Quick links
Contact
6063 Hudson Road #160
Woodbury, MN 55125
Yo@hercLeon.com