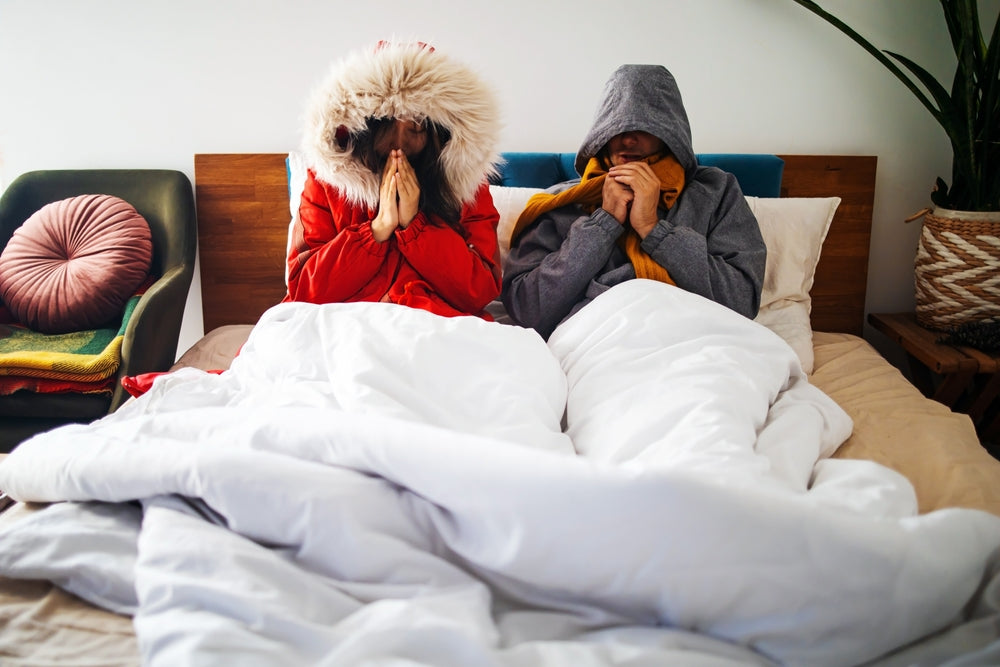 Posted on
---
We've talked a lot on this blog about hot sleepers and how they can enjoy better sleep. But what about those who get cold at night? Is there any hope for them?
Fortunately, it is a lot easier for cold sleepers to get warmer than it is for hot sleepers to cool down. Typically, a couple extra blankets or a warmer comforter is enough to cozy up your bed. Below are our top recommendations for the best type of bedding for cold sleepers (as well as winter weather). 
Best Bedsheets for Cold Sleepers & Cold Weather
Breathability is important whether you are getting sheets to keep you cool or warm. So just because polyester sheets tend to get too hot, it doesn't mean they are good for cold sleepers. 
Their poor breathability can make you overly hot and get you sweaty. With that in mind, here are comfortable and breathable sheets that are great if you naturally sleep cold. They are also perfect for cold winter nights. 
Cotton flannel sheets -

Cotton flannel sheets are some of the warmest you'll find, while still being breathable. The type of weave used to make flannel sheets makes them excellent insulators, which keeps you warm at night. Cotton flannel sheets are also incredibly soft and luxurious. 
Cotton sateen sheets -

Cotton sheets with a percale weave are great for hot sleepers. Their light and crisp texture lets excess heat escape easily. But if you sleep cold, look for cotton sateen sheets. The sateen weave results in softer and heavier sheets that trap more heat. 
Fleece sheets -

For extra-cold sleepers or if you live in a really cold climate, fleece sheets are the best to keep you warm. They have a soft and fuzzy texture and are typically made with 100% polyester. Because they can get quite warm, avoid these sheets if you sweat easily or if you are a mild cold sleeper.  
Best Comforter/Duvet for Cold Sleepers
Look for a comforter or duvet that's designed specifically for cold weather. Some all-season duvet may also be warm enough to keep the chills away. Avoid any lightweight summer duvets and comforters. 
One of the things to look for when shopping for a warm duvet is the tog rating. This tells you how warm it is. A 4.5 tog to 9 tog duvet is perfect for mild cold sleepers and will keep you warm in spring and autumn. 10.5 tog to 13.5 tog are extra-warm and perfect for winter or very cold sleepers. 
If you are buying a down duvet, make sure it has a fill power of at least 600. 
Talking of down, the material of the duvet also matters in keeping you warm. Natural materials like down, feathers and wool provide the best insulation while still being breathable and sweat-wicking. 
In fact, if you want to sleep warm without covering yourself with an overly heavy duvet, a lightweight duvet made with one of the above materials is perfect for the job. 
If you are on a budget, microfiber, also called down alternative, duvets can keep you toasty. Make sure you pick one with a breathable cover such as cotton or bamboo to avoid sweating and overheating. 
Best Mattress For Cold Sleepers
Latex and hybrid mattresses are some of our favorite mattresses because they sleep cool. But they can feel too cold if you are a cold sleeper. 
If you are shopping for a new mattress that will keep you warm and cozy, get a memory foam mattress. Typically, we are not big fans of memory foam as it traps heat and makes you hot. But in this case, that's exactly what you need. 
If you are not ready to replace your 'cold' mattress, a cheaper alternative is to get a memory foam mattress topper. 
And if you really love the support and bounciness of hybrid coil mattresses, look for one that combines pocket coils at the base and memory foam in the top layers. 
Heated Mattress Pad for Cold Sleepers
If you don't think changing your bedding will help you sleep warm, we recommend an active heating solution. 
Electric heated blankets and mattress pads are affordable and use very little electricity. You can adjust the heating level until you are comfortably warm. 
Some people are concerned about sleeping on a pad with wires running through it. While electric heated pads and blankets are safe when used right, there are mattress pads that don't use any wires. 
BedJet is an air-cooled mattress pad. Sleepme makes several water-cooled mattress pads including Chilipad. 
While BedJet and Sleepme are typically used by hot sleepers, they can also warm the bed. Just adjust the temperature on the remote control or app and BedJet will blow warm air under the sheets while Chilipad circulates heated water inside the mattress pad. 
Heat The Room
You can also heat the entire bedroom to sleep warmer, though that's more energy intensive. You can use your HVAC system to heat the room, install a heat pump system, use a space heater or install a portable or window air conditioner with a heat pump. 
It's also a good idea to check whether there's a way you can improve the insulation of your bedroom or entire home to help reduce heat loss to the outside. This might include attic insulation, sealing door gaps or installing double glazed windows. 
Quick links
Contact
6063 Hudson Road #160
Woodbury, MN 55125
Yo@hercLeon.com