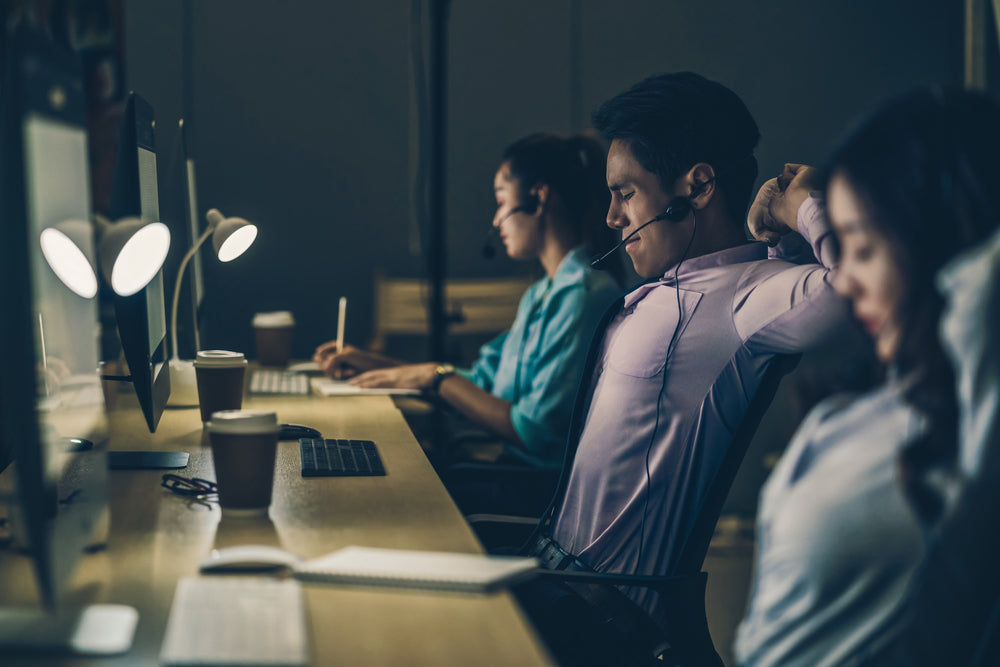 Posted on
---
The human body is wired to run on a 24-hour circadian rhythm that mostly responds to varying levels of light during the day and night. Daytime signals being awake and darkness signals it's time to sleep. Try as you might, it's really difficult to switch the body to a different cycle. 
That's why many shift workers suffer from sleep difficulties and disorders. If you have to work when your body knows it should be asleep, that means you have to force yourself to sleep when your circadian clock says you should be awake. 
If you are a shift worker, here are five things that can help you sleep better during the day. 
1. Blackout Curtains
The biggest sleep challenge for shift workers is light. It's impossible to sleep well if your bedroom is bright. To go to sleep during the day, you have to find a way to make your bedroom as dark as possible. The easiest way to do this is using blackout curtains. 
Look for thick ones that not only block all the light, but also cut out outdoor sounds. This will create a night-like environment that makes it a lot easier to drowse off to sleep and stay asleep. 
2. Sleep Mask and Earplugs 
If you are not able to make your bedroom pitch black, a good alternative is to wear a sleep mask. We recommend one of those 3D masks with contours for your eyes. Since they don't apply any pressure against your eyelids, they are more comfortable and you can even open your eyes. 
As for noise, a good pair of earplugs will take care of that. You have two options: foam or silicone earplugs. Foam earplugs are better at blocking noise, but they are non-reusable and so it can get expensive to keep buying new ones.
Silicone earplugs do let in a bit of noise (but you can still sleep comfortably), but on the upside, they are washable and reusable. 
Tip: Bluetooth sleep headphones can also help with noise. Put on soothing music, white noise or your favorite sleep sounds like rain or wind. 
3. Cooling System 
Light is not the only problem shift workers face when trying to sleep during the day. Higher temperatures can also make it harder to sleep. Rising temperatures in the morning is one of the signals the body uses to rouse you and keep you alert. 
So as you make your bedroom dark, it is also important to keep it cool. Even at night, we sleep better when it's cool (between 60 and 67F). 
If you don't want to use the central AC for cooling, a portable or window AC is more efficient. It cools just your bedroom. Alternatively, install a mini split for your bedroom. It's even more efficient than a window or portable unit. 
If you live in a dry and hot climate like Arizona, a swamp cooler (also called an evaporative cooler) is cheaper to operate and it also humidifies your bedroom. 
Another option is to cool your bed instead of the entire room. There are two ways to do this: using an air-cooled mattress pad like BedJet or a water-cooled mattress pad like Sleepme's Chilipad. 
These use air or water to directly cool you on the bed. They use a lot less power than an air conditioner and can be particularly helpful if you sweat a lot or have hot flashes in your sleep. 
4. Melatonin 
Melatonin is the body's natural sleep hormone. In response to fading light, the pineal gland in the brain produces melatonin, which readies the body for sleep. 
For years, people have taken over the counter melatonin to induce a similar effect. We have a post on how taking melatonin can help with insomnia, jetlag and other sleep problems. 
It can also help shift workers get better sleep. If you have to sleep during the day, your body will not produce the right amount of melatonin to help you sleep. So taking melatonin can help you feel sleepy and go to sleep quicker. 
Start with a 0.5mg dose about an hour to 30 minutes before you go to bed. Remember to draw the curtains or put on a sleep mask to prevent light from reaching your eyes. This will maximize the effect of melatonin. If a small dose doesn't work, slowly increase dosage (max 5mg) until you figure out which amount works for you. 
Taking melatonin gradually shifts your circadian rhythm so that your body gets used to the new sleeping schedule. 
By the way, melatonin is different from prescription sleeping pills. You will not become dependent on melatonin and all the research we have shows that melatonin is safe to use even in the long term. So you can keep using melatonin as long as you need to. 
Just make sure you clear it with your doctor if you have a health condition like high blood pressure or you are taking medication especially antidepressants, antipsychotics, birth control, blood pressure medication and blood-thinning medications.
And if melatonin doesn't help you sleep, talk to your doctor about sleeping pills. 
5. Dark Sunglasses 
Sunglasses don't belong in the bedroom, but they can help shift workers sleep during the day. 
For shift workers whose shift ends in the morning, the commute home can make it harder to go to sleep. You are exposed to daylight, which triggers your body to shift to the wake cycle. No matter how tired you are, you will find it harder to drowse off, leading to insomnia and sleep deprivation. 
Dark sunglasses can help mitigate your exposure to sunlight. Wear them on your way home, whether you are driving, walking, cycling or taking the training/bus. 
Additional Sleep Tips for Shift Workers
Watch when you drink coffee. Take coffee early in your shift, at least 6 hours before your bedtime. This ensures it doesn't interfere with your sleep. 

Take a nap before or during your shift. It will energize you and reduce any sleepiness you might feel during the shift. 

If possible, avoid rotating shifts as they force your body to keep adapting to a new schedule. 
Quick links
Contact
6063 Hudson Road #160
Woodbury, MN 55125
Yo@hercLeon.com