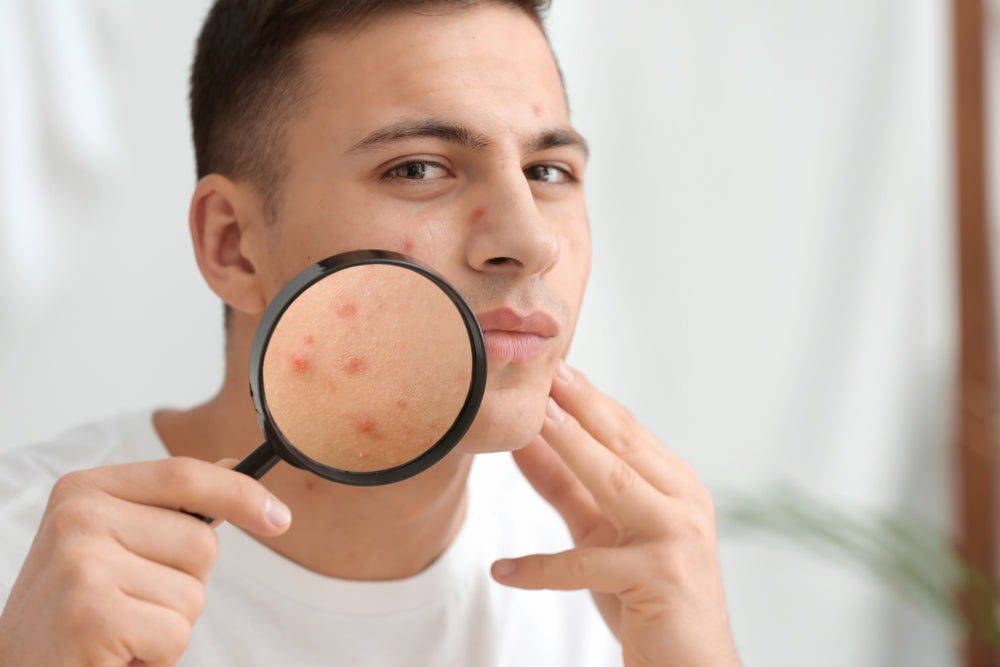 Posted on
---
People with sensitive and acne-prone skin have to be super careful about what comes into contact with their skin. Anything from the cream they use to the clothes they wear can trigger a reaction or cause a breakout. 
You also have to be careful about your bedding. Considering you are in contact with it for hours every night, the wrong sheets or mattress can cause serious skin problems. 
In this post, we recommend sleep-related products for people with sensitive and acne-prone skin. 
1. Silk Pillowcases & Sheets
If you have the budget, silk bedding is the absolute best for your skin. Make sure it is 100% natural mulberry silk, and not synthetic satin fabric. 
For one, silk is super soft and supple, making it very gentle against the skin. It is also hypoallergenic, so it is unlikely to cause a reaction. 
Silk is highly breathable and moisture wicking. It keeps you cool and sweat-free, which reduces the risk of a breakout. 
Silk bedding also reduces skin damage and premature aging. Because of its soft texture, it doesn't cause friction on the skin. Rough fabrics such as cheap polyester rub against the skin and can cause wrinkles and fine lines. 
Also, silk doesn't absorb too much oil and moisture from your skin like cotton, so it keeps your skin well hydrated throughout the night, which is important for preventing sensitivity and acne. 
The main downside of silk bedding is the price tag. But with good care, it will last a long time making it good value for money. Just make sure you take care when washing and drying silk.  
2. Bamboo or Cotton Bedding 
If silk bedding is out of your budget, bamboo and cotton bedding is cheaper and good for sensitive and acne-prone skin. 
Cotton is breathable, soft and moisture wicking. Make sure you pick high quality cotton sheets, pillowcases or comforter with a 200-400 thread count. 
If you sweat a lot, go with bamboo or eucalyptus (Tencel) bedding instead. That's because cotton doesn't dry as fast as these fabrics. It absorbs sweat easily but holds onto it, which can affect your skin. 
Bamboo and eucalyptus bedding is moisture-wicking and quick-drying. It is also soft and gentle against the skin.  
3. Antimicrobial Bedding
Bacteria and germs can trigger acne when it enters into your skin pores. It can also lead to a more severe and painful form of infected acne called inflammatory acne. 
We have covered before how bedding, including your bed sheets and pillowcase can cause acne breakouts. This happens when debris like dead skin cells, oils and dirt, plus bacteria build up on the bedding and transfer onto your skin. 
Washing your bedding often can help reduce or prevent acne breakouts. Antimicrobial bedding can also help. This is bedding that has been treated with products that kill bacteria. In other words, it is self-sanitizing. 
This keeps the bedding bacteria-free and significantly reduces your risk of acne and other skin reactions. As a bonus, it also keeps your bedding smelling fresh even if you go a couple of weeks without washing it. 
Our antimicrobial bedding include Jax Sheets, the Jax Comforter and the Zuri Pillowcase. 
4. Mattress Protector 
As part of your efforts to make your bed more skin-friendly, we highly recommend getting a waterproof mattress protector. 
Your mattress is probably a lot dirtier than you think. With sheets, the pillowcase and comforter, you can wash them so it is easy to keep them clean. You cannot wash a mattress, so a lot of icky stuff builds up on it over the years. 
It's home to dead skin cells, allergens like dust mites and pet dander, bacteria, oils, skincare products and probably even mold or mildew. All these can cause skin sensitivity or lead to acne breakouts. It can also affect your respiratory health and cause allergic reactions. 
A waterproof mattress protector keeps all these stuff from getting on your mattress. It also prevents whatever is already on the mattress from reaching you. And since a mattress protector is washable, it is easy to keep it clean. 
We recommend a bamboo or cotton mattress protector. 
5. Cleanser & Moisturizer 
Acne breakouts occur when your pores get clogged by debris including dead skin cells, skin products and dirt. One of the best ways to prevent breakouts is cleansing your skin daily. Wiping your face with water and a soft towel can help, but you should also add a facial cleanser to your evening routine. 
It works well at removing buildup on the skin. Look for an oil-free cleanser; it's great for acne-prone skin. If you have sensitive skin, look for a gentle cleanser that will not cause any reactions. 
Tip: It's also important to cleanse the rest of the skin as acne breakouts can also occur on your back, chest and other areas. Take a shower before bed to remove sweat, oils and other kinds of skin buildup. 
After cleansing your skin, the next step is moisturizing. Your skin can dry out at night, especially if you sleep on cotton bedding. Skin dryness increases the risk of acne breakouts (by triggering more sebum production, which clogs the skin) and worsens skin sensitivity. 
Look for a moisturizer that is formulated for your type of skin. Retinol moisturizer is particularly good for acne-prone skin. It helps clear clogged pores. Lightweight or non-comedogenic are also great if you are prone to acne. 
If you have sensitive skin, look for a gentle moisturizer that hydrates your skin without irritating it. Get a moisturizer with ingredients like hyaluronic acid, ceramides and aloe vera. 
6. Humidifier or Dehumidifier 
Of all the things that can affect your skin, you have probably never considered humidity. 
Very low or high levels of moisture in your home can affect the health of your skin. Low humidity makes the skin dry out, which leads to increased sensitivity and a higher risk of breakouts as a result of higher sebum production. 
High humidity can also lead to acne breakouts. It increases the amount of bacteria on your skin and in your pores. You also sweat more when it is humid, which further clogs the skin pores. 
Too much moisture in the air makes your skin pores open up more, so it's easier for dirt, bacteria and debris to get in. 
Depending on your situation, you may need a humidifier or dehumidifier in your bedroom. The ideal humidity range is 30%-50%. You can get a cheap digital hygrometer to measure the humidity in your bedroom and home. 
If it is above 70%, get a dehumidifier to bring down moisture levels. If it is below 30%, get a humidifier to add more moisture to the air.   
By the way, a 30%-50% is also great for the rest of your body and will help you sleep better. 
Additional Tips to Protect Your Skin In Bed
Sleeping on your back will keep your face from being in contact with your pillowcase. It is the best sleeping position for your skin as it prevents friction and moisture absorption. If you sleep on your stomach or side, invest in a silk pillowcase and try to regularly switch which side of the face is on the pillow. 

Keep your entire bedroom clean. A dirty bedroom will make your bed dirty, which will affect your skin. 

No matter what kind of bedding you have, wash or change it regularly: at least once a week for the sheets and duvet cover, and twice a week for the pillowcases. 

Keep your bed or bedroom cool to prevent sweating. This includes a breathable mattress and cool bedding. A bed cooling system like ChiliPad or a cooling mattress topper can also help you sleep cooler and sweat less. As for cooling your bedroom, options include a portable AC, window AC, fan, evaporative cooler or simply cracking open a window. 
Quick links
Contact
6063 Hudson Road #160
Woodbury, MN 55125
Yo@hercLeon.com