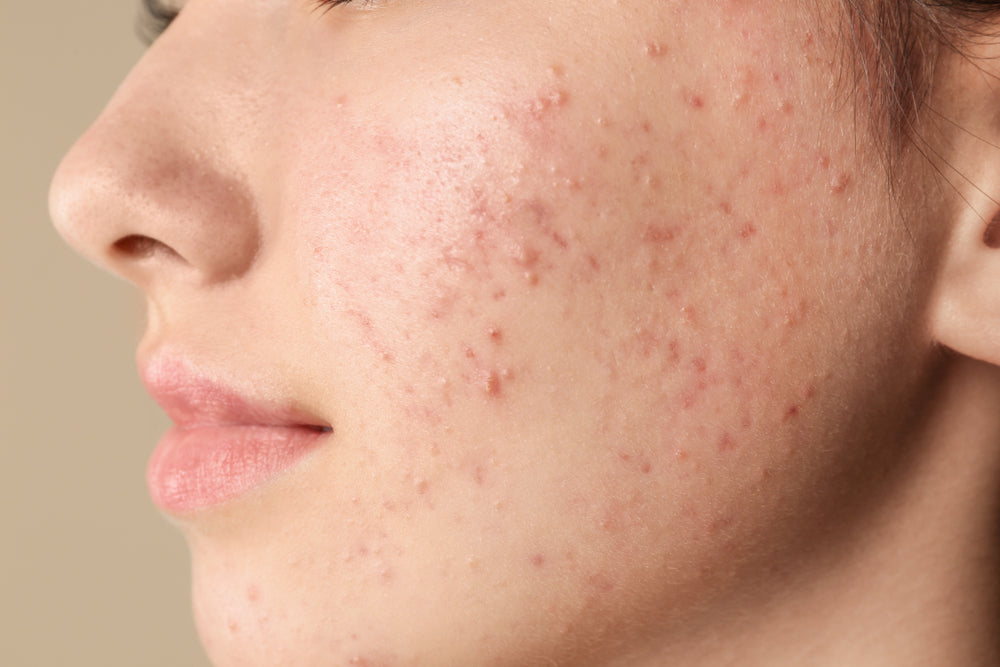 Posted on
---
Acne can often feel like a cruel game of whack-a-mole. You treat it and it goes away only for it to reappear unexpectedly. Many people, especially women, spend their life in a cycle of clear skin to acne back to clear skin ad infinitum. 
If you are experiencing this, there's something (or several things) triggering your acne. Figuring out what it is can help reduce or prevent recurrence.  
1. Skin Care Products 
The first place to check is your collection of makeup and skin care products. There's probably one or two things there that don't agree with your skin. 
Lookout for products that contain alcohol, mineral oils, sulfates, synthetic fragrances, parabens and other ingredients known to irritate or inflame the skin.  
When shopping for skin care products, look for those that are non-comedogenic, meaning they will not clog your pores. It's also a good idea to pick products formulated for your specific skin type (e.g. dry, oily, sensitive etc.). 
If you suspect there's one product that's causing your breakout, stop using it and see if there's any improvement to your skin.
2. Certain Foods
Yes, your diet can trigger an acne breakout. This is especially true if you eat foods with a high glycemic index such as bread, crakes, ice cream, white rice and others. 
These foods quickly raise the blood sugar and the body responds by producing more insulin. Insulin, in turn, triggers overproduction of androgens like testosterone. These hormones cause the skin to produce more oil than usual, which clogs pores and causes breakouts. 
To reduce your risk of acne, eat high-fiber foods that help control blood sugar. These include fruits, vegetables, whole grains, legumes and more. 
3. Stress
Like androgens, stress hormones such as cortisol can also cause oilier skin. When you are stressed, your skin produces more sebum, which increases the risk of a breakout. 
There's actually a type of acne called stress acne. Finding ways to manage stress such as sleeping better and spending more time with friends can help prevent or reduce stress-caused acne. 
4. Hormonal Imbalances
Hormones are one of the biggest triggers of acne, particularly sex/reproductive hormones like testosterone, estrogen and progesterone. 
Hormonal-caused acne occurs mostly in women since they experience more hormonal imbalances than men. It's why acne is common during menstruation, pregnancy and menopause. Fluctuating levels of different hormones affect the amount of sebum in the skin, which leads to clogging and breakouts. 
There's nothing much you can do about this other than take care of your skin as best as you can. Also watch your diet (high glycemic foods like white bread and rice can trigger or worsen acne) around periods of hormonal turbulence. 
5. Lack of Sleep 
Here's one you've probably never thought about: lack of adequate sleep can trigger or worsen acne. Sleep deprivation itself doesn't cause acne, but can create conditions that increase the risk of a breakout. We have an entire post talking about sleep and acne. 
There are three main ways that lack of sleep can trigger acne: increased inflammation (inflammation is a major factor in the occurrence of acne), increased stress and increased hormonal imbalance. 
The solution for this is obvious though it's easier said than done. Get 7-9 hours of quality sleep every night. Not only does this reduce inflammation, keep stress levels down and help mitigate hormonal imbalance; it improves blood flow to your skin, gives your skin time to heal any damages and recover, and improves overall skin health. 
6. Dirty Bedding
Still on the matter of sleep, your bedroom hygiene can also trigger acne. If you go for weeks without changing your pillowcase or sheets, all kinds of icky stuff builds up on them including dead skin cells, dirt, skin care products, sebum, bacteria and fungus. 
When in bed, all these things transfer onto your skin and clog your pores, leading to breakouts. You may notice you often get acne on the side of the face that's in contact with the pillow. It may also occur on your back, chest or neck depending on your sleeping position. 
We recommend changing your sheets a couple times a week and your pillowcase every two days. You can also get antimicrobial bedding like our Jax Sheets or Zuri Pillowcase that actively kills bacteria and protects your skin from acne. 
7. Dry Skin  
Typically, overproduction of sebum is what leads to acne. So how can dry skin trigger acne? There are a couple of ways this happens. 
One, when your skin gets dry, it triggers sebaceous glands to produce more sebum which can cause your pores to clog. On top of that, dry skin produces more dead skin cells which add to the debris collecting in your pores. 
Some people have naturally dry skin and they are more prone to acne breakouts. Using the right moisturizer can help reduce breakouts. 
Your skin can also get dry if your bedding is highly moisture-wicking (e.g. cotton pillowcase), you take excessive alcohol, you eat overly salty food or when there's low humidity in the environment. 
Switching to a silk or satin pillowcase, reducing or cutting out alcohol, eating a healthy diet, drinking plenty of water and keeping your skin well moisturized at all times will help prevent acne breakouts. 
8. Alcohol
We've already mentioned how alcohol makes your skin dry (it's a diuretic meaning it pulls fluids from your body). But alcohol can also trigger acne by causing or worsening inflammation, hormonal imbalances and stress. 
Alcohol is generally awful for your skin. It's linked not just to acne but also psoriasis, eczema, rosacea and many others. 
9. Smoking
Smoking is also terrible on your skin. It will age you quickly. Multiple studies have found that smokers have a higher occurrence of acne, sometimes resulting in irreversible scarring (probably because smoking limits the body's ability to heal). 
Experts think smoking triggers acne by drying out the skin, causing chronic inflammation, and increasing risk of infection among other mechanisms. 
10. Touching Your Skin
It might feel nice and therapeutic but constantly touching your face could be causing your frequent acne breakouts. 
Every time you touch your face, you transfer bacteria, oils and dirt onto your skin. Lotions and creams on your hands can also irritate your face and lead to a breakout. 
If you already have a few pimples, touching or squeezing them can worsen your acne by causing more inflammation and possibly leading to infection. 
Try as much as possible to avoid touching your face or disturbing any pimples you might have. It will be hard to do this if it's a habit you've had for a long time, but you can always form new healthier habits. 
Quick links
Contact
6063 Hudson Road #160
Woodbury, MN 55125
Yo@hercLeon.com