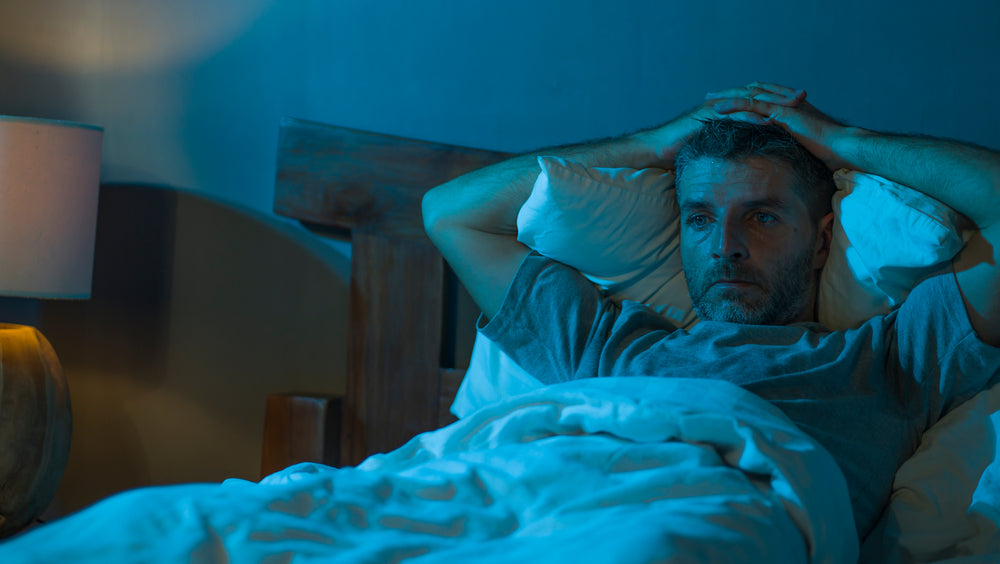 Posted on
---
It's really difficult to sleep well when you are depressed. About 75% of patients with depression also suffer from insomnia. Depression can also lead to oversleeping, which despite what you may think, is not any better than undersleeping. About 40% of depressed young adults experience hypersomnia. 
Here's the problem. Depression makes it harder to sleep well. In turn, poor quality sleep can worsen depression. So they feed off each other to create a vicious cycle that ends in ever worse depression and sleep. 
Getting good quality sleep is one of the best ways to manage and improve symptoms of depression. But how the heck do you do that if you are struggling to sleep? Here are some tips. 
The Link Between Sleep and Depression 
Most people with depression also struggle with sleep. They either don't get enough sleep (insomnia) or sleep too much (hypersomnia) and both are bad for your mental and physical health. 
Depression also increases the risk of other sleep disorders like nightmares and night terrors. 
Poor sleep can also increase the likelihood of getting depression. Lack of sleep makes it harder to regulate your emotions, which makes you more vulnerable to depression.  
If you've already been diagnosed with depression, poor sleep quality will only make it worse. When things get really bad is when poor sleep and depression become locked in a vicious cycle. This can make depression symptoms worse and increase the risk of suicide.  
5 Tips For Better Sleep When You Are Depressed
It's quite a conundrum; you need to sleep better to improve your depression, but depression makes it harder to get quality sleep. Here are a few tips that can help you sleep better with depression. 
1. Have A Bedtime Routine 
When your emotions are a bit of a mess, it helps to have an auto-pilot program to guide you. That's what a sleep routine does. It makes it easier to stick to a regular sleep schedule, which can help you fight insomnia. 
The most important part of a sleep routine is sleeping and waking up at the same time. Try to stick to the same schedule everyday. After some time, you'll find yourself drowsing off quicker once bedtime arrives. 
In the morning, get out of bed at the scheduled time even if you don't feel like it. Staying in bed can worsen symptoms of depression. If you really struggle to get out of bed in the morning, consider planning something fun to look forward to. You can also ask a friend or family member to come wake you up.  
2. Turn Your Bedroom Into A Sanctuary 
A messy cluttered bedroom is not good for either depression or sleep. Making your bedroom a relaxing sanctuary will help reduce symptoms of depression and make it easier to fall asleep.
We have covered before how to turn your bedroom into a sleep sanctuary. Basically, you want to target multiple senses: make it look nice, smell nice, feel nice (temperature), quiet. Set up your bedroom such that it instantly lifts your spirits when you step foot inside.  
3. Consider Taking Sleep Aids
Sometimes, the body needs a little nudge to get sleepy. Sleep aids can help you drowse off even when your brain doesn't want to. 
There is prescription level sleeping medication, but we recommend it only for severe insomnia. For most people, natural sleep aids are safer and effective. 
The two most effective over the counter sleep aids are melatonin and magnesium. They are completely natural. 
Others that may work include lavender essential oil, CBD oil, valerian root and Vitamin D. 
4. Stay Active and Go Outdoors 
Exercise and going outdoors are two other highly recommended ways of managing depression. If you can combine the two into one, it will save you time. You can go jogging, hiking or just a brisk walk. 
In addition to reducing symptoms of depression, being active also helps with sleep. It makes you tired, which increases your body's need for sleep. You will find it easier to fall asleep in the evening. 
5. Get Treatment for the Depression
If you've not yet talked to a doctor or therapist, I recommend doing it. You may need help managing your depression. 
A specialist may recommend therapy or antidepressants, or both. 
Quick links
Contact
6063 Hudson Road #160
Woodbury, MN 55125
Yo@hercLeon.com